Project Info
Location: Randolph, NJ
Scope of Work: Mantel Surround Design with Granite Hearth
This Randolph, NJ living room featured a floor-to-ceiling brick fireplace surround. The hearth was a cement slab and the mantel was a basic wooden shelf. The homeowners wanted a different look for their living room's focal point. Firstly, Monk's drew up a design that they loved. Then the homeowner selected a beautiful piece of granite to be used for the hearth.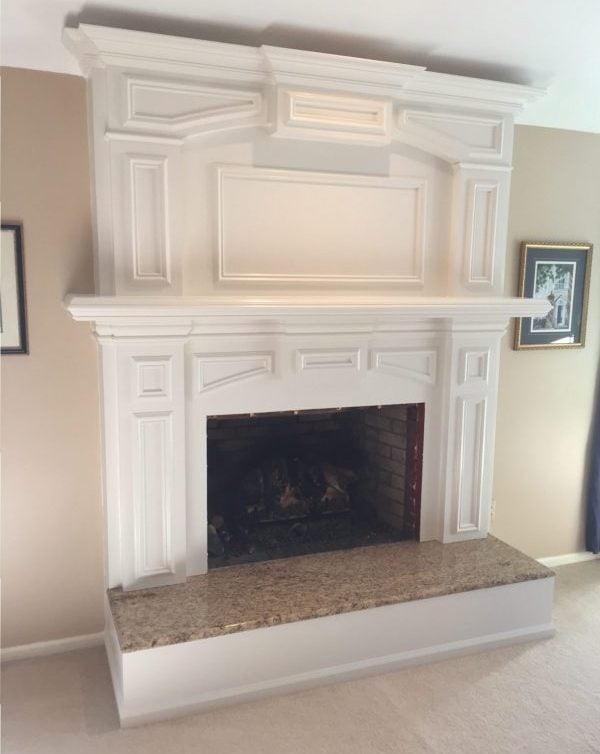 Anatomy of a Fireplace
Hearth: A fireplace hearth is the floor of the fireplace which extends out into the room. A hearth is made of brick, stone, cement, or any non-combustible material. A hearth is critical for wood-burning fireplaces as it helps prevent any embers or rolling logs from damaging the floor or causing a fire. Granite hearths can also be used decoratively in order to give electric or gas fireplaces a more traditional look.
Mantel: Also know as a mantelpiece or chimneypiece. A mantel is a shelf above the fire. Originally, mantels extended out further like a hood. They were used to prevent smoke from escaping. Now, they are purely decorative.
Fireplace surround: Technically, the fireplace surround is the area that immediately "surrounds" the firebox. However, this term's more general meaning can include all decorative elements around a firebox, including the mantel and even up to the ceiling.
Fireplace Mantel Design with Granite Hearth
These Randolph, NJ homeowners wanted a more modern look for their living room. They requested that we replace the brick with a custom wood mantel surround. Luckily, the existing brick surround did not protrude far from the wall. This allowed us to build the new surround over top the existing brick. If we needed to remove the brick, that would have required a lot more work.
We drew up a design which included picture frame moulding details and a natural stone hearth. Natural granite is a perfect choice for a mantel because it can withstand high temperatures. The granite hearth's warm tones complimented the rest of the room's decor.
In addition to the cement hearth upgrade, we also transformed the floating mantel shelf. We integrated the mantel into the entire design and extended it beyond the width of the surround.
Lastly, we painted the entire structure a soft white which really draws the eye to the beautiful granite hearth. From start to finish, all in 3 days.
Granite Hearth and Fireplace Surrounds
Monk's carpenters can remodel your fireplace mantel surround, or provide other upgrades like wainscoting, crown molding or built-in shelving units. If you are considering an interior carpentry project, call our office at 973-635-7900 to schedule an estimate today.
Ready to learn how Monk's can help you?
Contact us for your free, no obligation consultation and estimate.
Call the office at 973-635-7900 OR