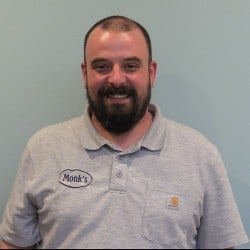 About Greg
Role: Director of Sales
How Does He Help You: He provides support for Estimators. Greg creates quotes for large remodeling projects.
Phone: 973-479-6918
Email: [email protected]
Call 973-975-4451 to schedule an estimate.
Background & Experience
I have been working in the construction industry since I was 15. After spending 4 years at Rutgers University obtaining an engineering degree and another 4 years working as an engineer, I decided to come back to what I always enjoyed most. I started at Monk's Home Improvements shortly after it opened as Monk's Painting. Having known Ty Monk for many years before working with him, the decision to join the company was an easy one. I have seen and helped the company grow from the painting company it started as to the renovation and home improvement company it is today.
As a homeowner myself, I fully understand the challenges that come along with owning a home. I pride myself on informing my customers about the best way to maintain and improve their homes. I find it is best to work with an informed consumer who has been told of all the available options before venturing into a project. Therefore, customers get a great quality product that best suits their needs and budget.
My previous home was located in downtown Morristown. In 2013, I fully renovated the kitchen. You can even see the entire project documented here.
Greg Kihm now lives west of Morristown with his wife who is also a Monk's employee!
Featured Projects
I'm so happy
I'm so happy with the way my kitchen turned out. Monk's did a great job from start to finish. My favorite part of the process was working with the designer Mike Drohan. Even though my project was small he treated it as if it was a major kitchen remodel. He knew exactly the look I wanted, made great suggestions, and kept within my budget with out compromising design details. I would highly recommend both Mike and Monks!
Keep Reading
– Happy Monk's Customer (Harding Township, NJ)
Very pleased with the services received.
Very pleased with the services received. The staff was reliable and helpful. I will use them for future projects
– Happy Monk's Customer (Harding Township, NJ)
Ready to learn how Monk's can help you?
Contact us for your free, no obligation consultation and estimate.
Call the office at 973-635-7900 OR