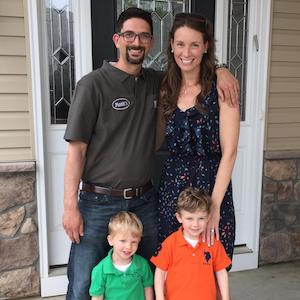 About jason
Role: Estimator
How Does He Help You: He provides you with your free estimate. Then he schedules your work and can help with any questions.
Phone: 973-908-0212
Email: [email protected]
Call 973-975-4451 to schedule an estimate.
Background & Experience
I graduating from Rutgers University in 2000 with a degree in Business Economics. Immediately afterward I started my professional career in the financial markets as an Equity Trader. Then after living through the boom-bust cycles of the markets several times, I decided to move on to a more secure career.
I have always had a passion for home improvements and found myself working on many home projects over the years including interior painting and light carpentry. So I decided to turn this hobby into a career. I enjoy working at Monk's Home Improvements because we share a commitment to providing unparalleled quality of work and customer service with every project we work on.
I currently live in Westfield, NJ with my wife Brendee and two sons Noah and Everett.
I'm pleased to be helping Westfield area homeowners with their home maintenance and improvements.
Jason Solomon manages all of the Monk's painting, carpentry and flooring projects in Westfield and the surrounding towns. Monk's has completed many projects in the Westfield area. To see some of our local work, please see our Westfield painting, carpentry, and flooring projects.
To schedule your free estimate with Jason Solomon, please call the Monk's office at 973-975-4451.
Featured Projects
Jason did an amazing job
Jason did an amazing job from the first appointment to the follow up when the job was completed. He was very accessible when we had any questions, and accommodating with our schedules to begin the job. I would absolutely recommend Monk's any painting job will look to use Monk's for other services they provide.
Keep Reading
– John W. (Westfield, NJ)
professional and customer focused
The entire experience with Monk's was professional and customer focused. Jason Solomon provided an instant feeling of trust in your organization and Luis Jimenez/crew were very courteous, polite and respectful of our home. They all did a great job. Thanks
Keep Reading
– Frank G. (Scotch Plains, NJ)
Ready to learn how Monk's can help you?
Contact us for your free, no obligation consultation and estimate.
Call the office at 973-635-7900 OR