Updating Your Kitchen with Cabinet Painting
Yes, it is true that painting your kitchen cabinets will update the look of your kitchen. It's also true that painting kitchen cabinetry is far less expensive than replacing it. However, it is not true that painting kitchen cabinetry is an easy DIY project. We'll walk you through some examples of kitchen cabinetry painting that we've done for our customers. You can decide for yourself if this is a project you'd like to tackle. If not, you can give us a call to set up a free estimate.
Lighten Up Your Kitchen with Painted Cabinets
Kitchen styles aren't as fickle as fashion, but they certainly evolve throughout the years. In the 90s, dark cherry cabinetry was coveted. Natural tumbled stone was used as a backsplash and granite was the countertop of choice. Kitchen styles then started to favor lighter wood using maple cabinets.
For the past few years, bright kitchens have been the popular choice. Most often this has meant painting dark cherry or oak cabinets a bright white.
We updated this brown kitchen to a bright white version. Typically, when we paint cabinetry we also replace the hardware, the countertops, or the backsplash. Sometimes we replace all three. However, with this project we only painted the cabinets. This is a good example of how JUST painting cabinetry changes the feel of a kitchen.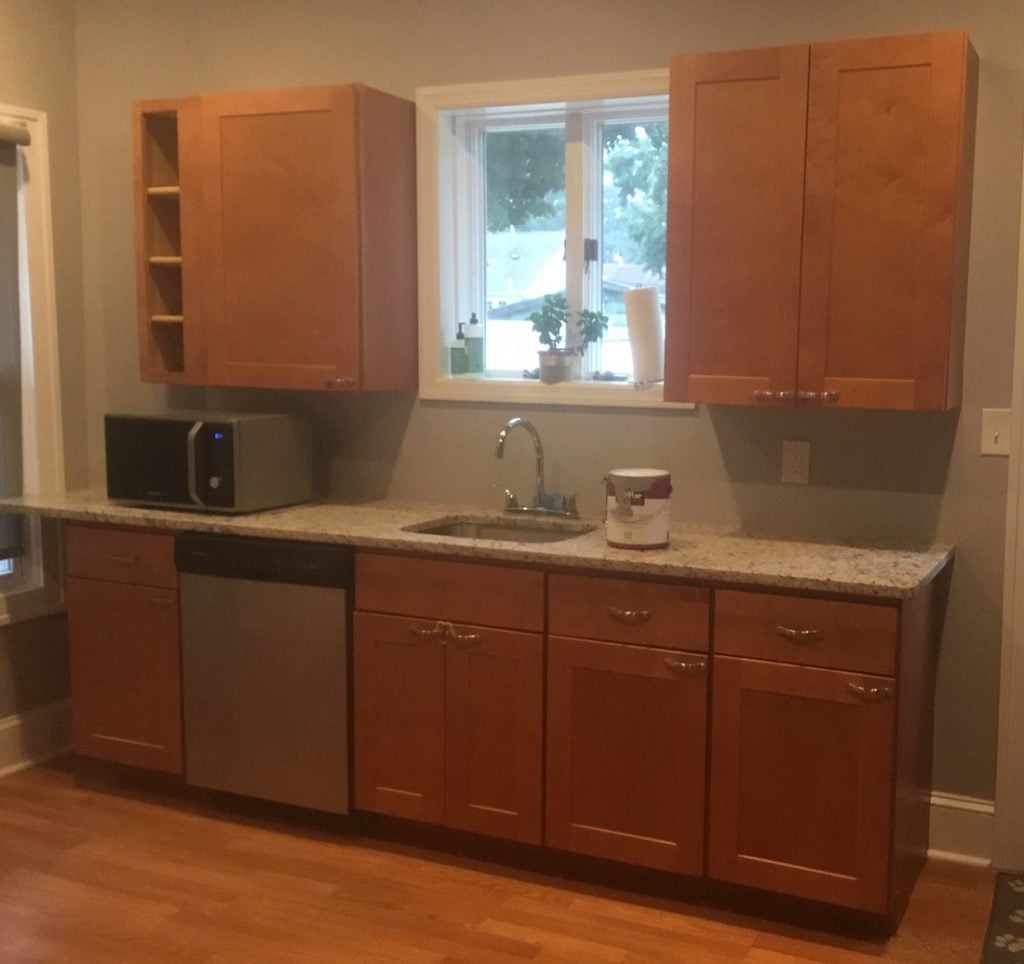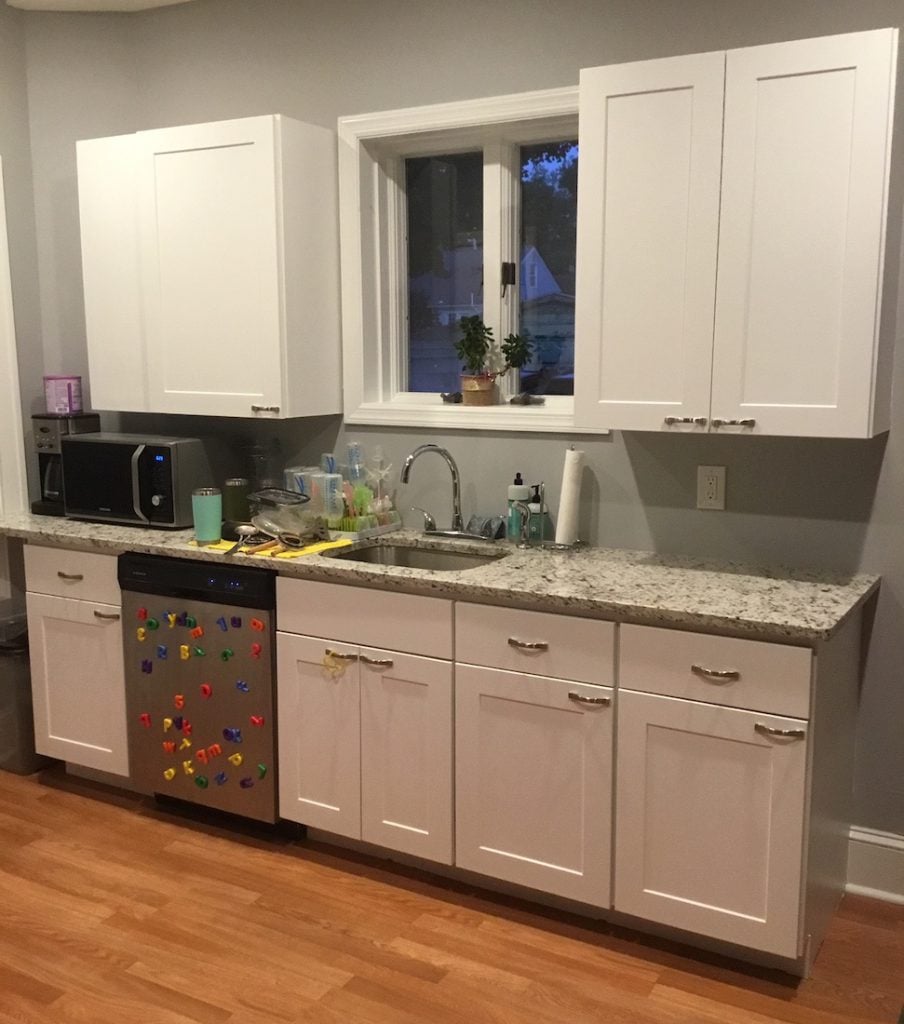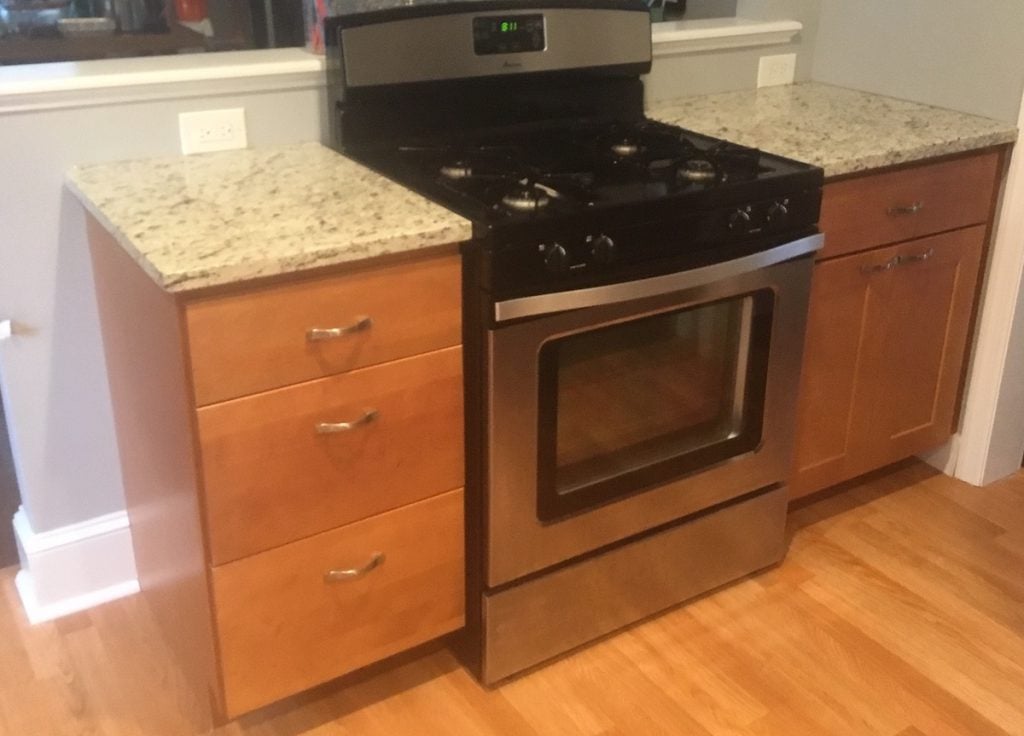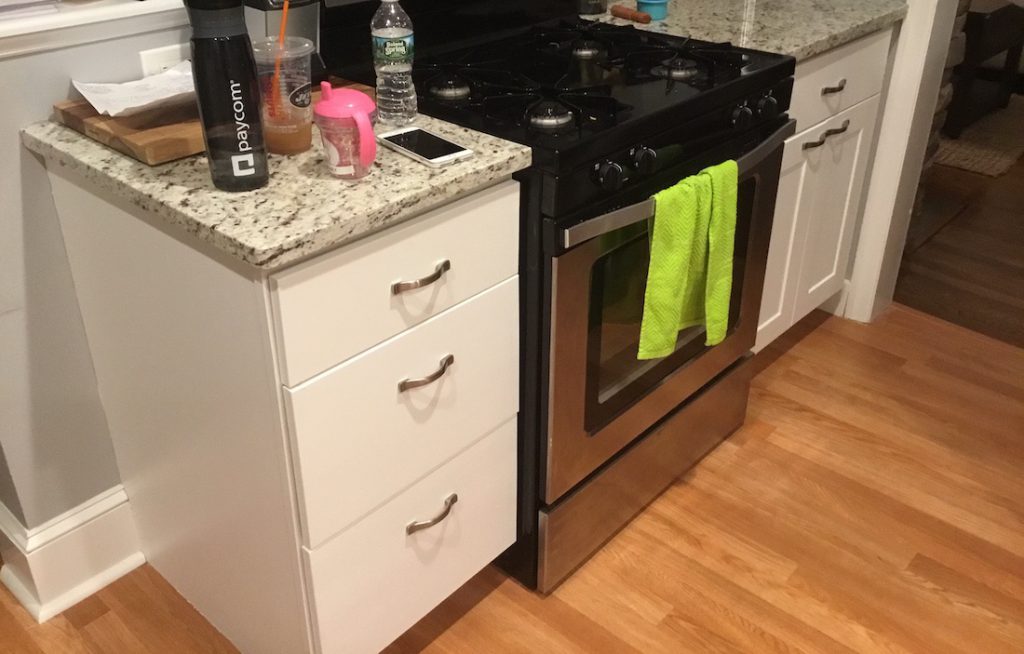 The Process to Paint Kitchen Cabinetry
When we paint kitchen cabinetry, it takes between 4-7 days depending on the size of the kitchen. We begin be removing all the doors and drawers from the base cabinets. Painters number each door and drawer so we can match everything up at the end. We also remove all hardware. Oftentimes we replace the hardware with new knobs or pulls as part of a kitchen makeover. Either way, the hardware needs to be taken off so we can paint the entire surface.
We use a cup spray tool to apply paint to kitchen cabinets. This application results in a smoother surface without any brush strokes. However, because we are using a sprayer, we need to carefully prepare the kitchen. Monk's painters cover all light fixtures, appliances, and inner cabinetry in plastic and seal with painter's tape.
Next, the painters lightly hand-sand all the cabinets and frames. This will allow for the primer to stick properly. Once this is dry, we again lightly hand sand the primer with a fine-grit paper. The first coat of paint is applied. This process is repeated at least once again, sometimes twice. In between the layers of primer and paint, ample drying time must be given.
Then we remove the plastic. We rehang the doors and assemble the drawers. Finally, we reinstall the hardware.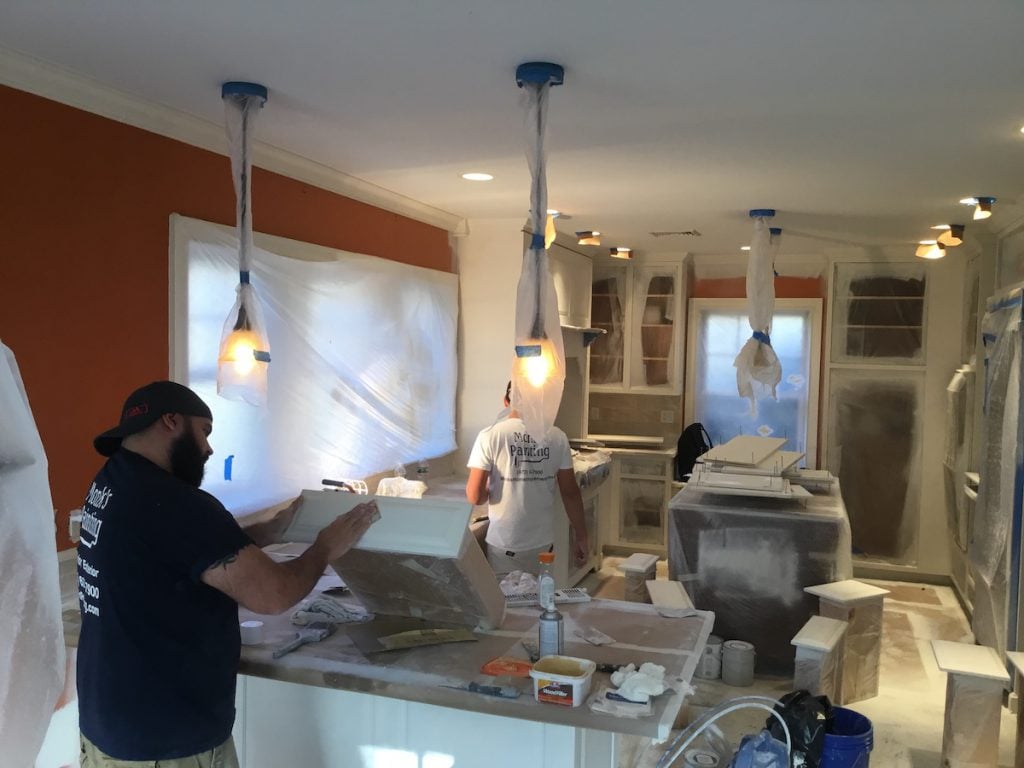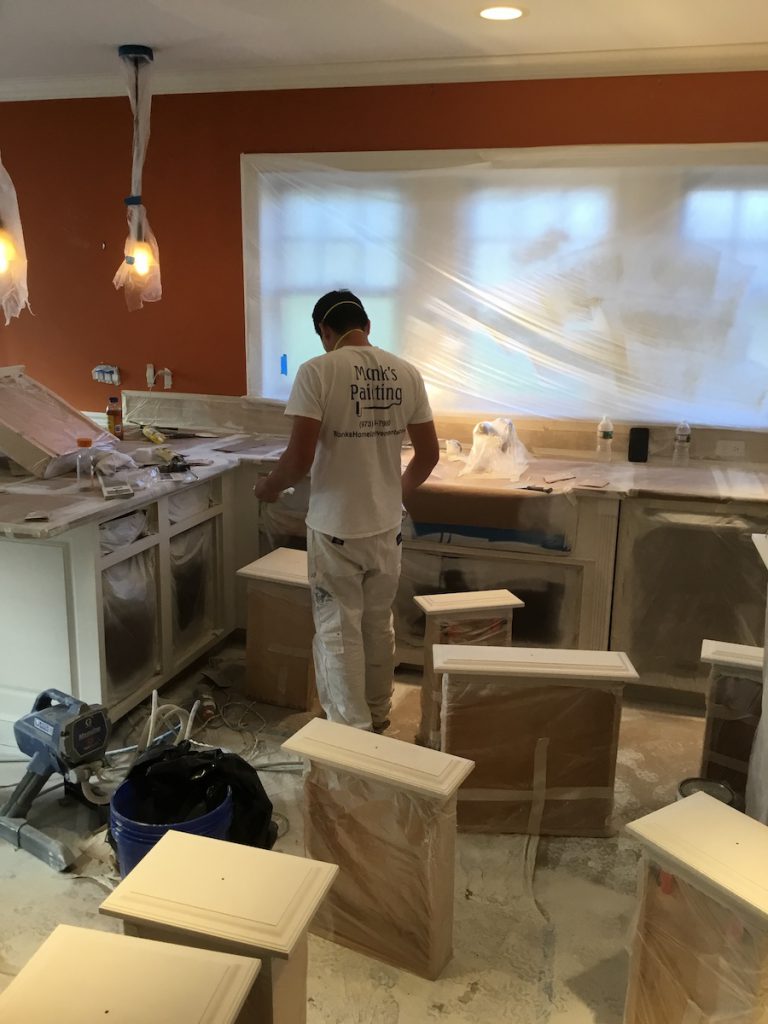 Cleaning up Your Cabinetry with Paint
Sometimes it is necessary to touch up older cabinetry or previously painted cabinets. Cabinet doors and drawers that get lots of use like the garbage drawer or the door to the water glasses. Grime, fingernail marks and rubbed off finish can be removed and repaired through cabinetry painting.
When possible, we can simply touch up the affected areas. If all of the cabinets are worn, we will go through the entire process outlined above.
We freshened up both of these worn white cabinets in two separate kitchens.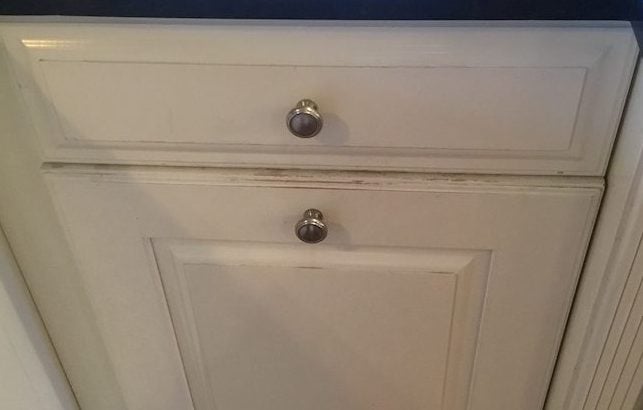 Kitchen Cabinet Painting Ideas
Directly below you will find some more dark-to-white kitchen cabinetry makeovers. You can really see how much brighter the rooms are after painting.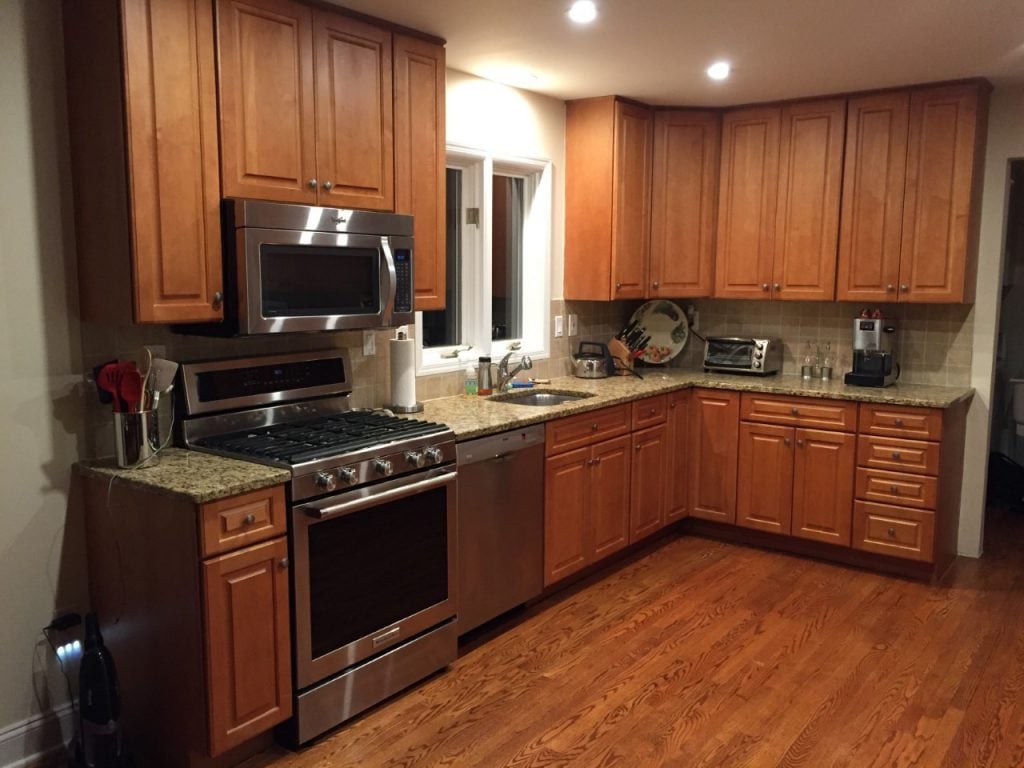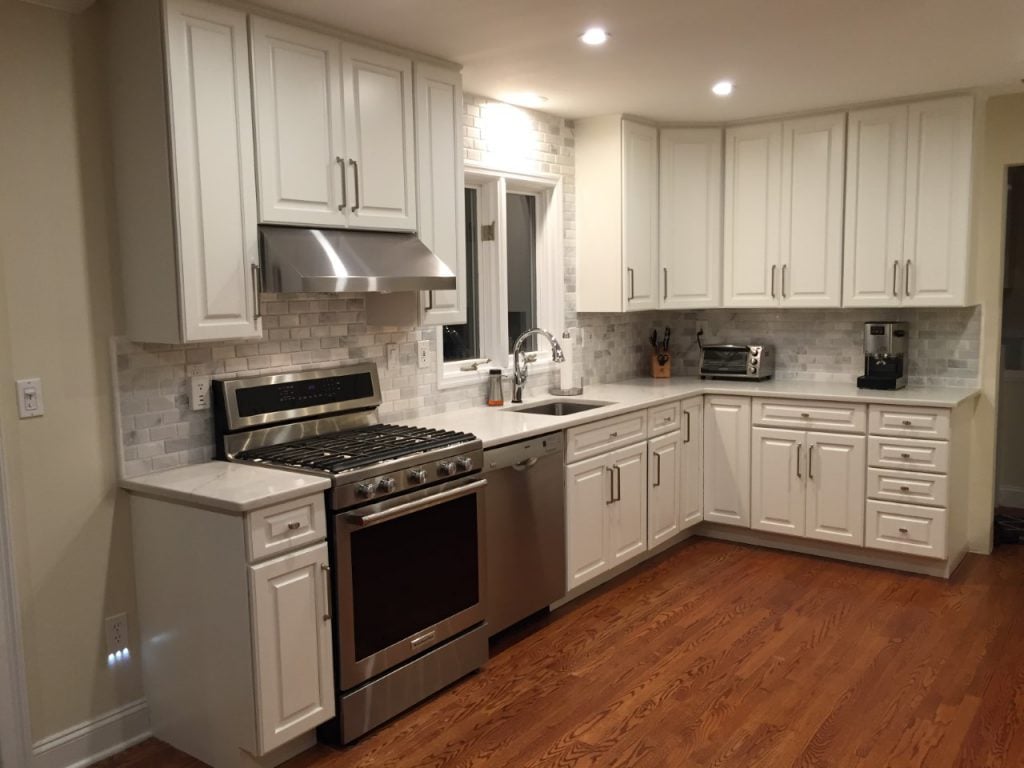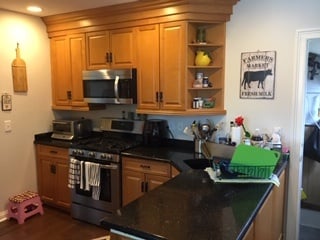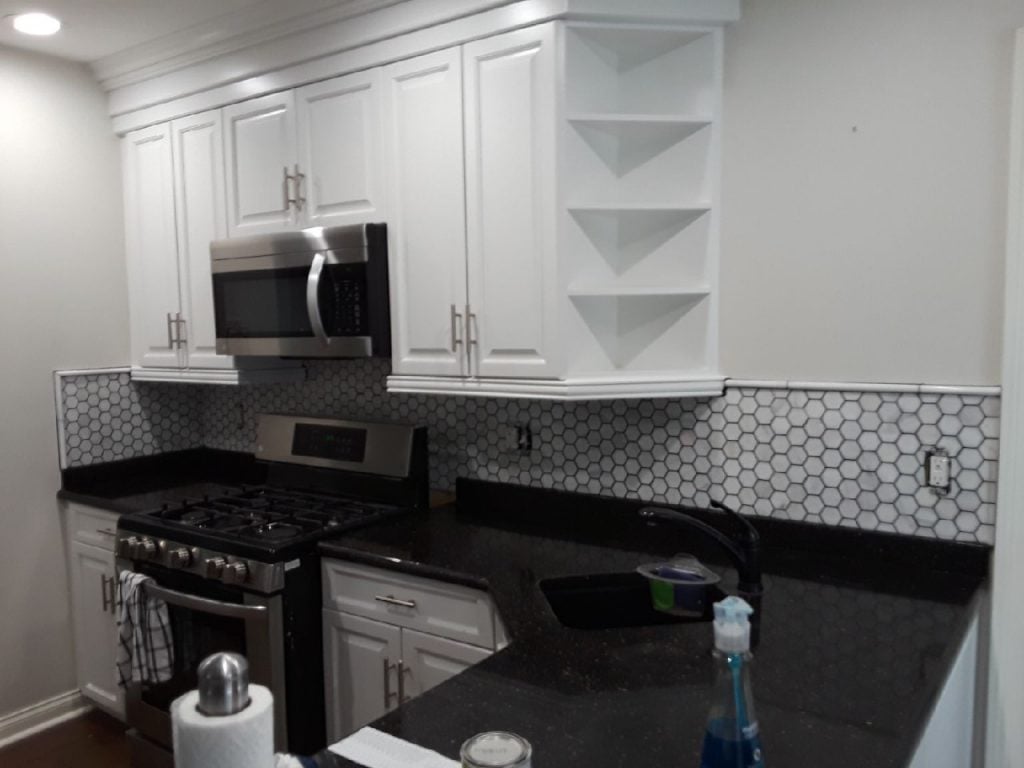 This dark kitchen received a full makeover. In addition to painting the cabinetry, we replaced the countertops, hardware, and backsplash. Everything is now lighter to better coordinate with the white cabinetry.
In this example, we painted the cabinetry, replaced the hardware, and added a backsplash. The black countertops remained. This gave the kitchen some nice contrast while also saving the homeowner some money.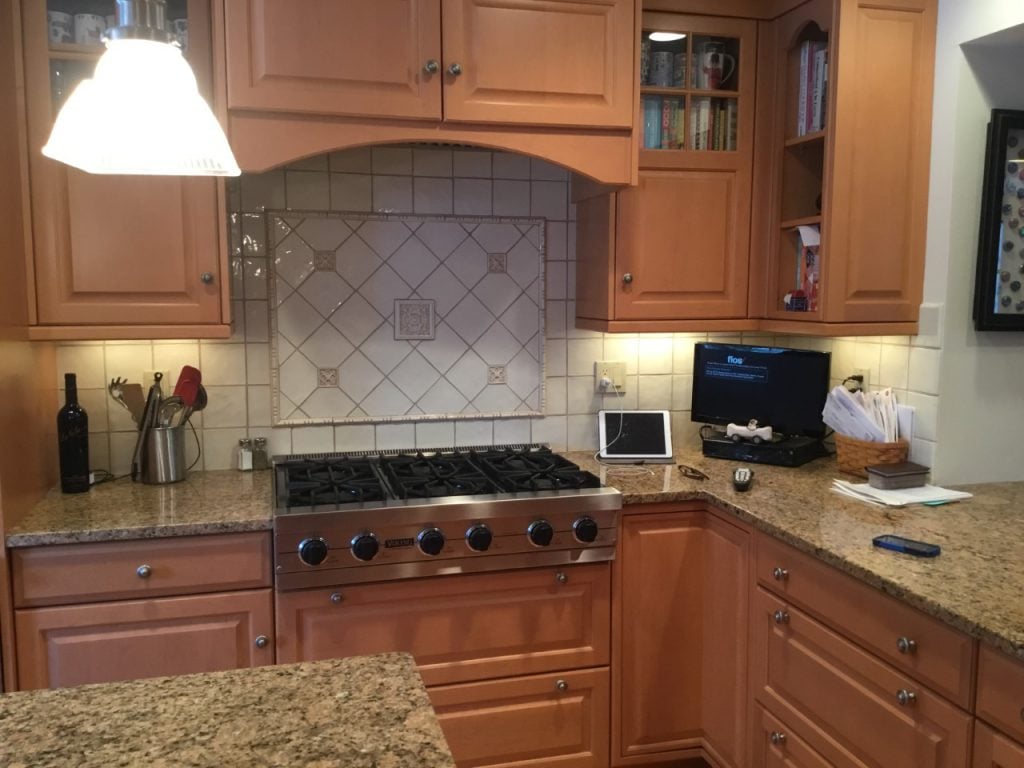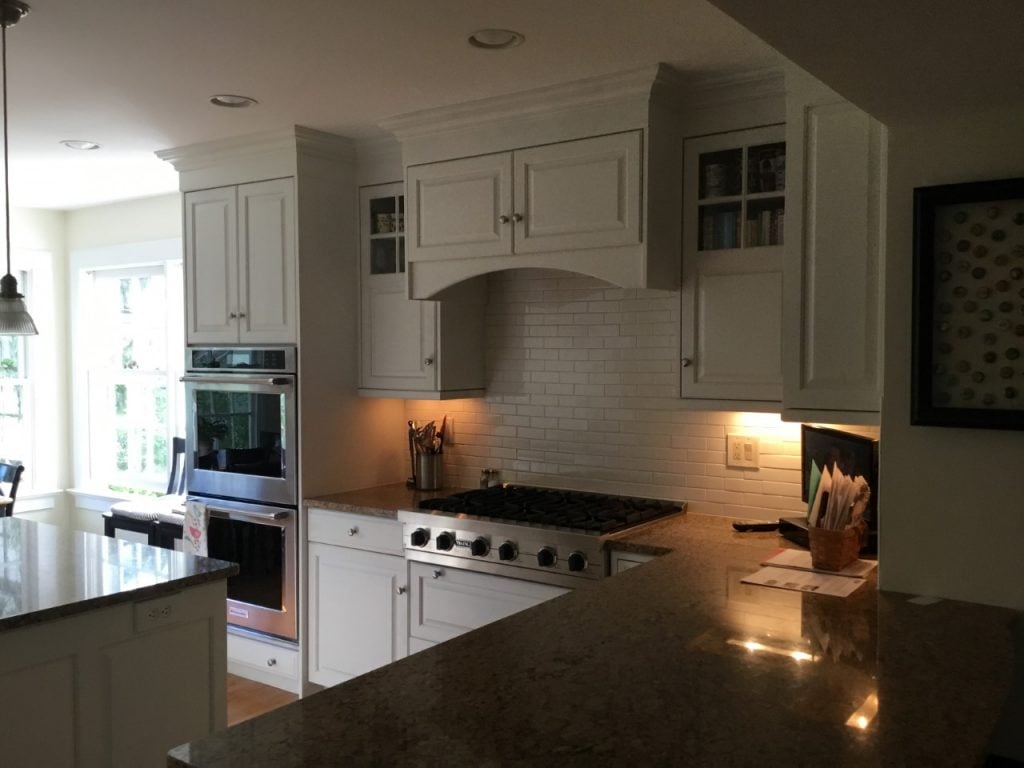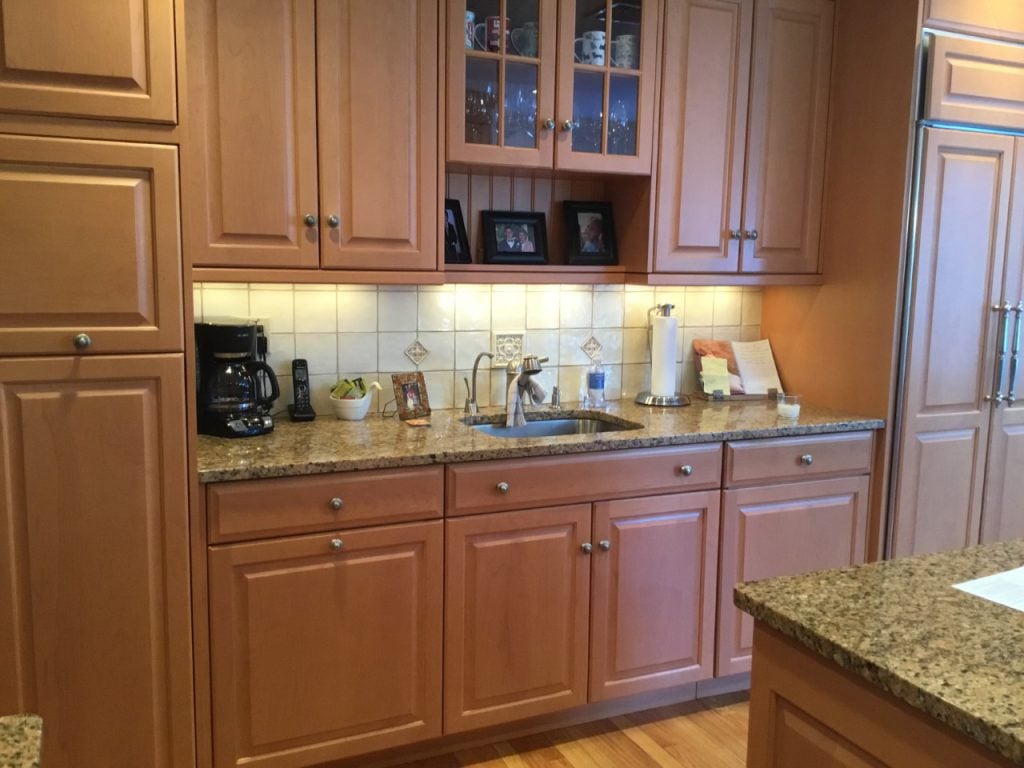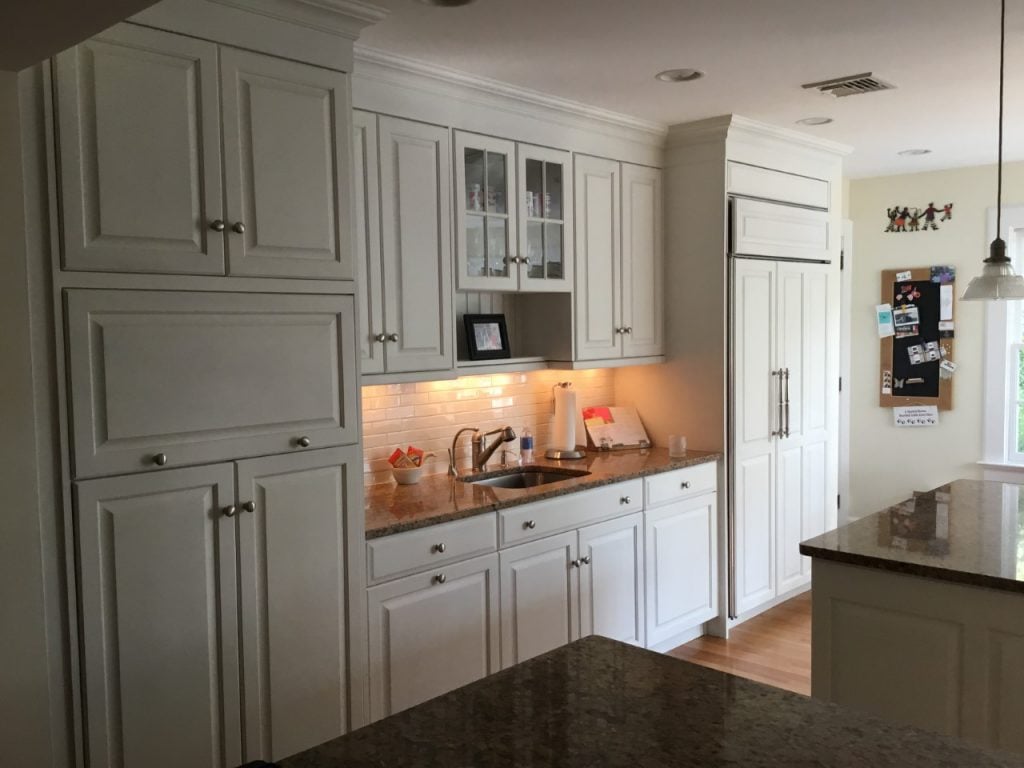 This large, brown kitchen was given a makeover. Monk's painters sprayed all the cabinets. We replaced the dated backsplash with an updated white subway tile. Lastly, we replaced the brownish countertops with a modern dark quartz. Here is another example of kitchen using a contrasting color scheme to add interest.
We are starting to paint cabinetry more colors besides just white. This is a pretty two-toned kitchen makeover. We painted the upper cabinets white, and painted the lower cabinets a vintage, medium blue. The light backsplash, countertops and ceramic farmhouse sink all helped brighten up this kitchen.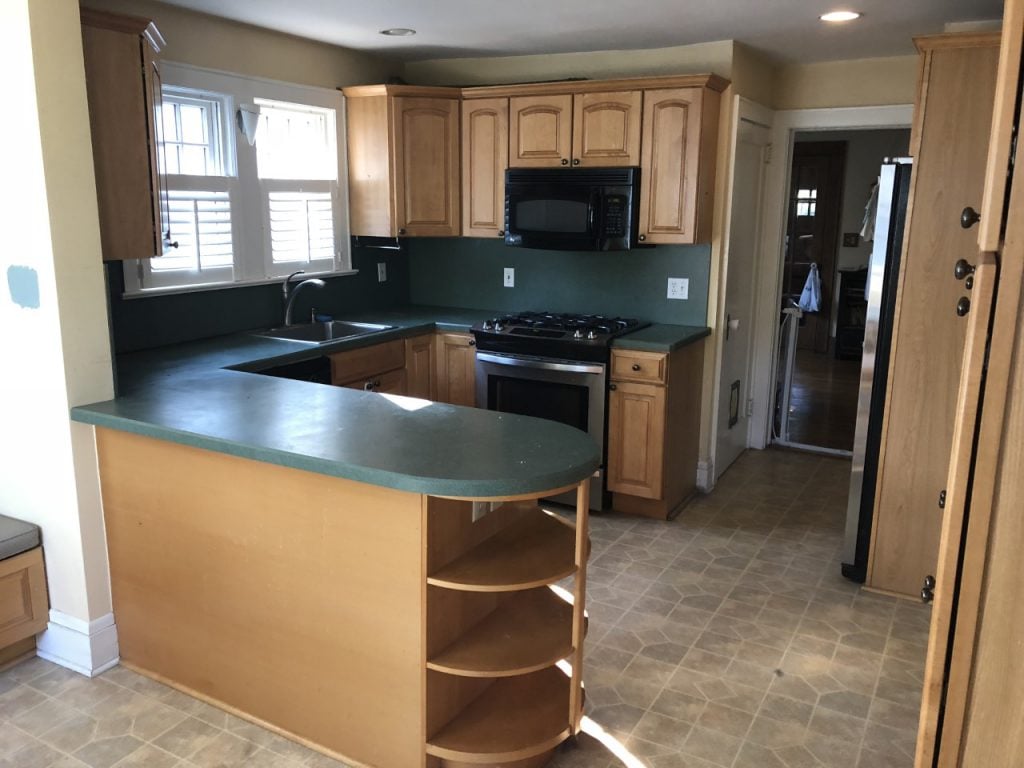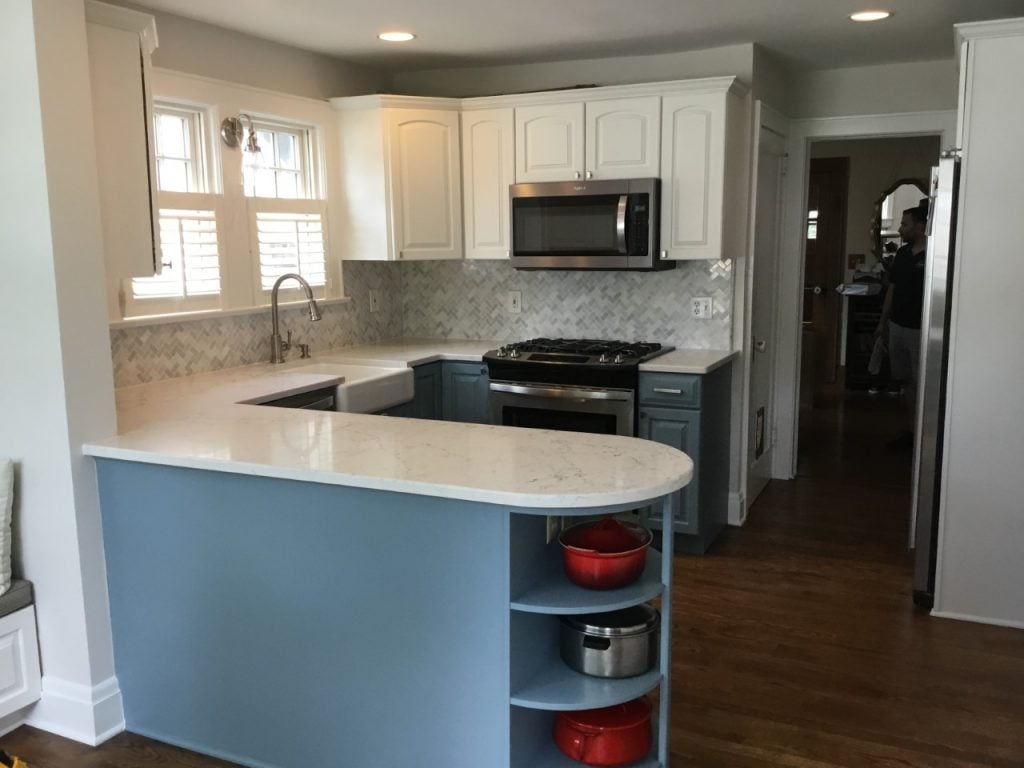 See more examples of kitchen cabinet painting done by Monk's.
If you decide that new cabinetry is needed for your kitchen remodel, Designers in our showrooms can help you select and configure new cabinets. If you'd like to update your countertops or backsplash, they can help you too. Our two showrooms are full of displays and samples of quart countertops and all types of tile.