Scope of work: Interior Painting, Fireplace Whitewashing
Location: Basking Ridge, NJ 07920
Timeline: 1 day
The owners of this Basking Ridge, NJ home called us to give their brick fireplace a new look. They wanted to downplay the red in the brick. Using a specific kind of paint and technique, we were able to deliver their desired aesthetic. Without losing the rough texture of the brick we transformed the look of the fireplace by white washing the brick.
Paint a Brick Fireplace
For this particular white washing project our team used Sherwin-Williams cashmere paint. A mixture of cashmere paint and water allow the rich texture of the brick to show through while still changing the color. We carefully add water in increments to achieve the desired level of transparency.  Yet different colors of paint can be used, and different ratios of paint and water can be mixed to achieve your desired look.
A wash is the best way to retain the brick appearance while changing the color. However, paint can fully cover the brick and the grout. This is done by using solid paint. This option is good if you want the hide the brick and create a solid panel.
Painters applied a single coat of the Sherwin-Williams cashmere paint and water mixture in small sections. Then we used rags to dab off the excess paint. We moved around the entire fireplace applying the white wash and dabbing off the excess until the entire fireplace was completed.
Another great job by Monk's!  In only one day this fireplace has been transformed to meet the look these homeowners were dreaming of.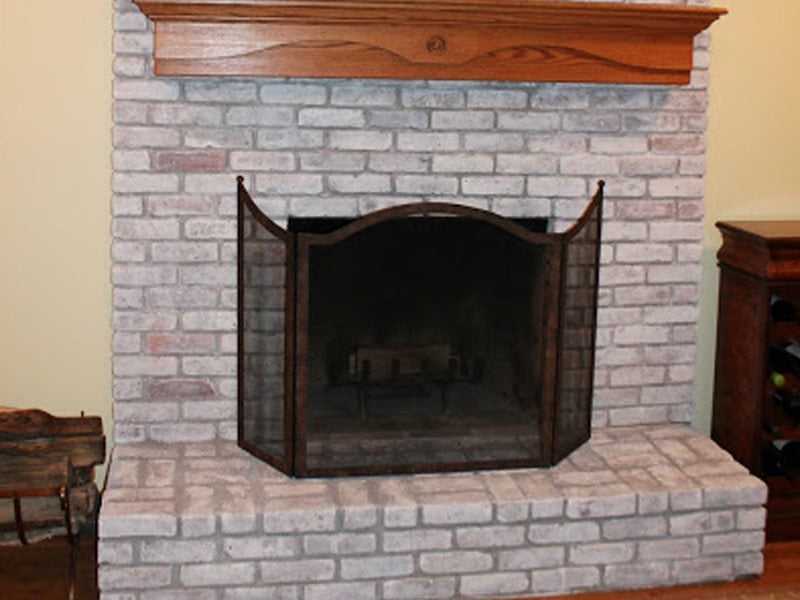 Other Projects by Monk's
To see other interior painting projects by Monk's, please visit our Interior Painting Gallery page.
If you are considering an interior paint job or a fireplace whitewashing we would like the opportunity to tell you why we think we are the best interior painting and brick whitewashing contractor in Basking Ridge, NJ 07920.