Below are answers to the most commonly asked questions about home bathroom renovation projects with our customers in Northern New Jersey.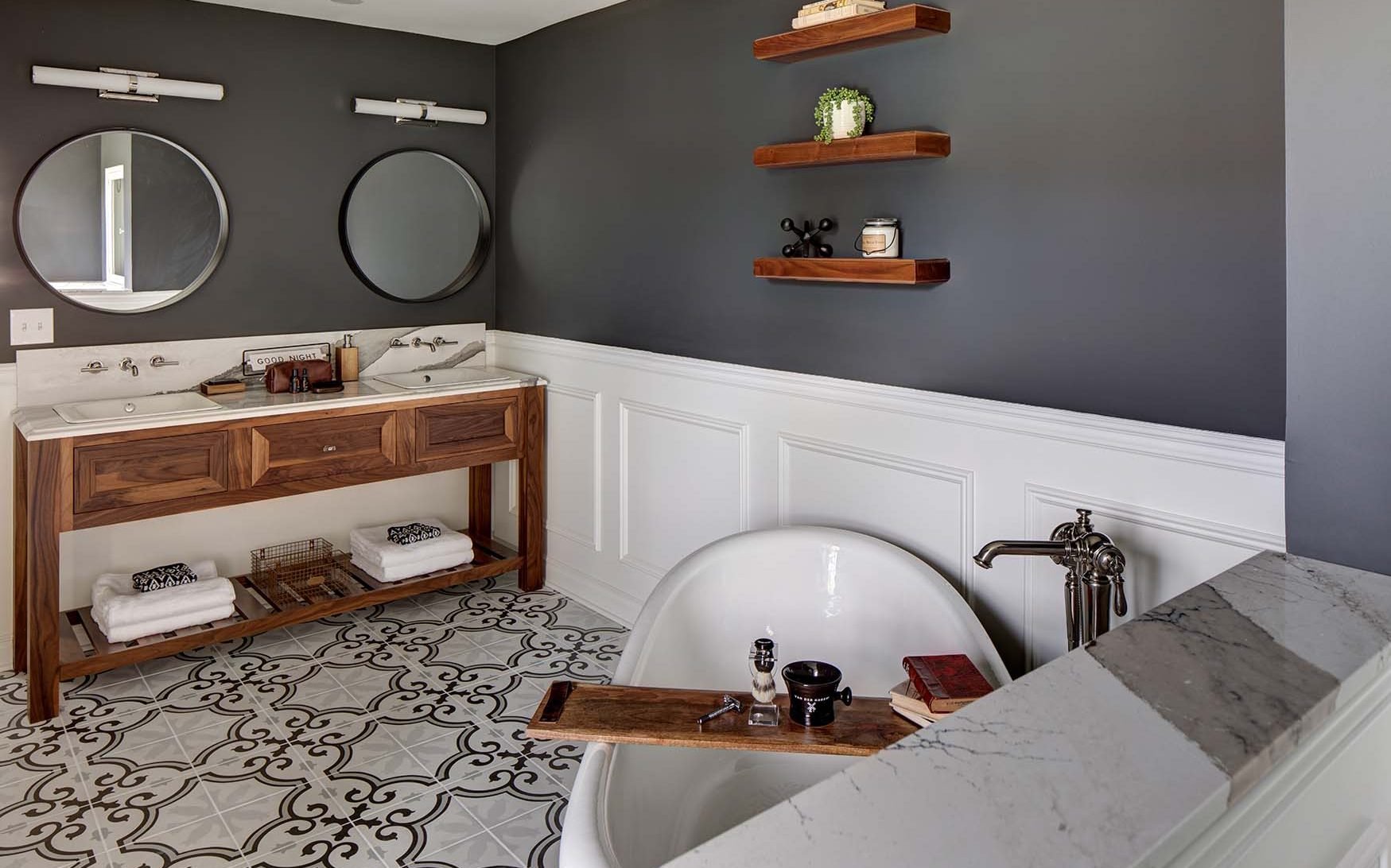 General Overview
Deciding on the Scope of Your Renovation
If you are like most of our customers, your biggest questions involving your bathroom remodel are how much will it cost? and how long will it take?
Unfortunately, we can't tell you what your bathroom remodel will cost without seeing your space and getting a sense of the finish materials you want. However, we can give you an outline for a typical bathroom remodel timeline. Then, at the time of your free estimate, we will give you a better sense of both the timeline and cost for your specific bathroom project.
Firstly, determine the type of bathroom renovation you have in mind. The descriptions below will help you decide which type of renovation you are planning, along with the respective timing.
Expect a bathroom makeover to take 2-3 weeks to be completed.
This type of project makes cosmetic improvements to an existing space.
No plumbing or electrical changes are involved.
A bathroom makeover typically includes replacing tile, installing a new vanity and toilet, and then painting the bathroom.
This type of bathroom renovation is much quicker because you don't need to get permits and wait for inspections.
We will be working on-site every day until the job is completed.
Bathroom Remodels
Full Bathroom Remodel or Installing a Brand New Bathroom
A standard hallway bathroom remodel will take 7 weeks on average.
A very large master bathroom remodel may take 8-10 weeks to complete.
Full bathroom remodels or new bathroom additions require a permit. Permits add time and money but ensure that your project meets all local building codes.
Trades Involved In a Full Bathroom Remodel
For a complete bathroom renovation or installation of a new bathroom, your project manager will be coordinating several trades throughout the project. Each tradesman will complete his portion of the project before the next one is scheduled. They are also not scheduled on days inspections are scheduled. Your project manager will work to minimize downtime and schedule inspections and templates based on milestones throughout your project. Despite our best efforts, local municipalities can sometimes delay projects due to long lead times when scheduling inspections. Each building department varies, but we encourage you to speak with your local building department for more information.
Typical tradesmen you will see in your home:
Demolition crews
Carpenters
Plumbers
Electricians
Mechanical HVAC technicians
Insulation contractors
Sheetrock installers and finishers
Tile installers
Painters
Glass/Shower door installer
Countertop installers
General Bathroom Remodel Timeline
WEEK 1
Monday: Protect the site. Then demolition is completed and debris is carted away from the site.
Tuesday: Any remaining demo and clean up. Complete any necessary framing. Asses subfloor and recommend repairs or additional floor leveling if needed.
Wednesday: Plumber completes "Rough" waste and water lines.
Thursday: Electrician completes "Rough" wiring.
Friday: Carpenters complete fire-blocking and pitching of the shower pan. Any windows would also be installed at this time.
WEEK 2
Monday: Plumber returns to install the rubber membrane. We schedule the rough inspections.
Tuesday- Friday: "Rough" inspections take place during the second week. Plumbing and electrical can sometimes occur on the same day. Then we schedule building inspection after plumbing and electrical inspecctions have passed.
WEEK 3
Monday: Install insulation after framing and fire blocking inspection is completed.
Tuesday: Insulation inspection.
Wednesday: Install drywall and concrete board on the walls. Then tape and apply the first coat of spackle.
Thursday: 2nd coat of spackle. Then tape and apply thin-set to corners and seams around the tub or shower.
Friday: Final coat of spackle. Then install the concrete board on the floor and complete minor leveling.
WEEK 4
Monday- Friday: The tile layout is reviewed with the customer. Then install tile and grout.
WEEK 5
Monday: Sand, prime and apply the first coat of wall paint.
Tuesday: Set the vanity and install doors, casing and baseboards. Any crown molding or wainscoting will be completed at this time. Also, the shower door template.
Wednesday: Painters return. Prep and paint. Countertop template.
Thursday – Friday: Painters finish
WEEK 6
Monday-Tuesday: Waiting on countertop install
Wednesday: Countertop install
Thursday: Plumber returns and completes all connections
Friday: Electrician returns to finish
WEEK 7
Lastly, final inspections. Install bathroom accessories, complete punch list, and final touch-ups.
Keep in mind that this bathroom remodel timeline assumes a normal-sized bathroom without any surprises. Accordingly, larger bathrooms take more time for the framers, the plumbers, the electricians, the tile installer and the painters. Also, custom built-ins will take 2-3 more days.
Ready to learn how Monk's can help you?
Contact us for your free, no obligation consultation and estimate.
Call the office at 973-635-7900 OR