Project Info
The 2023 Mansion in May Designer Showhouse and Gardens is taking place in Mendham Borough, NJ at Three Fields. The Women's Association for Morristown Medical Center puts on this fundraising event every two to three years.
Three Fields is a French manor-style home situated on nearly 36 acres of rolling fields. New York architect Greville Rickard designed the 9,000-square-foot home for Benjamin Duncan Mosser and his wife, the former Florence Willets Mosford.
Three Fields manor was completed in 1930. This romantic country residence features a stone and brick façade made up of several conjoined units of varying sizes. Additionally, the high-pitched tile roofs and dormer windows provide visual interest across the sprawling estate. French doors open to the formal gardens, ponds, and pool behind the manor.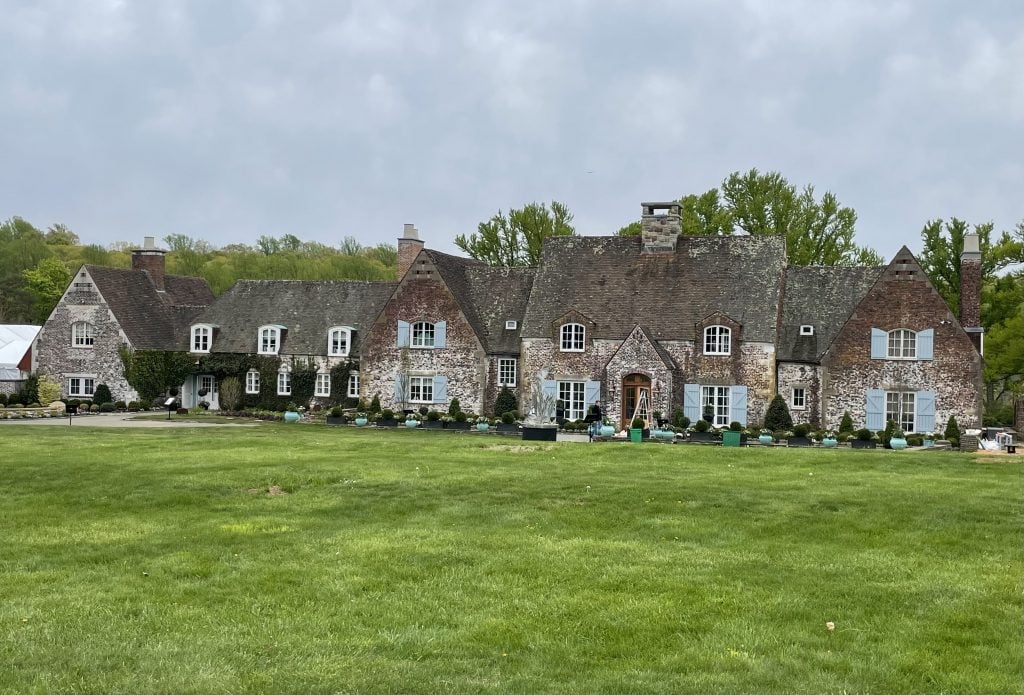 Mansion in May at Three fields
This year's showcase features thirty-one interior spaces, as well as seventeen landscape design spaces, all beautified by local designers. Among these includes a dreamy primary bathroom designed by Monk's Kitchen and Bath Studio designer, Anina Peter.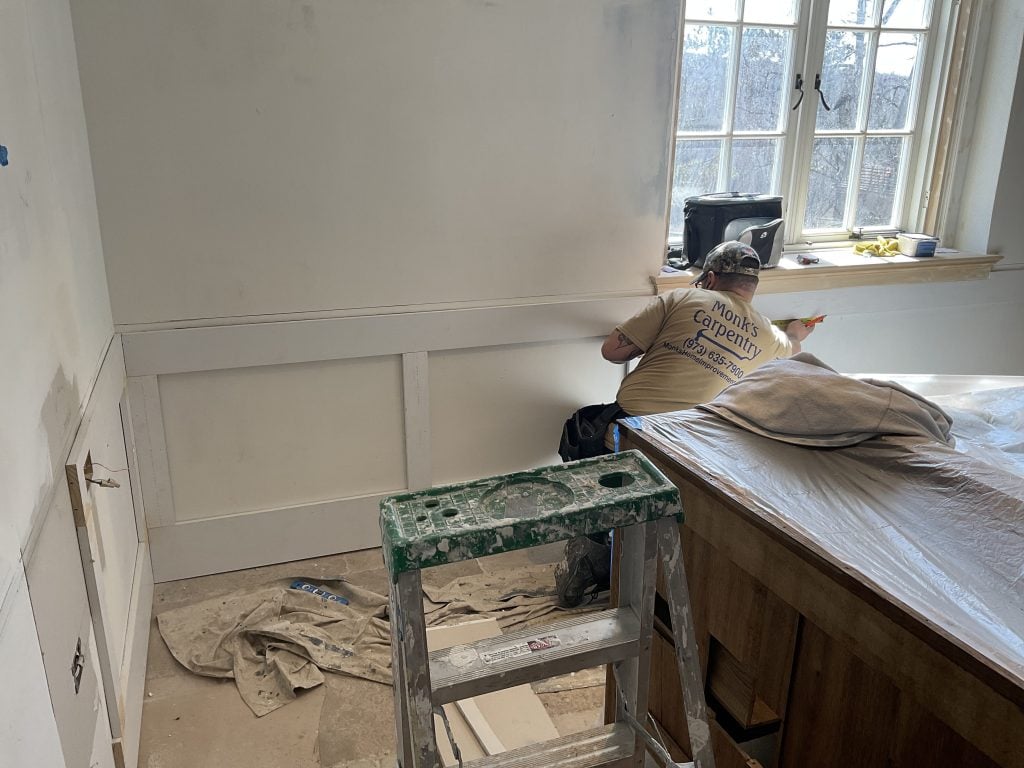 Three Fields Starting point
When we first viewed Three Fields in August 2022, it was already under construction. The new owners had been demoing the space and preparing it for Mansion in May. It was truly a clean slate from which to design and build.
The large primary bath space had plenty of room for his-and-her sinks, a large shower, a separate soaking tub, a water closet, as well as a seated vanity space.
However, the new owners didn't want a bathroom reflecting current trends. Instead, they wanted the style of their primary bathroom to be in keeping with the style of the home.
To that end, Anina Peter got to work creating a dreamy, French country bathroom.
OWNER'S RETREAT
Whether you are getting ready for a new day or taking a quiet moment to relax and unwind, the charming primary bathroom will have you wondering if you have been transported to Provence.
Holding true to the original style of Three Fields, we used light, neutral hues enhanced with subtle pops of satin gold, touches of green, and detailed embellishments.
The stunning crystal chandelier is an eye-catching focal point in any area of the bathroom. The chandelier, along with the delicate sconces that flank the vanities, as well as the two large windows, provide both elegant and practical lighting.
Feminine French Country Mood Board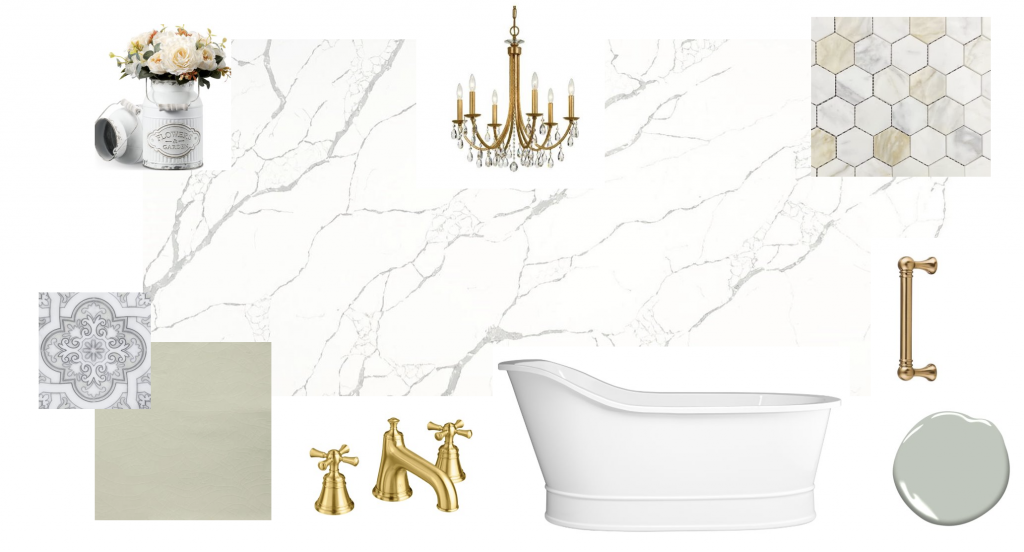 The New Mansion in May Primary Bathroom
His-and-hers vanities feature marble countertops and reclaimed wood for a rustic feel.
Limestone tile floors were installed in true French manor fashion. Carpenters built a petite, seated vanity area next to the shower.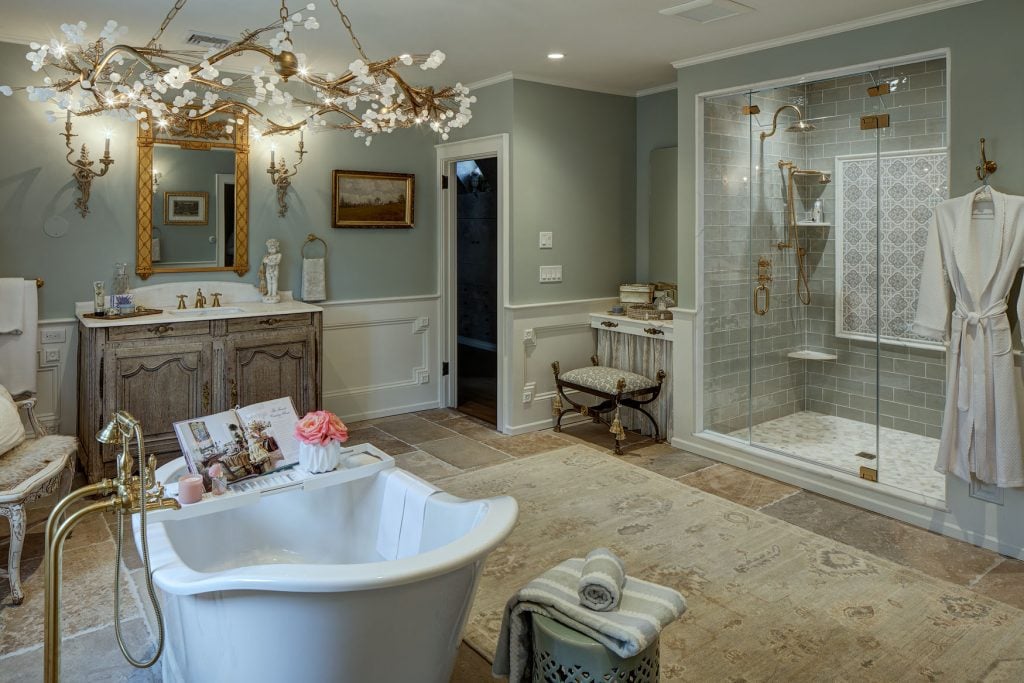 Oak hill soaking tub
The Oak Hill soaking tub is a nod to the era of the home but with an updated flair. ​Unwind in the free-standing tub positioned to enjoy the natural light. Soft gold fixtures, hardware, and accessories lend to the romantic feel of the bathroom.
Monk's carpenters built and installed custom wainscot paneling. This bespoke recessed trim with floral medallion accents lines the bathroom walls, including the water closet.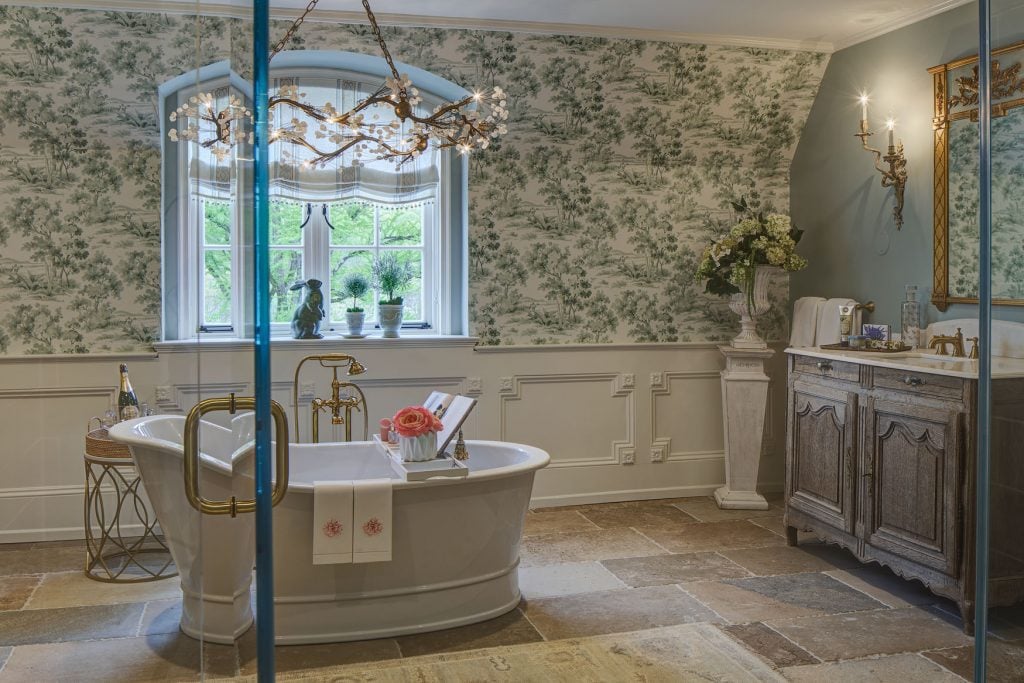 French country shower
Anina Peter designed the deluxe shower. The frameless glass shower door, including a steam release window, allows natural light to shine in from the large casement windows.
The shower floor tile complements the limestone floor tile. Small, hexagon marble tiles with feathered hues of blues, taupes, and grays tie the room together. Monk's installed soft green-blue subway tiles with a crackle glaze along the shower walls and ceiling. Our installers laid out a Spanish-style accent "window" and they framed it with a marble chair rail tile. Lastly, a brushed gold rain shower head, along with a hand-held shower spray finish off the elegant shower.
A perfect countryside haven.​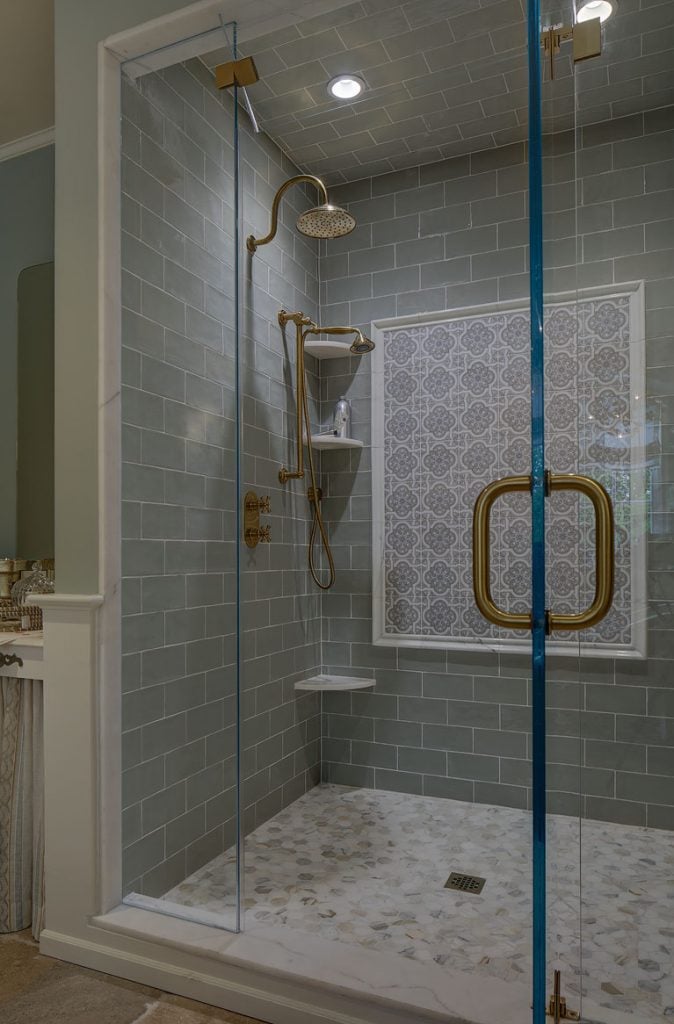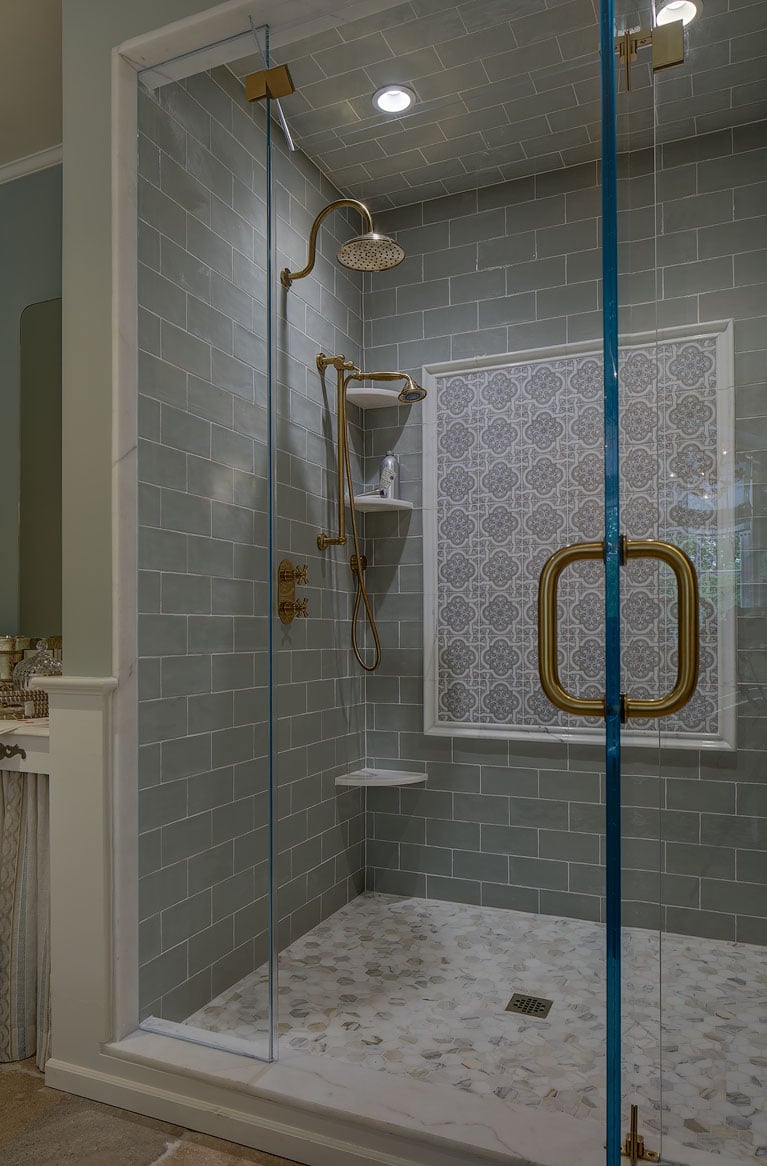 Ready to get designing?
Contact us for your free, no obligation consultation and estimate.
Call the office at 973-635-7900 OR