Project Info
Location: Morristown, NJ
Scope of Work: Bay Window Seat
The pretty bay window in this living room lets in lots of light and is a lovely architectural feature. A custom-built bay window seat now provides storage, as well as a surface to place plants.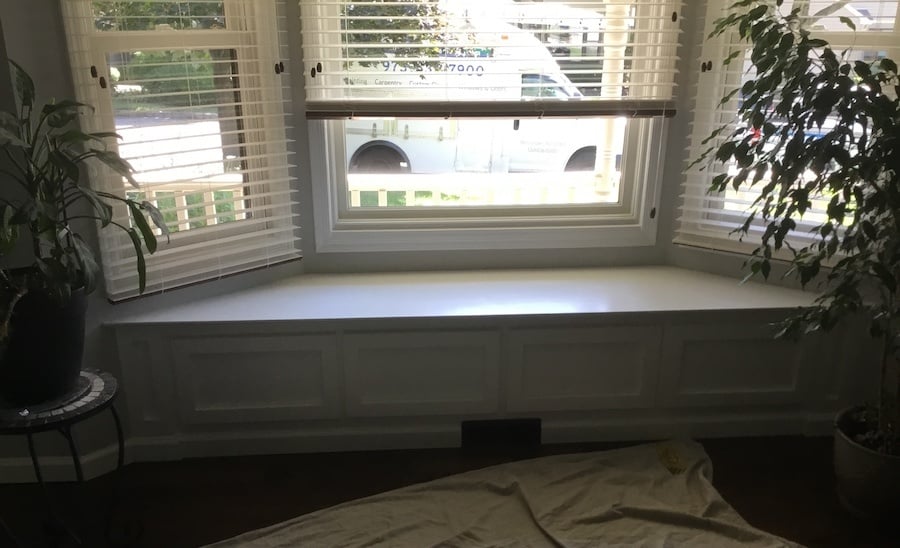 Monk's Method
This bay window will provide the perfect space for a cozy window seat. The window seat was planned out to include four front panels, two of which would be drawer fronts.
First, we needed to make a little adjustment to the HVAC. There was a heating and air conditioning vent on the wall underneath the center window. Therefore, we needed to extend the ductwork to the front of the future window seat and relocate the vent there.
Then we began building and installing the custom bay window seat. We matched the base moulding of the room to create a cohesive look. Two working drawers were built and installed behind the two outside panels. The two center panels were decorative because the ductwork sitting behind prohibited drawers there. The carpentry work for this project was completed after a day.
Then the painters came in and applied two coats of primer to the bare wood structure. Once the primer had dried completely, they applied two coats of premium interior paint. The painting took 2 days to complete.
Now, this living room has some covered storage, and this lovely bright nook is ready to welcome some potted plants.
More Interior Carpentry Projects
We do custom carpentry projects for our customers every day. For some other examples of our work, see this coffered ceiling installation or this custom built-in desk.
Additionally, you can see our interior carpentry gallery for some more of our work.
If you'd like a free estimate for your interior carpentry project, then please give Monk's a call at 973-635-7900. Schedule your free estimate today!