Project Info
Location: Morristown, NJ
Scope of Work: Corner Shelving and Floating Mantel
The finished basement in this Morristown, NJ home featured a cozy den area complete with a flat-screen TV. The homeowners then added a free-standing fireplace underneath the wall-mounted TV. They called in our carpenters to build a floating mantel over the fireplace, as well as corner shelving built-ins to add character as well as function to the room.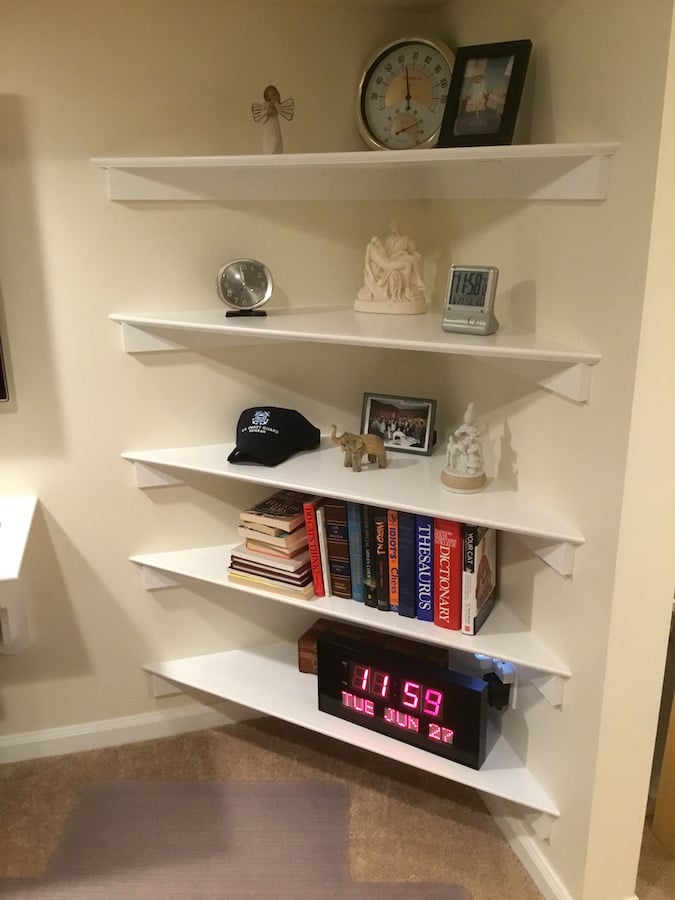 Monk's Method
After clearing the area of the free-standing shelving unit, the carpenters began by measuring the space. We worked with the homeowner to confirm the spacing and number of shelves to meet the look and functionality she desired. The shelves and brackets were all custom cut and installed.
The floating mantel was created to fit below the television and around the fireplace unit. Aesthetically, the goal was to give the fireplace a more permanent and traditional feel. From a functional standpoint, the mantel also served as a console for the television and related electronics. The mantle was also custom built and installed.
Once the carpentry was complete, our painting crew arrived. They applied two coats of primer to seal the raw wood. After those coats had dried thoroughly, two coats of paint were then applied.
In just 3 days this custom carpentry and painting job was complete. Now this basement den is even more cozy.
More Interior Carpentry Projects
We do custom carpentry projects for our customers every day. For some other examples of our work, see this mantel surround with granite hearth or this bookshelf that runs all around a room opening.
Additionally, you can see our interior carpentry gallery for some more of our work.
If you'd like a free estimate for your interior carpentry project, then please give Monk's a call at 973-635-7900. Schedule your free estimate today!