Project Info
Location: Madison, NJ
Scope of work: Custom Carpentry
Like many homes, they had an old built-in cabinet that was made for a small TV, so it didn't fit a modern large flat-screen TV. It's nearly impossible to find a cabinet with the exact dimensions you need, so they called us to create a custom built-in entertainment center.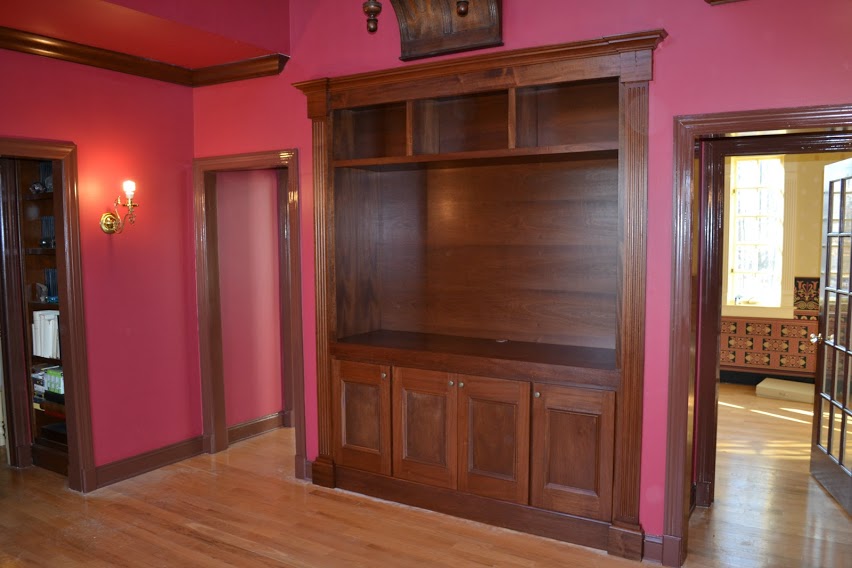 Monk's Method
Trevor Monk, the estimator on this project, drew out a plan to maximize the space so they could fit the biggest TV possible. The most important thing was making the new built-in cabinet match the rest of the room. As you'll see with the book shelf below, the rest of the room has a mahogany style to it.
Getting the new built-in cabinet to match the old bookcase required a few things. First, they wanted to make the top of the cabinet a book shelf, so Trevor designed the cabinet to have open space at the top, rather than closed doors (like it would have on the bottom).
The bookcase has a fluted trim on it and we wanted to match that. So we custom made the fluted trim on both sides of the new built-in cabinet, as you can see in some close-ups below.
But perhaps the most important aspect of getting the new built-in cabinet to match the old book shelf was getting the wood colors the same. Since all wood takes stains differently, we made samples with different stains on different wood until we figured out what matched the old book shelf.
Part of what we do on a project like this is we build everything on site (this project was a 2-3 man crew at all times). This ensures that everything fits perfectly, because not all walls and floors are perfectly flat. It also allows us to work closely with the customer on the project; they signed off on the wood stain samples the first day. We also review decisions like what size the door should be and different styling ideas with the customer.
If you would like to see more of us in action, check out this pergola we built in Madison or this crown molding and stone fireplace we handled in Chatham, NJ.
If you are considering installing custom built-in cabinetry, we would like the opportunity to tell you why we think we are the best cabinet maker in Madison, NJ 07940.