Project Info
Location: Chatham, NJ
Scope of Work: Fireplace Surround
This living room featured a lovely fireplace and mantel. However, the room was lacking any storage or display space. The homeowners wanted to create a floor-to-ceiling, wall-to-wall set of built-ins that would surround their fireplace and existing mantel. In 3 days we built and installed this custom feature and primed and painted it.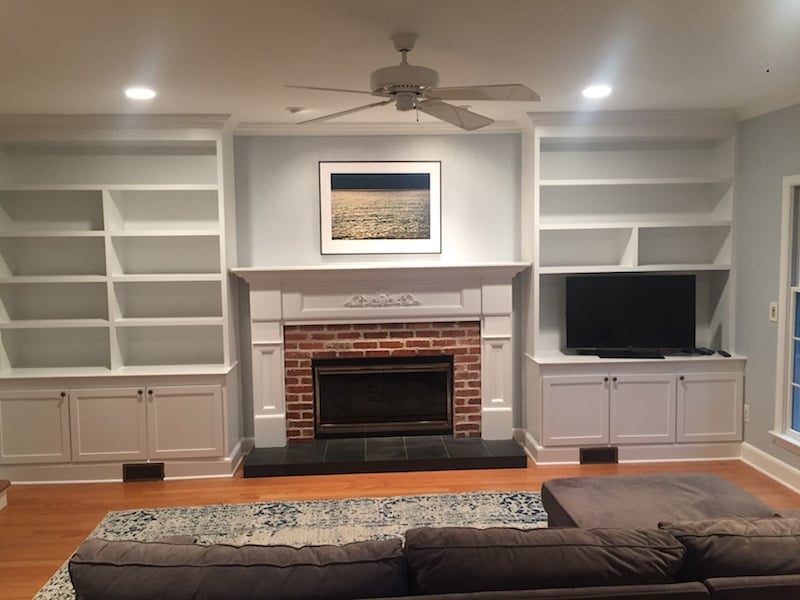 Monk's Method
The homeowners wanted their new built-in to be floor to ceiling and run the full width of the wall. However, they wanted their fireplace mantel to remain entirely as-is. We suggested modifying the mantelshelf so the built-ins could sit flush next to the fireplace, but that suggestion was not approved. The other requirement was to build a shelf large enough to accommodate a flat screen TV that the family used in the room.
So, after a drawing of the built-ins was finalized, we began building the shelving based on these specs. The carpentry portion of this project took us about a day and a half.
Then the painters came and applied two coats of primer to the raw wood. Once these coats were dried, they then applied two coats of premium paint. This would protect the shelving from whatever the homeowners decided to store or display on the shelves. We also painted the trim throughout the room so it would be a perfect match to the new built-ins.
We added the door hardware to provide the finishing touch to complete this custom built-in.
More Interior Carpentry Projects
We do custom carpentry projects for our customers every day. For some other examples of our work, see this mantel surround with granite hearth or this bookshelf that runs all around a room opening.
Additionally, you can see our interior carpentry gallery for some more of our work.
If you'd like a free estimate for your interior carpentry project, then please give Monk's a call at 973-635-7900. Schedule your free estimate today!