Project Info
Location: Morristown, NJ
Scope of Work: Custom Closet System
In the typical home, there just never seems to be enough closet or storage space. This homeowner was fortunate enough to have a walk-in closet in his master bedroom. However, it was a basic closet with just a wire hanging system around the three walls with a shelf just above. This was great for hanging clothes, but not ideal for storing folded items or shoes.
We discussed the homeowner's storage needs in order to design a custom closet solution built just for him.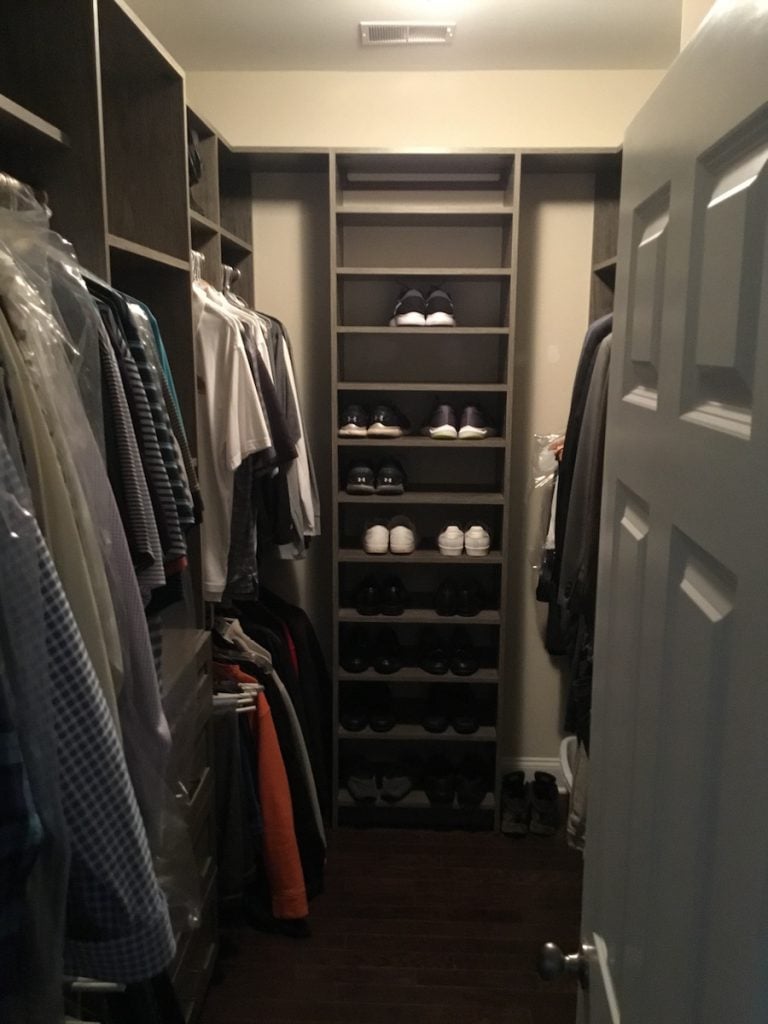 Monk's Method
When speaking with the customer we learned that he wanted a storage area for his shoes above the floor. He also wanted some shelving where he could store folded sweaters, t-shirts and accessories. However, he still wanted the same amount of hanging area as he had before. And the closet area was not to change.
Yes, we were able to accommodate. The existing closet had lots of unused space above the hanging rack. So, our Designer created a closet system that would be much taller than the existing hanging rack. This would allow for a two-tiered hanging area to double up on the hanging space. The narrow back wall would be used exclusively for shoe storage. Both sides of the closet would also feature open and closed shelving areas.
This men's custom walk-in closet also featured grey finishes for a masculine and modern feel. In just two days this new closet system was installed and the homeowner was ready to reorganize.
More Closet and Storage Projects
Our Designers are here to solve your closet and storage dilemmas. We've transformed other storage areas, like this his-and-hers reach-in closet project in Morristown, NJ. Our carpenters can also create storage solutions for other parts of the home like we did with this living room built-in and third-floor built-in cabinetry project.
If you are considering any type of closet or custom storage project, just give us a call at 973-635-7900. We'll set you up with an appointment for free estimate where you can discuss your ideas with an Estimator.