Project Info
Location: Chatham, NJ
Scope of Work: Built-In Mudroom Storage and Floor Installation
Another contractor had started some work in this Chatham, NJ home, but Monk's was asked to come in and complete a couple projects. We were asked to complete projects involving the back entryway and mudroom area.
Currently, the space featured some worn tile flooring, a small nook where shoes and cleaning supplies were stored, and some damaged baseboard trim. The homeowners wanted laminate flooring installed, and a new custom-built mudroom storage unit installed and painted.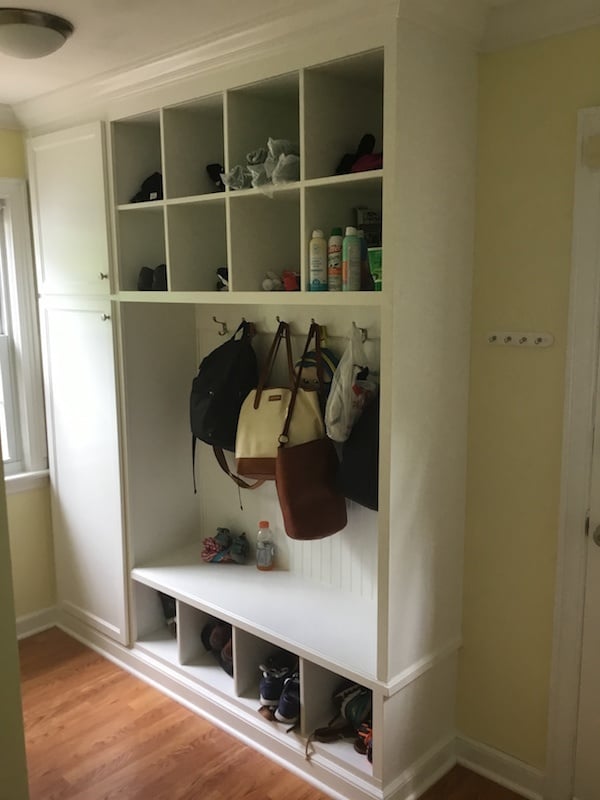 Monk's Method
For this project, the first step was to finish the work that was started previously. Since the homeowner requested we install the laminate floor over the tile, we needed to make sure the surface was perfectly level. However, the previous contractor had cut the tile floor out in two sections near the opening of the mudroom nook. We cut out the section between these two cut-outs to create a long strip. Here, we installed a solid wood threshold to create a flat, even surface. We also installed a new threshold in an adjacent doorway.
Now we were able to install the laminate flooring over the tile. The final step for the flooring project was installing new shoe molding throughout the space.
The next step was to build the new mudroom storage unit. The carpenters custom built the unit to maximize the space in the room. A side cabinet was created to store the vacuum and broom. Top storage cubes were built to store sports equipment, hats, and gloves. Hooks were added to hang coats and bags. A bench seat was incorporated as a convenient area to put on and take off shoes. Shoe cubbies were also fitted underneath the bench.
When the carpentry was completed, Monk's painters primed the mudroom storage unit. We painted the unit white and repainted the banged up window trim.
Now this entryway is fully functional and looks amazing!
More Interior Carpentry Projects
We do custom carpentry projects for our customers every day. For some other examples of our work, see this mantel surround with granite hearth or this bookshelf that runs all around a room opening.
Additionally, you can see our interior carpentry gallery for some more of our work.
If you'd like a free estimate for your interior carpentry project, then please give Monk's a call at 973-635-7900. Schedule your free estimate today!