Project Info
Location: Boonton, NJ 07005
Scope of Work: Decks, Exterior Carpentry, Deck Refacing, Deck Repair
Before Monk's Home Improvements arrived on the scene this Boonton, NJ home's deck was in need of some attention. In a matter of days our team had completely refaced the deck, and completed other substantial repairs.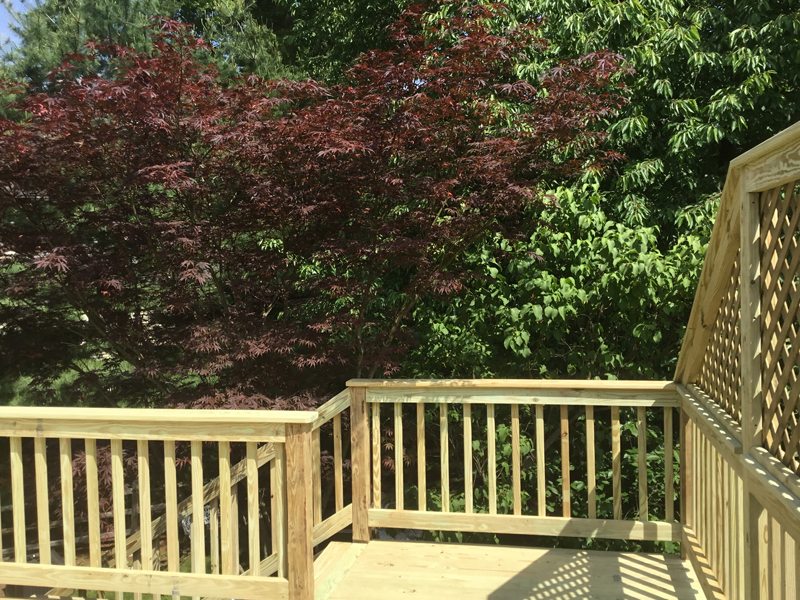 Monk's Method
This Boonton deck was in need of some upgrading. At first glance, the deck appeared to be in decent condition.
However, all the rotted wood that needed to be replaced is evident when we viewed the deck from below.
To begin this project all of the floorboards were removed.
Brand new joists were installed to properly support the deck. Additionally, new sistered 2x4s were also put in to give the deck even more support.
Monk's carpenters installed all new pressure-treated lumber decking and railings. Pressure-treated lumber is a popular choice for exterior projects because of its moisture-resistant properties.
The homeowners requested a new lattice screen be installed. They wanted to add an element of privacy to the newly remodeled deck.
Monk's painters will also stain the deck, but not immediately after installation. Pressure-treated lumber is not stained right away in order for the lumber to "off-gas". This deck will be stained in a few weeks.
In only a handful of days our team at Monk's Home Improvements had fully updated this Boonton, NJ deck. The homeowners are able to (privately) enjoy the beautiful summer!
Learn more
More Projects: deck projects Deck Portfolio.
If you are considering building a deck for your home we would like the opportunity to tell you why we think we are the best carpentry contractor in Boonton, NJ.
To discuss your project and receive a free estimate, call 973-975-0044 today.