Project Info
Location: Denville, NJ
Scope of Work: Deck Resurfacing Using Zuri
Most homeowners love their back decks, but find the annual upkeep a little much. Oftentimes, annual maintenance gets put off year after year, at which point it needs more than just restaining. These homeowners wanted to enjoy their deck without this burden and had us resurface their wood deck with Zuri composite.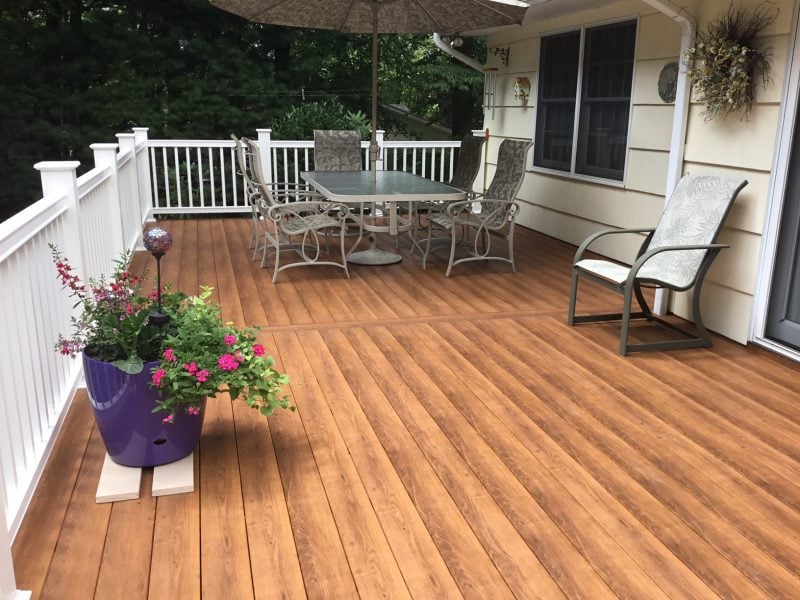 Monk's Method
A deck resurfacing project, or as we typically call it, a deck refacing project, is a process of replacing the non-structural elements of a deck. The posts, beams, and joists remain, while all the decking, railing and stairs are replaced. Because the structure is not changing, the project doesn't require a building permit or the associated inspections. This cuts down on the project timeline and allows us to finish these projects in just a couple of days, in most cases.
For this deck resurfacing project, we removed all the railings, decking and stairs. After inspection of all the structural components to ensure that they are in good shape, we began by laying the decking. Zuri composite is a prefinished material that comes in a variety of colors. You can see all of them at our showroom where we have an actual deck composed of all the color options.
After the decking, we installed the railing system. This began with the posts, and then included the balusters and railings. The system is also a man-made material that will handle the weather and require little to no maintenance. We also put in a gate at the top of the stairs to allow the dog to enjoy the deck as well.
New Zuri stairs were installed and then this resurfaced deck is ready to enjoy for years and years without anything to do but a sweep and a rinse.
More Decking Projects
From deck resurfacing using Zuri composite, to deck refinishing, to building a new deck from scratch, Monk's carpenters can help.
If you'd like a free estimate for a decking project, then please give Monk's a call at 973-635-7900. Schedule your free estimate today!