Project Info
Location: New Providence, NJ
Scope of Work: Exterior Carpentry, Decks
In only a handful of days, our team of carpenters had replaced this home's damaged deck stairs with brand new pressure-treated stairs.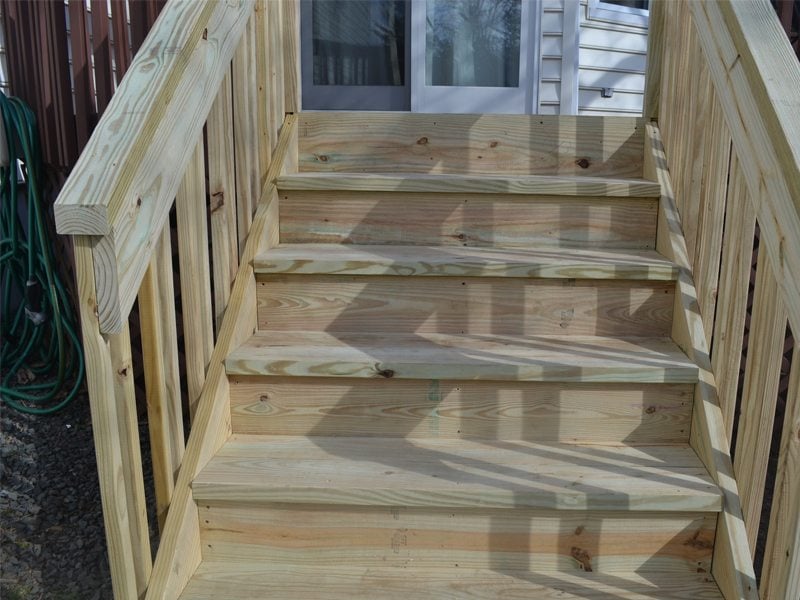 Monk's Method
The existing stairs of this New Providence, NJ home had rotted treads and stringers.
Our team at Monk's removed the damaged stairs and built new stairs.
The new deck stairs were built out of pressure-treated lumber. Pressure-treated lumber is a great choice for exterior projects because it is a moisture-resistant material.
Our team of carpenters built the new stairs in the same style as the existing deck. Pressure-treated lumber cannot be stained or painted immediately. It needs time to "off-gas" – to release the gasses in the wood. Therefore, once the carpentry portion of the project was completed, the painters needed to wait a couple of days before they could apply the solid stain to match the existing deck.
Learn more
More Projects: deck projects Deck Gallery.
If you are considering a deck project for your home we would like the opportunity to tell you why we think we are the best deck contractor in New Providence, NJ.
To discuss your project and receive a free estimate, call 973-635-7900 today.