Project Info
Location: Morris Plains, NJ
Scope of Work: Deck Refacing Using Composite
It was time for the annual deck restaining, and the homeowners decided that instead of continuing with this process, they were going to change things up. They decided to swap out their wooden deck with composite. This way, they'd have a deck with the look of wood, but without the annual upkeep.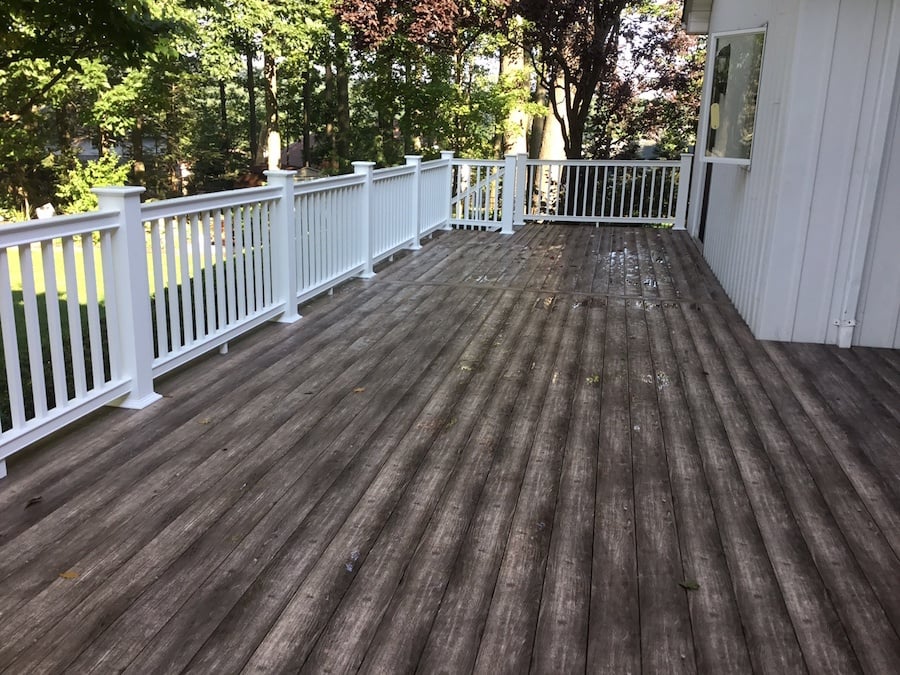 Monk's Method
This Morris Plains NJ home had a pressure-treated wooden deck that ran all along the back of the home. The deck was well used in the warmer months for entertaining, dining, relaxing, as well as access to the backyard.
A deck refacing project involves removing all of the deck floorboards, stair treads, and railing system. These are the portions of the deck that get the most wear and rot. The deck frame and joists remain intact. No permits are required for this type of deck project, as the structural elements are changed.
For this Morris Plains NJ deck refacing project, we did just as described. All the wood floorboards, stairs, and railings were removed. We also inspect all the framing boards to check for any rot. If necessary, we'll add in new joists to make sure the deck is safe and sturdy.
First, we rebuilt the stair frame and supports. Then, the new composite decking floorboards were installed. The stair treads were cut and installed. The carpenters also install the fascia boards and skirting. These are also made of durable composite material. Then the carpenters put in the railing posts. These posts are made of pressure-treated wood. However, the carpenters wrap them with a composite sleeve and cap. The rest of the railing system is then installed by the carpenters.
Now, this composite deck refacing project is complete. The back deck is beautiful and weather-resistant. It won't require annual upkeep. Just a hose off in the Spring and ready to enjoy.
More Deck Projects
In addition to deck refacing, Monk's can handle all of your decking needs. We can build brand new decks from wood or composite. Also, we can refinish wood decks. We power wash, sand, and stain.
To see examples of different types of decking projects, visit our Deck Gallery.
To discuss your deck project options, call Monk's at 973-635-7900. We'll provide a free, written estimate for any deck project.