Project Info
Location: New Vernon, NJ
Scope of Work: Porch Refacing
These homeowners were growing tired of the ongoing maintenance required for a natural wood deck. They wanted a more durable material for their front porch. Therefore, we recommended refacing their porch using Zuri composite, which comes pre-finished and won't rot. It's low-maintenance and long-lasting.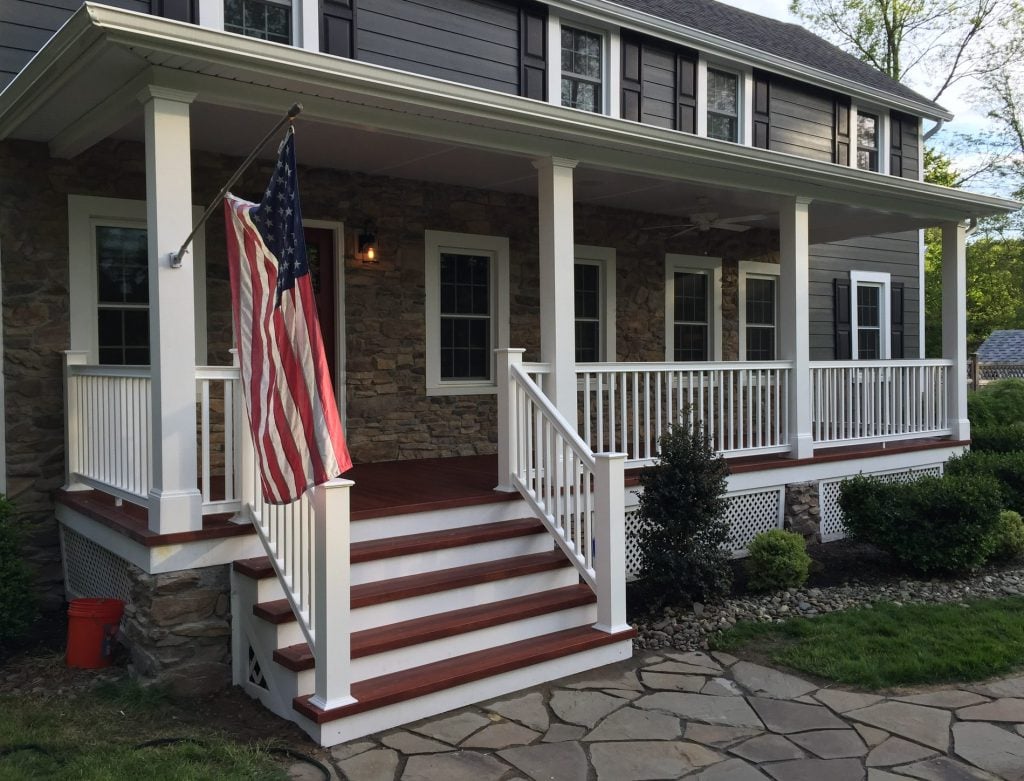 Monk's Method
Despite our best plans, you never know what you'll find once demolition begins. This lovely front porch had a few surprises for us when we began removing the rotted floorboards.
We first began this project by removing all the floorboards and railings. We assumed that we'd be replacing a number of the joists, as they are made from pressure-treated wood and can also rot after many years. However, we also discovered that we needed to re-level the porch. Therefore, we reframed the deck including new stairs.
But the biggest surprise came from the columns. The initial project scope had us leaving the posts intact and simply repairing the rotted sections of the column wrap. That turned out to be impossible. When we removed the floorboards and the trim around the "posts" we discovered that there were no posts. All that was there was boxed trim to give the appearance of columns. This was entirely unsafe and needed to be remedied. We put up temporary posts and then removed the faux posts. Real, load-bearing posts were then installed. This made the home much safer as these posts were now able to hold up the porch roof.
After solving those problems, we were able to lay the new Zuri composite floorboards. Once the floorboards were in place, the new composite railing system was installed. Unlike the old wooden system that was installed into the masonry, the new Intex system would only be installed into the deck.
Since both the floorboards and railing system come pre-finished, no painting was required for them.
A beautiful, durable and safe front porch was reconstructed in only 4 days. Now, these homeowners are able to safely enjoy the outdoors on their front porch.
More Carpentry Projects
Monk's carpenters can reface your deck or porch using Zuri composite or natural wood. We also repair trim, build porticos and install windows and doors. Inside the home, we can create fireplace surrounds, built-in trundle beds, even faux basement windows.
If you'd like a free estimate for a carpentry project, then please give Monk's a call at 973-635-7900. Schedule your free estimate today!