Project Info
Location: Montville, NJ
Scope of Work: Double Front Door Replacement
Double front doors provide a grand entrance to any home. Their elegant appearance adds to a home's curb appeal. However, double doors can also provide double draughts if not properly installed.
The existing front double doors in this Montville, NJ home were original to the home. They were wooden with a metal frame. There were also full glass storm doors installed in front of the wooden doors. After many years, these front doors had become draughty. The homeowners wanted to update the doors to improve energy efficiency.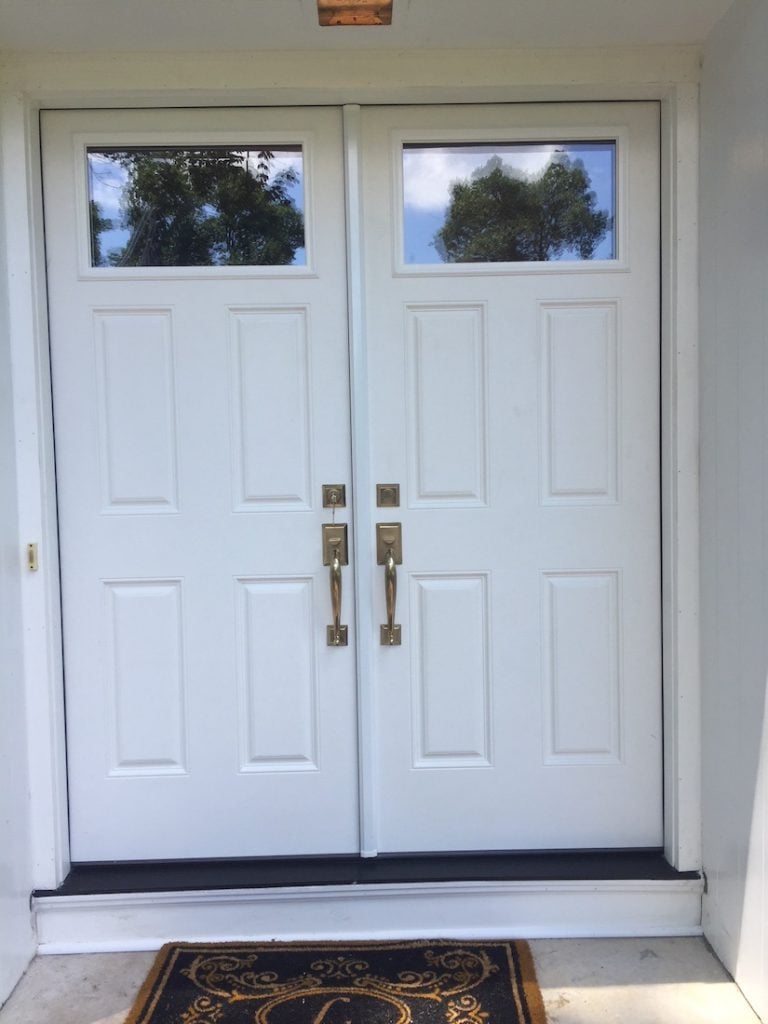 Double Front Door Replacement
The homeowners had two main requests for their new doors. They wanted the doors to be secure and energy-efficient, and they wanted them to be able to handle the elements without the use of storm doors. Since their front doors were recessed from the exterior of the home, they were mostly protected from the rain. However, sunlight can damage some material just as much as water.
When the homeowners shopped for a new entry door at our Morristown showroom, we spoke to them about fiberglass doors. Fiberglass doors are durable and able to withstand the elements. They selected smooth fiberglass front doors and changed up the windows to a single window above the 4-panels. These double front doors also feature a center panel to provide more security. The brass hardware was replaced with new sets that featured contemporary squared panels. Carpenters also replaced the worn threshold.
Now, this front entrance is ready to welcome guests but keep out the draughts.
Ready to learn how Monk's can help you?
Contact us for your free, no obligation consultation and estimate.
Call the office at 973-635-7900 OR