Project Info
Location: Mountain Lakes, NJ
Scope of Work: Front Door Refinishing
Natural wood doors add beauty and warmth to any home's entryway. However, like any natural wood that is on the exterior of your home, maintenance is required to keep it looking and functioning at its best. Even living under a covered porch, this natural wood door with sidelights and transom, had faded from the sun. The homeowner's asked Monk's to refinish their front door. In just one day we were able to improve the appearance of this door, and provide added protection from further sun damage.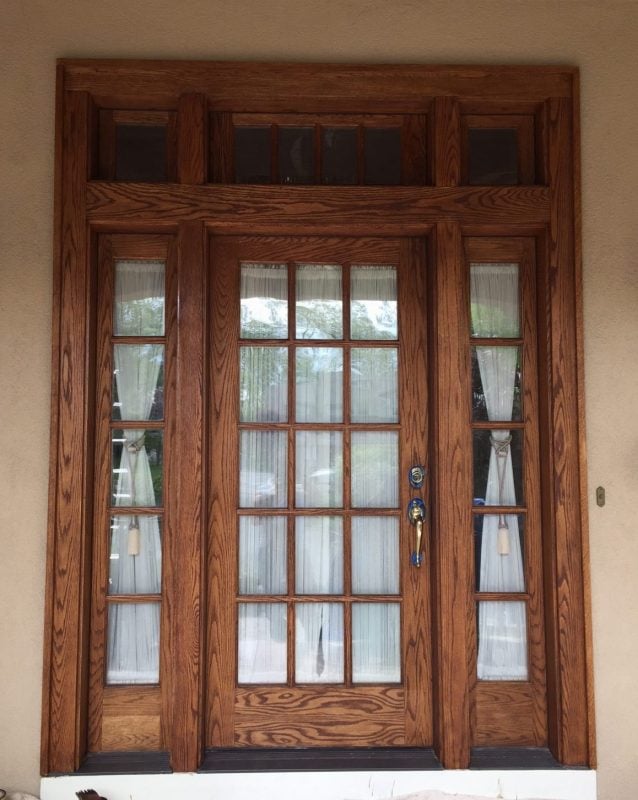 Monk's Method
We began this front door refinishing project by first removing the kick plate from the bottom of the door. Then we chemically stripped the door, sidelights, and transom windows to remove the existing stain. Once the stain was carefully and thoroughly removed, we sanded all the components of the door. Because of all the grilles, everything was sanded carefully by hand.
When all of the dust had been removed with a tack cloth, we began by applying the stain.
Finally, after the stain had dried completely, a polyurethane seal was applied.
Now this door has a rich, even-toned appearance and is better protected to resist future fading from the sun.
More Door Refinishing Projects
We've refinished many hardwood exterior doors. Like this mahogany front door in Basking Ridge. You can also see this project in Warren where we refinished a stunning double front door. We've also refinished wood garage doors, along with the front entry door.
If you'd like a free estimate on refinishing an entry door or garage door, then please give us a call Monk's at 973-635-7900. Schedule your free refinishing estimate today!