Project Info
Location: Chatham, NJ
Scope of Work: Door Replacement, Exterior Trim Rebuild
This newly purchased home was in need of some updates. The front entrance was damaged. The exterior was also showing rotted trim, mildewed siding, and leaky entry doors. The new homeowners called us since we could help them with all these exterior repairs, as well as the interior work they also needed.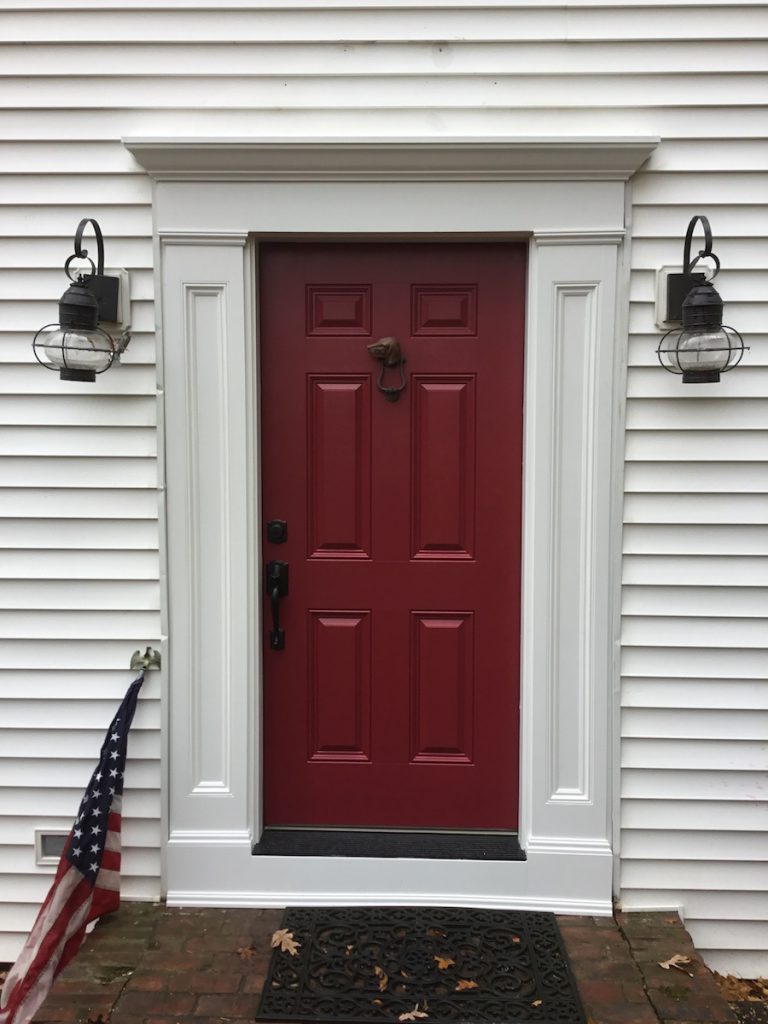 Front Entrance Renovation
While this front door looked to be in pretty good shape from the first photo, there is usually more than meets the eye when it comes to older homes. The ceiling just inside the front door showed water damage. It was determined that water was able to run behind the front door surround, damaging the areas underneath.
Our carpenters removed the entire surround. Once all the rotted areas were removed, the carpenters replaced the surround with Azek composite. Azek is durable and water resistant.
The homeowners also wanted the draughty front door replaced. They shopped for a new entry door at our Morristown showroom. They selected a similar, traditional front door, except the new front door did not have any windows. The door came primed in white. Our painters painted the door a nearly identical red as they had before.
Our carpenters also took care of replacing the rotted window trim while on site. We also power washed the entire home to rid the house of mildew.
Now, this front entrance is ready to welcome guests.
Ready to learn how Monk's can help you?
Contact us for your free, no obligation consultation and estimate.
Call the office at 973-635-7900 OR