Project Info
Location: Madison, NJ
Scope of Work: Porch Extension
These homeowners love to grill, but the porch had no access to the backyard where the grill was located. They made trips through the house to access the grill and back through to enter the porch. Once they decided they were done running in circles, they called Monk's to improve their backyard access.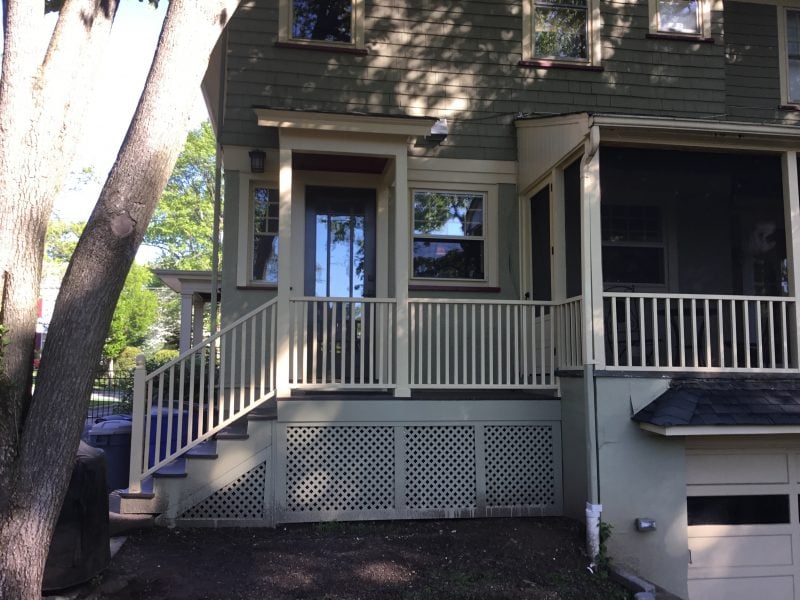 Monk's Method
First, we outlined the plan for this porch extension. We planned on removing one section of railing from both the stairs and the adjacent porch. The section removed from the screened-in porch would be replaced with a storm door.
Before installing the door, we needed to remove some of the bluestone that served as a baseboard around the porch. This would allow for a standard sized door to fit, and also make the threshold more manageable.
The floor from the landing was extended to connect to the screened-in porch. A railing system was also installed to connect the two structures. The latticework around the stairs was removed and replaced with a single piece that extended the length of the pass-through.
All the new pieces were stained or painted to match the existing structure.
Enjoy summer with your improved backyard access! Bon appétit!
More Carpentry Projects
Monk's carpenters can solve all sorts of home problems. If you are struggling with an issue, give us a call and we'll come up with a solution to fit your budget. Additionally, we also can build decks, porticos and pergolas. Inside, we can create fireplace surrounds, built-in trundle beds, even faux basement windows.
If you'd like a free estimate for a carpentry project, then please give Monk's a call at 973-635-7900. Schedule your free estimate today!