Project Info
Location: Madison, NJ
Scope of Work: Floor installation, exterior painting
This lovely porch was covered in ivy. The small space had a very green, woodsy feel. But, the outdoors was starting to take over and its effects could be seen along the foundation, railings, and floorboards. The homeowner asked us to help her reclaim her outdoor space and provide an ivy-covered porch restoration.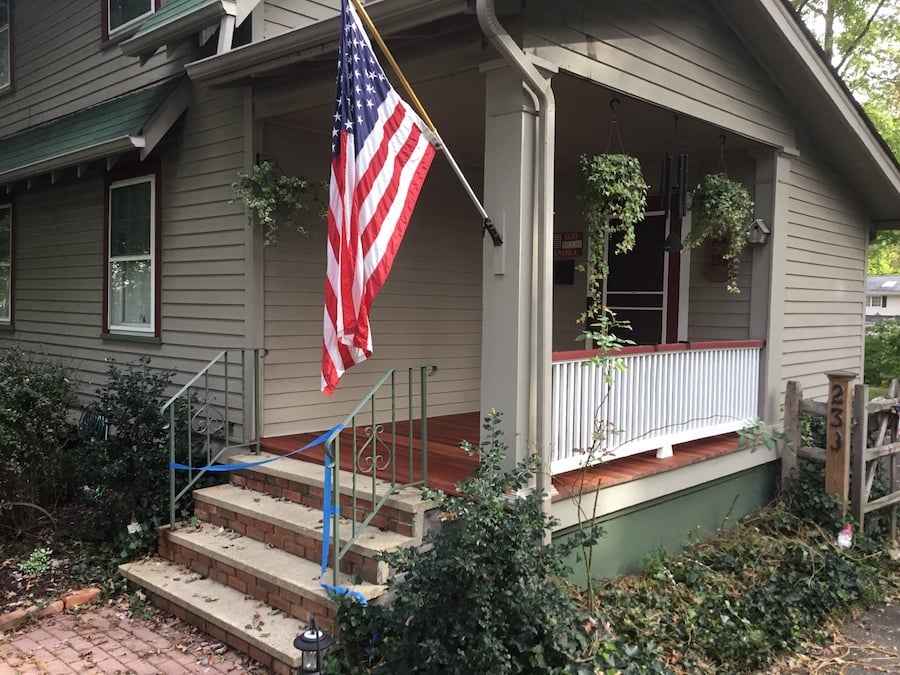 Monk's Method
Ivy-covered buildings are charming components of northeastern communities and universities. But, it can really ruin a paint job on a building.
The first step, as you could imagine, was to clear the ivy from the structure. We pulled it back off the railing, the decking, and the foundation. The existing floorboards were removed. We scraped the painted surfaces and power washed the entire area.
Before the new floor could be installed, repairs needed to be made to the subfloor. Once the subfloor was secure, new mahogany floorboards were installed. These planks were tongue and groove. We created a slight slope away from the door to prevent water from pooling in the area.
To see the beautiful natural grain and color of the mahogany, we applied a clear coat to seal the wood. No stain was applied.
The railings and spindles were all given a fresh coat of paint. This included the skirting and the foundation.
In addition to the porch project, we also cleaned up a portion of the garage. It was also covered in ivy as you can see in the photo below. We removed the ivy and repainted the garage.
In just 5 days we reclaimed this porch for the homeowners.
More Porch Projects
We've made over lots of front porches in northern New Jersey. Take a look at this porch remodel in Madison, NJ or this dramatic porch overhaul complete with stacked stone columns and composite flooring. In addition to these larger projects, we've refinished porch floorboards, replaced railings, as well as repainted.
If you'd like a free estimate for your porch renovation project, then please give Monk's a call at 973-635-7900. Schedule your free estimate appointment today!