Project Info
Location: Madison, NJ
Scope of Work: Porch Reconstruction
The front porch of this home is an architectural focal point with loads of curb appeal. Additionally, it connects the front door to the front path and driveway. When the homeowners saw rotting floorboards and railing, it was a necessary fix. Monk's replaced the rotted areas and made this front porch sturdy, safe, and beautiful.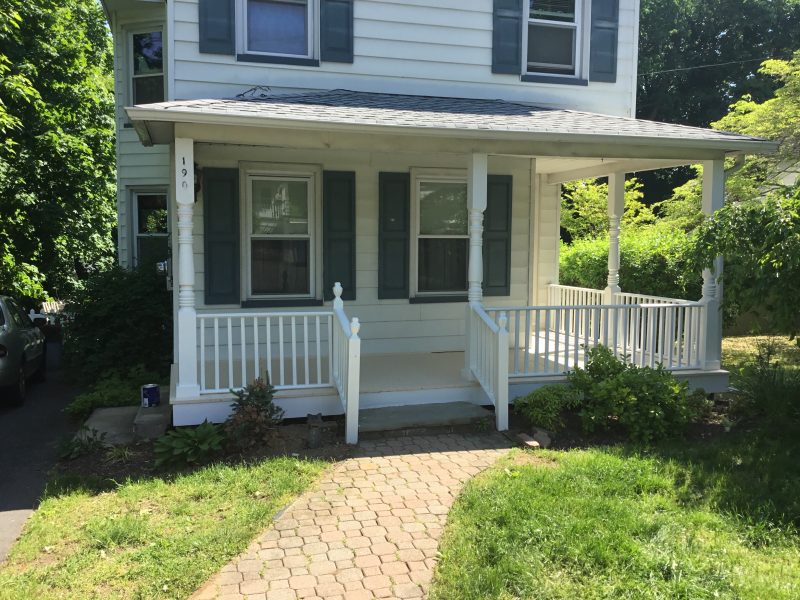 Monk's Method
For this porch reconstruction project, we began by removing all the rotted floorboards, trim, and railings. Due to rot, two sections of floorboards needed to be replaced. We typically recommend replacing wood with composite because it won't rot and is so easy to maintain. However, the homeowners wanted to use pressure-treated lumber in keeping with the rest of the porch and home.
While the posts remained, we replaced the railing system entirely.
After the carpenters were finished, the painters began their work. The floorboards were all sanded down and exterior solid stain was applied. The railings were painted white.
In just two days the focal point of this home was beautifully restored. Time to get out the rocking chairs and lemonade and enjoy the summer!
More Carpentry Projects
Monk's carpenters can handle everything from simple repairs to building entirely new structures like decks or porticos. We work with wood or composite materials. Inside the home, we can create fireplace surrounds, built-in trundle beds, even faux basement windows.
If you'd like a free estimate for a carpentry project, then please give Monk's a call at 973-635-7900. Schedule your free estimate today!