Project Info
Location: Millburn, NJ
Scope of Work: Exterior Carpentry
This home featured a front door that was bumped out from the rest of the home, which posed a couple of exterior problems. The horizontal side pieces allowed water to collect on top, causing rot and deterioration. It also didn't offer visitors any rain protection. We reconfigured it to improve water drainage & curb appeal.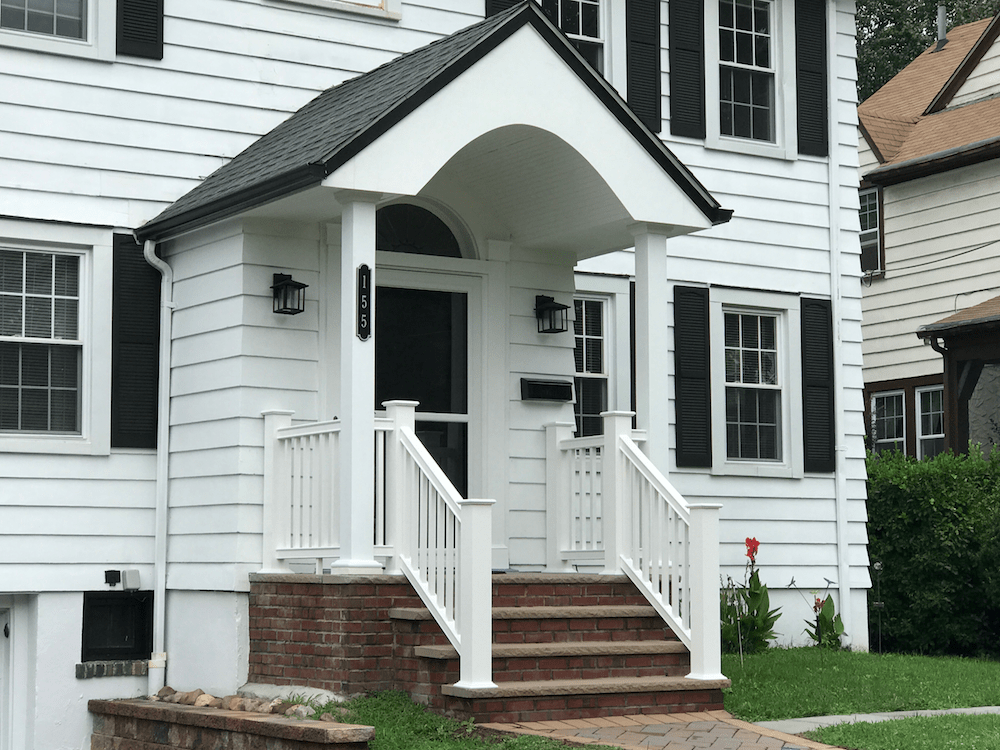 Monk's Method
This project began with the removal of the damp roof over the front door. Our carpenters then framed out the new portico. The roof of the structure will be much larger, providing shelter from the elements. Because of the larger size, support columns are needed to bear the weight of the front of the portico.
We also removed the one-sided wrought iron railing and replaced it with a safer, two-sided railing system. The railings are made of composite and were sold and configured at the Monk's Design Studio. The columns were wrapped in HB&G composite. The vaulted ceiling of the portico was trimmed with beadboard.
When the carpentry was completed, the painting team got to work. The portico and columns were painted, along with portions of the house that needed to be touched up.
Now this portico will keep the roof dry, as well as all the visitors to this Millburn, NJ home.
More Portico Projects
A portico is a practical home improvement that offers protection to visitors from the elements. It is also an esthetic improvement that adds curb appeal and visual interest to the exterior of your home.
See how porticos changed the look of these homes, see this Chatham, NJ portico project or this pretty portico addition in Summit, NJ.
If you'd like a free estimate for your interior painting project, then please give Monk's a call at 973-635-7900. Schedule your free estimate appointment today!