Project Info
Location: Madison, NJ
Scope of Work: Shutter replacement, front door installation, front door surround
This pretty colonial home in northern New Jersey was ready for a little makeover. Monk's took care of mildew and rot damage with the shutters and door in just 3 days.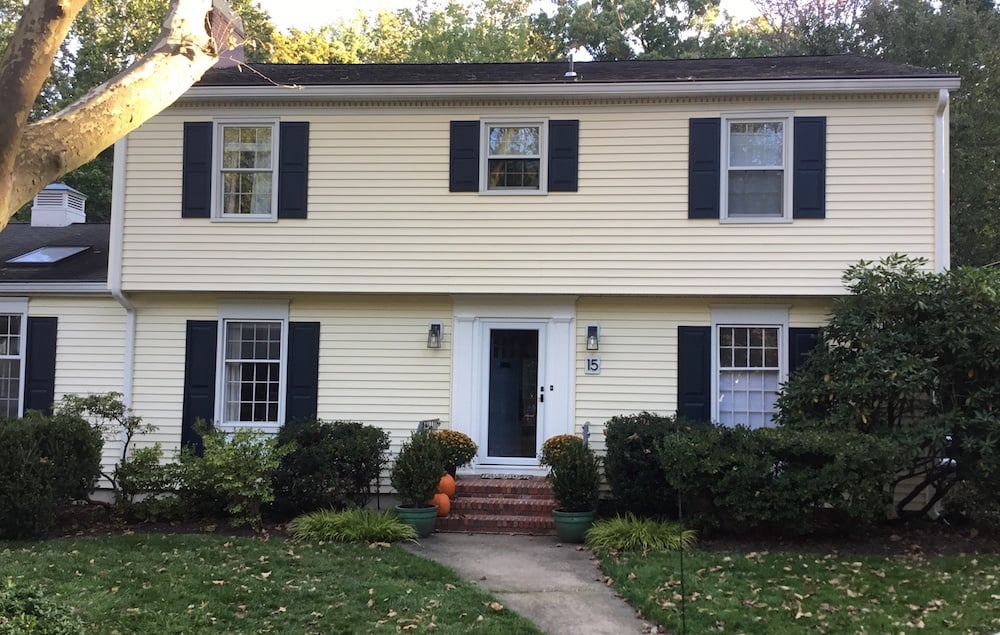 Shutter Replacement and Front Door Installation
After receiving a written estimate for the installation costs, these Madison homeowners visited our Morristown showroom to shop for a new front door, storm door, and shutters. They elected for vinyl windows over wooden ones. Vinyl shutters are durable, won't rot and come in a variety of colors. They also selected a new fiberglass front entry door. The new door features six grilles (or windows), which will let in more light than their previous door.
The first step for our carpenters is to remove the existing beige shutters. Then they installed the new black vinyl shutters. This shutter replacement project really added curb appeal to this home. The contrast between the shutter and house colors is very appealing. These vinyl shutters should retain their color and condition for many years to come.
Next, the front door and storm door were removed, along with the existing door surround. The new fiberglass front door was installed, along with the full-view storm window. This type of storm door will help insulate the home, while still allowing in lots of light.
We custom built a new front door surround from Azek composite material. The new door surround showcases a traditional, but up-to-date look. Since the door surround is made from composite, it won't require any maintenance and is water resistant.
This home is ready to tackle the elements and look good while doing so.
Ready to learn how Monk's can help you?
Contact us for your free, no obligation consultation and estimate.
Call the office at 973-635-7900 OR