Project Info
Location: Basking Ridge, NJ
Scope of Work: Exterior painting
The cedar shingles on this home in Basking Ridge were in need of a complete sanding and exterior paint job. The years of sun had taken their toll and the home needed to be stripped, primed and painted to restore it to its former glory. In 8 days it was beautiful.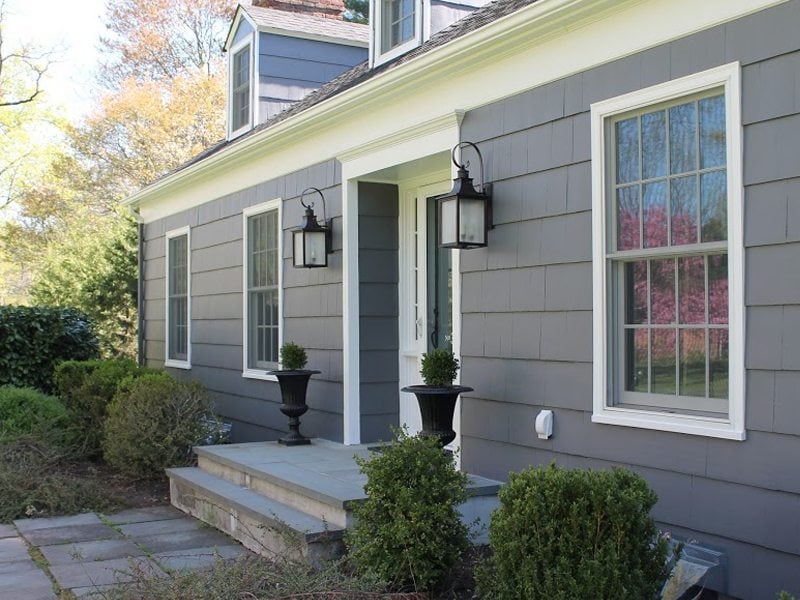 Monk's Method
With this project, Monk's covered the home to help minimize the dust. We use Hepa-Vac sanders to also reduce the amount of dust in the air.
Kids and pets were able to safely play outside after we completed the sanding. You can see that the grass and planting area is virtually dust-free.
To properly repaint the exterior of the home, we stripped the shingles to 95% of the bare wood. You can see how smooth and even the shingles are after the stripping process.
Once the shingles have been stripped we applied the first coat of high-quality oil-based primer. After the first coat absorbs into the shingle and has dried completely, we went over the home and hand sanded the shingles. The second coat of primer was then applied to cover up any staining.
Before painting we caulked all seams and corners. Finally, time to paint! Two coats of Aura Exterior Paint were applied. Monk's thorough process for sanding and painting cedar shingles allowed us to offer our standard three year warranty for this exterior paint job. Our warranty, along with our special 9-step process, sets us apart from our competitors.
Learn more
More Projects: Exterior Painting Gallery
Other Types of Work:
Want to learn more about our exterior painting process or three year warranty? Call us at 973-975-0044 or make an appointment online today. We can typically provide you an estimate on the spot.
View our online gallery of exterior paining work for color inspiration!
To discuss your project and receive a free estimate, call 973-635-7900 today.