Project Info
Scope of Work: Exterior House Painting
Location: Randolph, NJ
This two-story colonial was ready to be repainted. The paint job was showing signs of wear. Truth be told, the homeowners didn't love the color or the house and were ready to make a change. Monk's painting crew provided a full exterior painting job, providing not only a color change but also with necessary home maintenance.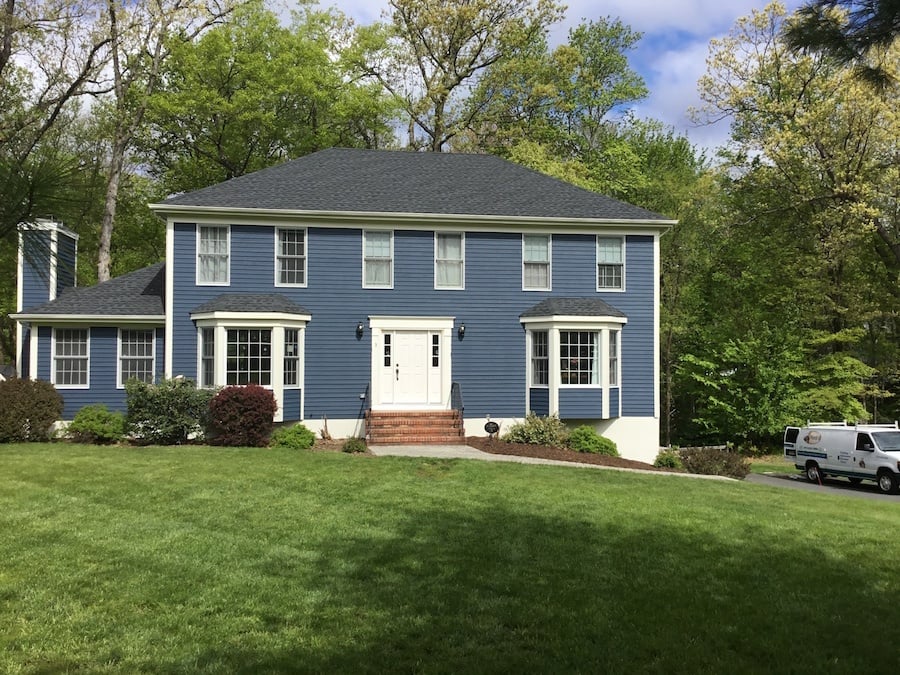 Monk's Method
This project took 5 days. We began this exterior painting project like any other – with prep work. This includes removing all the shutters from the home. Afterwards, the entire exterior is pressure washed. Then the painters caulk the seams and corners, and fill all nail holes in trim.
Now, more prep work. Some projects require the home to be sanded to bare wood. That wasn't required for this exterior painting project. Instead, the painters went around the house and scraped off any areas with loose paint.
Finally, the painting can begin. First, all the scraped or sanded areas are primed. Once that has dried, we applied two coats of premium paint to the siding.
This house color change project took this home from sage to a stately dark blue. Now the home is protected for another 3 – 7 years from the sun and moisture. Plus, the homeowners love how the exterior of their home looks!
More Exterior Painting Projects
Did you know that Monk's started out as a painting company in 2007? While we now do a sizeable amount of remodeling work, painting is the core of our business. We've completed many exterior painting projects over the years. For example, this full sanding exterior painting project in New Providence and this historic farmhouse painting project.
Additionally, you can see our exterior painting gallery for some more examples of our work.
If you'd like a free estimate for your bathroom remodeling project, then please give Monk's a call at 973-635-7900. Schedule your free estimate today!