Project Info
Location: Madison, NJ
Scope of Work: Exterior House Painting and Carpentry
Monk's professional painters and carpenters got this home looking like new in only 8 days. You can tackle this project, too, but plan on it taking longer since you don't do this every day.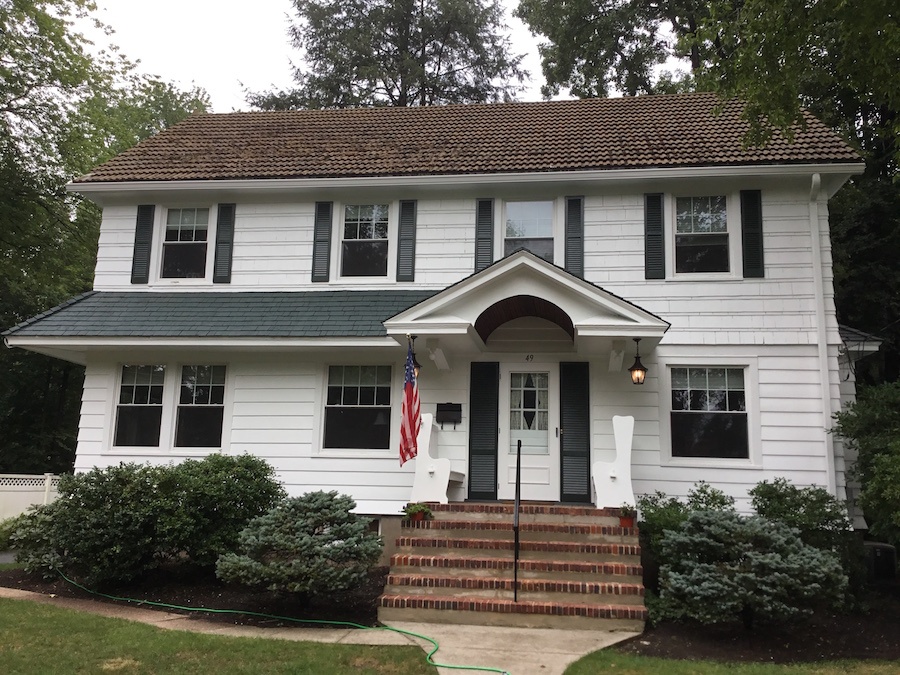 Monk's Method
Is your home suffering from peeling paint? What about rotted trim? Both? Whether you need to perform some overdue maintenance on your existing home, or make improvements to a newly purchased property, Monk's can help. This lovely Madison, NJ home suffered from rotted fascia boards all around the home. Additionally, the exterior paint was peeling, especially the sides that received the most direct sunlight.
The first step for this project is getting the home ready to be inspected and repaired. In order to do this, all the shutters were removed. Then, the second story gutters were also removed from the home. Now our carpenters had a clear view of all the trim and siding and could assess what needed to be replaced.
The carpenters removed all the rotted and damaged fascia boards. New Azek composite trim boards were used to replace the rotted wood. Azek is a more expensive material than regular wood, but it is weather resistant, won't rot, and will look like new for years to come.
Because the paint was so badly peeling in most of the house, a full sanding job needed to be done. Using circular sanders, the painters carefully remove approximately 95% of the existing paint from the home. Then they powerwash the home to remove any remaining debris and sawdust. This leaves the bare wood exposed and ready to receive new paint.
Once everything has dried after the pressure wash, our painters applied two coats of primer. This helps seal the shingles and protects them from the elements. Then, two coats of premium paint were applied. The homeowners liked their traditional color scheme of 'white house with forest green shutters', so the color was not changed.
Once the paint was fully dry, the gutters were replaced. The shutters, also after being repainted, were also re-installed.
Now, this home is looking great. No more peeling paint or rotted fascia. Just a lovely home in northern New Jersey.
More Exterior Painting Projects
Did you know that Monk's started out as a painting company in 2007? While we now do a sizeable amount of remodeling work, painting is the core of our business. We've completed many exterior painting projects over the years. For example, this full sanding exterior painting project in New Providence and this historic farmhouse painting project.
Additionally, you can see our exterior painting gallery for some more examples of our work.
If you'd like a free estimate for your exterior painting project, then please give Monk's a call at 973-635-7900. Schedule your free estimate today!