Project Info
Location: Westfield, NJ
Scope of Work: Hardwood Floor Installation, Dustless Floor Refinishing
Refinishing the hardwood floors in your home is a great way to improve the look of your home. But when the floors are just too damaged it is better to simply install new floors. Our team at Monk's installed new hardwood floors in the living room and dining room of this home.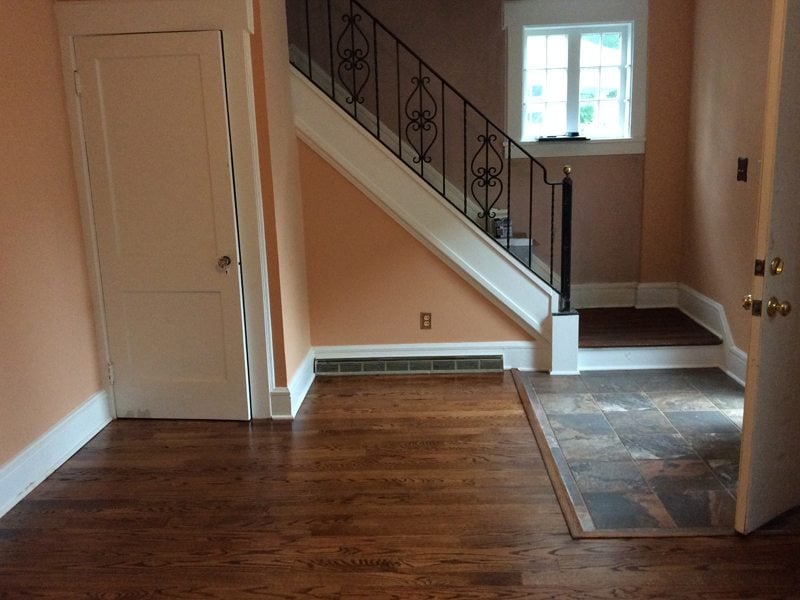 Monk's Method
Seeing as the existing floors were significantly damaged, it was decided that installing new hardwood floors on top of the existing floors would be the best option.
Our team of skilled workers installed new red oak floors in both the living room, and dining room of this home.
The floors were then carefully sanded and refinished using our dustless floor refinishing system.
Once the floors are thoroughly sanded our team applies a coat of stain. Staining your home's floor is an opportunity to alter their color. Our team is happy to help you make the decision by laying down a sample of various stains to help you choose.
After the homeowners decided on a stain color our team applied one coat of stain to the floors in the living room, and the dining room.
After staining the floors the job is completed by coating the floors with polyurethane.
In only four days our team transformed this home's interior by installing, and refinishing new hardwood floors in both the living room and dining room.
Another job well done by our team at Monk's.
Learn more
More Projects: dustless floor refinishing Other Types of Work: floor buffing project, hardwood floor refinishing project.
If you are considering a hardwood floor refinishing project for your home we would like the opportunity to tell you why we think we are the best hardwood floor refinishing contractor in Westfield, NJ 07090.
To discuss your project and receive a free estimate, call 973-975-0044 today.