Project Info
Location: Madison, NJ
Scope of Work: Floor Refinishing
Oak flooring is the most common floor material of colonial homes in our area of northern New Jersey. Recently, dark wood floors have become very popular. This look can be achieved with your existing oak hardwood, it just takes a little work.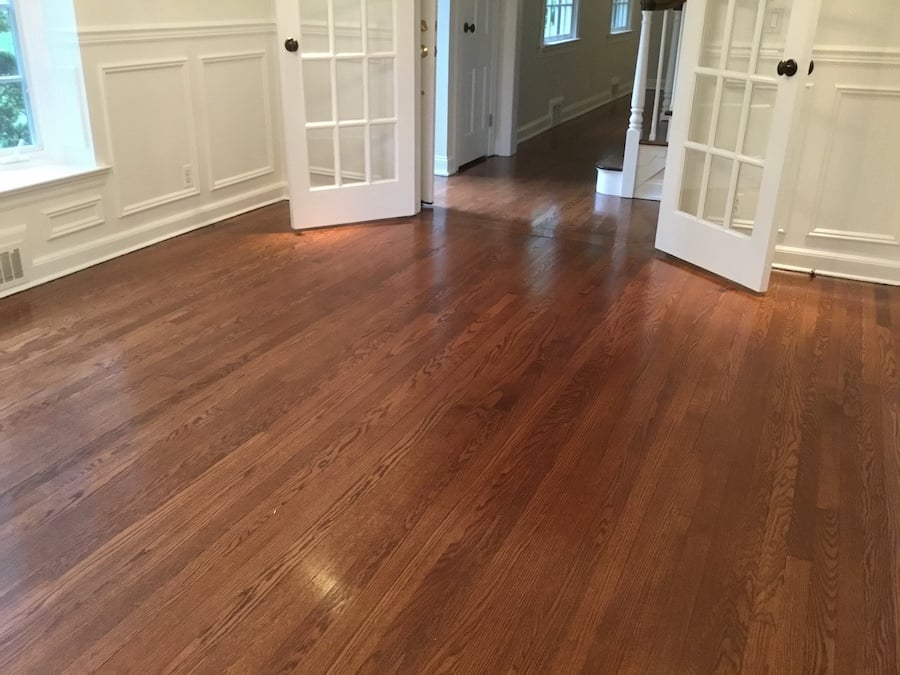 Monk's Method
Oak is durable and plentiful so it makes for long-lasting and affordable flooring. Traditionally, oak flooring was given either a light stain or simply a clear coat of polyurethane to seal the wood. So, most oak floors are light in appearance with a slightly yellow tint.
To achieve dark hardwood floors, a refinishing process is required. Unlike paint, the stain needs to penetrate the surface of the wood. Therefore, we need to open up the wood to allow the dark stain to be absorbed. This means that we need to sand the surface of the floors. First, we use the HEPA vacuum dustless sanding system to capture most of the sawdust. The sander takes off the existing stain and first layer of oak. This gives us a fresh surface to work with.
The floors are cleaned and then the staining process can begin. If you are considering a couple of stain colors, we can sample them for you to make sure you'll be happy with the final color. Once you've made your final selection, we will apply a coat of your chosen dark stain by hand. To achieve a deep, rich color, two coats of stain are typically required. The second is applied after the first has dried completely.
After the stain has been applied, one to two coats of poly are applied to seal and protect the wood. Now these oak floors have a dark, modern appearance.
More Flooring Projects
Your Monk's flooring crews can handle both hardwood floor refinishing projects, as well as new floor installation. To see some other flooring projects we've completed, see this entire first-floor refinishing project or this floor refinishing and installation project in Randolph, NJ.
We can install raw hardwood or prefinished or engineered hardwood. You can select prefinished hardwoods at one of our showrooms to simplify your project. We also sell and install all types of tile including faux wood tile.
If you'd like a free estimate for your flooring project, then please give Monk's a call at 973-635-7900. Schedule your free estimate appointment today!