Project Info
Location: Madison, NJ
Scope of Work: Floor Installation, Carpentry
Linoleum flooring was once a very popular flooring choice for kitchens. It's waterproof, is extremely durable and relatively soft underfoot. However, for aesthetic reasons, linoleum has gone out of style. These homeowners wanted to update their kitchen by swapping out the linoleum for a more natural look.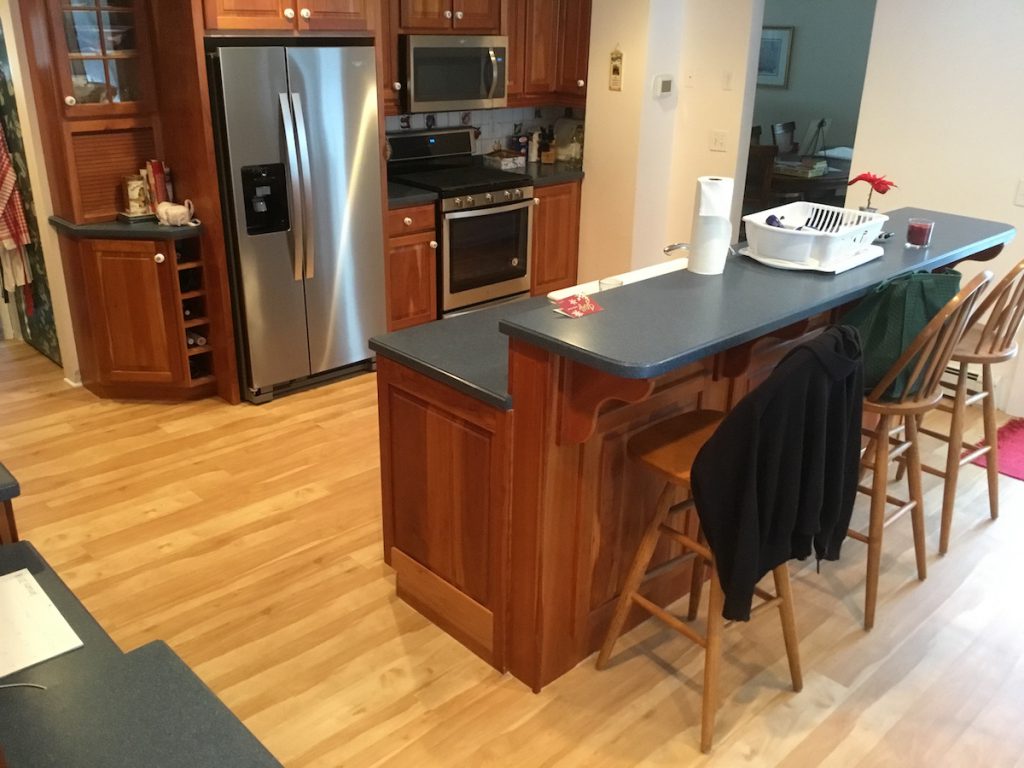 Monk's Method
After we took measurements of their kitchen and side entryway, these Madison NJ homeowners visited our showroom and selected a light wood laminate flooring tile. We determined that it would be possible to install the laminate directly over the existing linoleum. The linoleum would offer a little insulation that would help soften noise and give the laminate a slight cushion.
We began by removing the appliances and quarter round trim all along the perimeter of the floor and cabinets. We installed the laminate under the appliances. Once all the laminate flooring was installed, we installed new quarter round molding. A new threshold was also installed between the kitchen and side entryway.
In just two days this laminate floor install project was complete and this kitchen looks great!
More Flooring Projects
Monk's flooring crews and carpentry teams can install new floors, as well as refinish hardwood flooring. To get some ideas for your flooring project, here is a Montclair, NJ kitchen where we installed luxury vinyl tile. Here is a project where we provided both floor refinishing, and installed new prefinished hardwood. Besides luxury vinyl tile and prefinished hardwood, we can also install raw hardwood as well as all types of tile.
If you have a flooring project you are considering, give us a call at 973-635-7900. We'll schedule an appointment for a free estimate where you can discuss your project with an Estimator.