Project info
Location: Montclair, NJ
Scope of Work: Luxury Vinyl Tile Installation
A burst pipe can be a homeowner's worst nightmare. Water can damage furnishings, flooring, trim and walls. This Montclair NJ home suffered a burst pipe which resulted in damage to the bamboo flooring in the kitchen and adjoining hallway. Luckily the water didn't get up to the trim or walls, so the damage was relatively minimal.
We removed the damaged bamboo tile, surveyed the subfloor, and installed new luxury vinyl tile.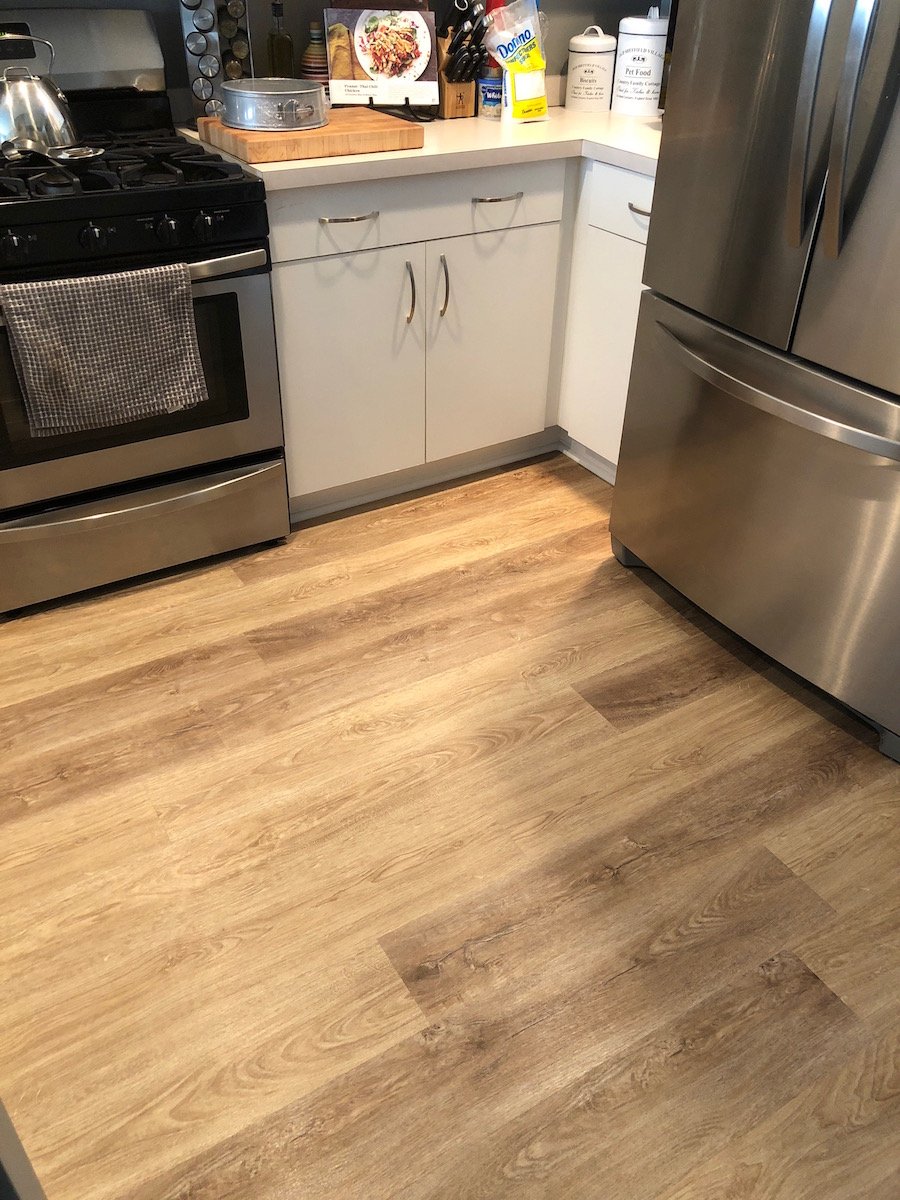 Monk's Method
Luxury vinyl tile (LVT) is becoming more and more popular. It is an inexpensive material that is durable, easy to clean and easy to install. Luxury vinyl tile can have the appearance of hardwood planks, or look like porcelain tile. It comes in a variety of colors and finishes so there is sure to be an option that matches your decor.
For these homeowners, they wanted something that looked good while also durable enough to handle the wear and tear from their dog. They chose LVT with the look of wood planks. They opted for a mixed stain look featuring a combination of light and medium stained "boards".
In two days we had the new floor installed and ready to be enjoyed by man and his best friend.
More Floor Installation Projects
Whether you need to do damage control or are simply looking to upgrade your flooring, our carpenters and flooring specialists can help. In addition to LVT, we install tile, raw hardwood, and engineered hardwood. If you select raw hardwood, we can install and finish on site giving you the stain and shine you select. Just take a look at these flooring projects we've completed, like this carpet to prefinished hardwood floor project or this linoleum to tile flooring job.
If you are considering any type of flooring project, just give us a call at 973-635-7900. We'll schedule an appointment for free estimate where you can review your flooring project with an Estimator.