Project Info
Location: Boonton, NJ
Scope of Work: Hardwood Floor Refinishing
If your newly purchased house isn't very new, you may be lucky enough to find hardwood floors hiding underneath carpet. If you are really lucky, you'll find perfectly usable hardwood once you take up the carpet. However, in this case, the homeowners weren't quite that lucky. Their hardwood floors had been hiding under carpet for 30 years. The good news is that we would be able to restore these hardwood floors and have them looking like new in a matter of days.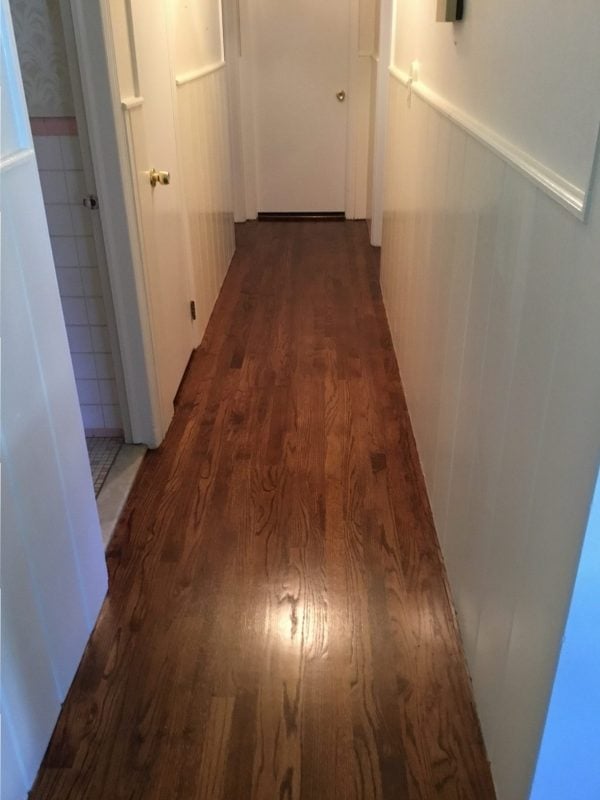 Monk's Method
When the carpet was installed thirty years ago, an adhesive was used to keep the carpet in place. So, when the carpet was removed, a sticky residue remained all over the hardwood floors. Fortunately, this wouldn't prove to be a problem. The dustless sanders that we use were able to remove the residue during the sanding process.
The hallway and the adjoining living room were sanded completely. Once this was completed, we water conditioned the floors. This involves applying purified water in an even and careful manner across the floors. This allows the hardwood to accept the future stain, and really helps darker stains achieve a rich, bold color.
Once the floors were completely dry, then we applied the dark stain. This was applied by hand for full and even coverage.
Two coats of polyurethane were then applied to seal and protect the hardwood floors.
Even 30 years of carpet couldn't keep these wood floors from shining again!
More Floor Refinishing Projects
We've tackled very old hardwood floors, pet stains, water damage, you name it. We can typically remove most discoloration and surface abrasions through refinishing. If you have deep stains, we can replace those boards with new ones for a nearly seamless appearance. Or, if you choose a dark stain, most discolorations will be hidden.
We also provide floor installing for hardwood, pre-finished or engineered hardwood, as well as tile.
If you'd like a free estimate for a floor refinishing project, then please give Monk's a call at 973-635-7900. Schedule your free estimate today!