Project Info
Location: Boonton, NJ
Scope of Work: Floor Refinishing
This home has character and beautiful features, including hardwood floors complete with decorative inlays. However, the hardwood floors showed a lot of wear and tear. The homeowners wanted to remove the green shag carpeting and restore the 80-year-old floors so they would shine again.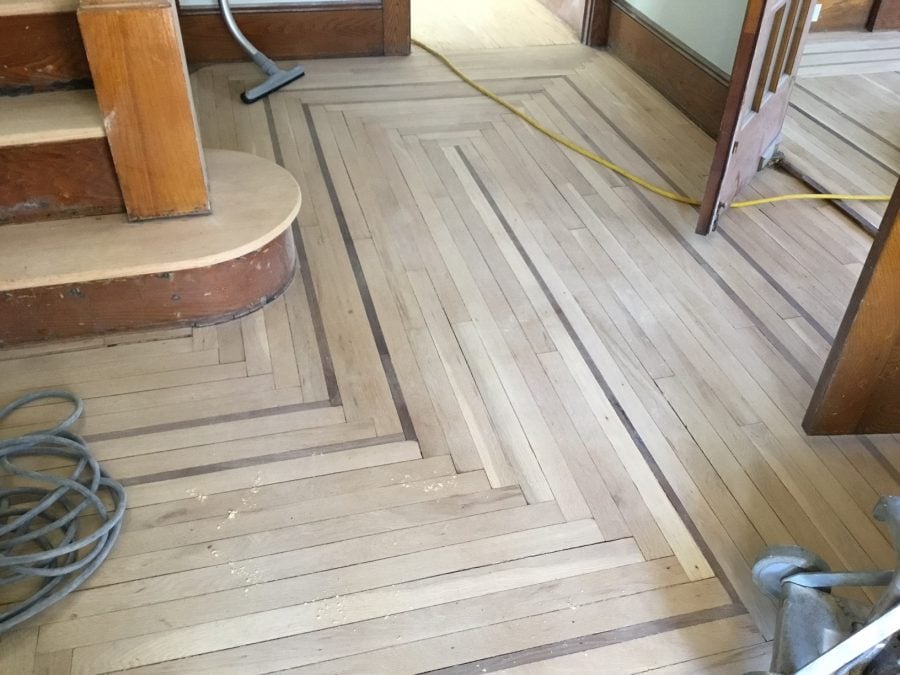 Monk's Method
Refinishing floors with inlays is really no different than refinishing any hardwood floor.
First, we used our dustless sanding system to carefully sand the floors in the foyer, the sitting room, living room and dining room. We hand sanded the stair treads and in all the corners and edges.
Then we water conditioned the floors. This process, also known as "water popping", was necessary for these older floors. Water conditioning is where we apply purified water to the floors which open up the grain in the wood. This allows the stain to then be absorbed evenly into the wood and helps create a richer and darker appearance.
Once the floors were completely dry, the dark stain was applied. The homeowners selected this stain color to match the trim of the home and to stay true to the original appearance of the hardwood.
Polyurethane coats were also applied to seal in the stain and to protect the floors from scuffs and scrapes.
Now all the hardwood on the first floor was looking as good as new. The decorative inlays were visible and protected with new stain and poly.
More Flooring Projects
If your floors are in need of refinishing, please give us a call. We're able to refinish, repair, or install new hardwood. You can see examples of how we removed a pet stain from a Basking Ridge home, or how we refinished both floors and railings in Randolph.
While we are there, we can also provide interior painting and interior trim, like crown molding or wainscoting. Your Estimator will manage the different crews to work together so your projects is completed quickly and efficiently.
If you'd like a free estimate for a floor refinishing project, then please give Monk's a call at 973-635-7900. Schedule your free estimate today!