Project Info
Location: Randolph, NJ 07869
Scope of Work: Hardwood floor refinishing, wood railing refinishing
One of the most common projects we handle for people moving into a new home is dustless hardwood floor refinishing. There is no better time to refinish floors than before all of your furniture has arrived. Plus, it gives the home a fresh, clean appearance and style.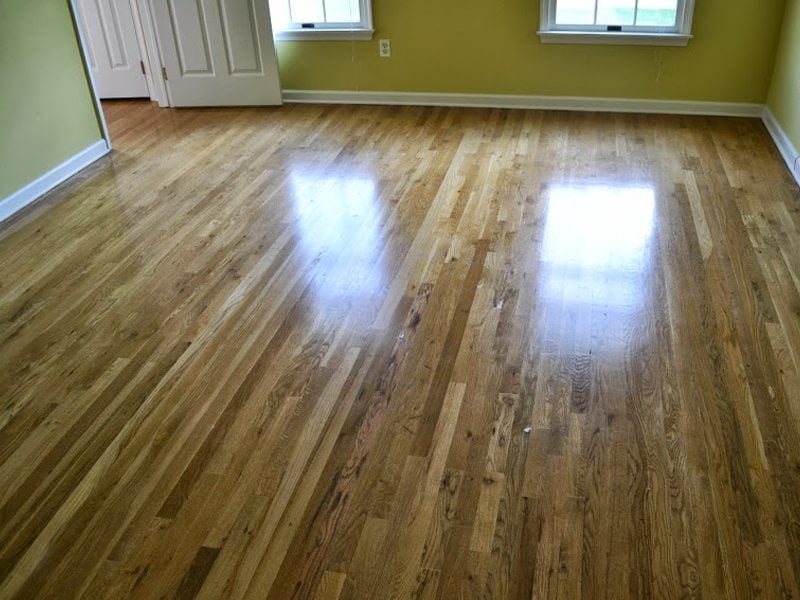 Monk's Method
The new homeowners of this Randolph, NJ home were moving from Hoboken, NJ. They wanted their floors completed before they moved in, giving our team only 5 days to deliver refinished and fully dried floors. In order to meet this tight timeline, Estimator George Day met the homeowner at 4am halfway between Randolph and Hoboken to pick up the house keys so the team could get started.
We also sanded the stairway railing and upstairs hallway banister. This was done by hand using a palm sander to provide even sanding along curved lines and in tight areas.
In addition to the railing, we sanded and stained the living room, dining room and hallways. Careful attention was paid to the edges and around the fireplace and bookshelves. Here are a few rooms after being sanded.
On the first day, we sanded and stained everything. We allowed the stain to dry completely on the second day. Over the next 3 days, a single coat of poly was applied and allowed to dry.
On day 6, the new homeowners moved into their new home complete with refinished hardwood floors and a refinished railing. In addition to removing the scratches with the sanding process, the new darker stain gave the home an updated look.
Learn more
More Projects: hardwood floor refinishing project
Other Types of Work: hardwood floor refinishing project
If you are considering refinishing your hardwood floors we would like the opportunity to tell you why we think we are the best dustless hardwood floor refinishing contractor in Randolph, NJ 07869.
To discuss your project and receive a free estimate, call 973-975-0044 today.