Project Info
Location: Mountain Lakes, NJ
Scope of Work: Floor Refinishing
This home featured the original parquet wood floors in the living room, and the homeowners wanted to get rid of the scratches and update the traditional amber look by staining them a deep brown. The brown stain would refresh the parquet floors and match the home's decor.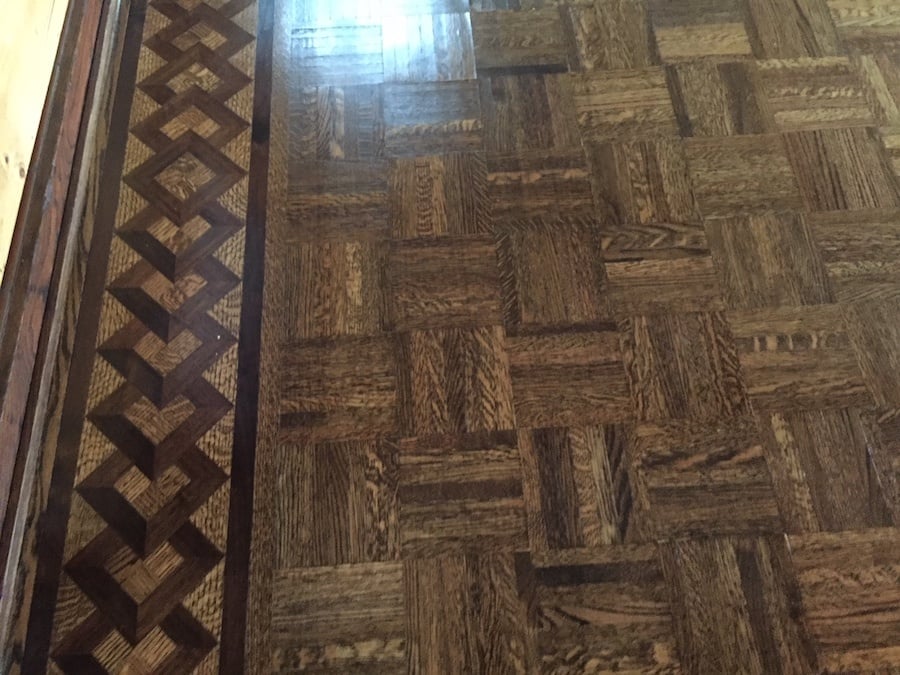 Monk's Method
Refinishing parquet floors is always a delicate process. Standard hardwood flooring is comprised of large planks of wood where the grain is facing the same direction. However, parquet floors are made up of many small strips of wood, which are installed to face in different directions. In addition, this living room featured a diamond-patterned detail around the hearth.
The flooring crew carefully sanded the parquet floors. Then they water conditioned them. This is where a thin coat of water is applied to the floors. This is done to prepare the floors for the staining process. The water conditioning allows the stain to be absorbed more evenly. Because the stain the homeowner's selected was on the darker side, we applied two coats of stain by hand. Lastly, after the stain was dry, polyurethane has applied to seal and protect the floor.
Refinishing parquet floors can really make a difference!
Also, we refinished the oak floors in the kitchen to match the color of newly refinished parquet floors.
More Flooring Projects
Your Monk's flooring crews can handle both hardwood floor refinishing projects, as well as new floor installation. To see some other flooring projects we've completed, see this entire first-floor refinishing project or this floor refinishing and installation project in Randolph, NJ.
We can install raw hardwood or prefinished or engineered hardwood. You can select prefinished hardwoods at one of our showrooms to simplify your project. We also sell and install all types of tile including faux wood tile.
If you'd like a free estimate for your flooring project, then please give Monk's a call at 973-635-7900. Schedule your free estimate appointment today!