Project Info
Location: Basking Ridge, NJ
Scope of Work: Living Room Makeover – Hardwood Floor Refinishing, Window Replacements, Painting, Including Brick Fireplace
After many years, these homeowners were ready to make some improvements to brighten and improve their space. We refinished the hardwood flooring, replaced windows and doors, and painted the walls and fireplace.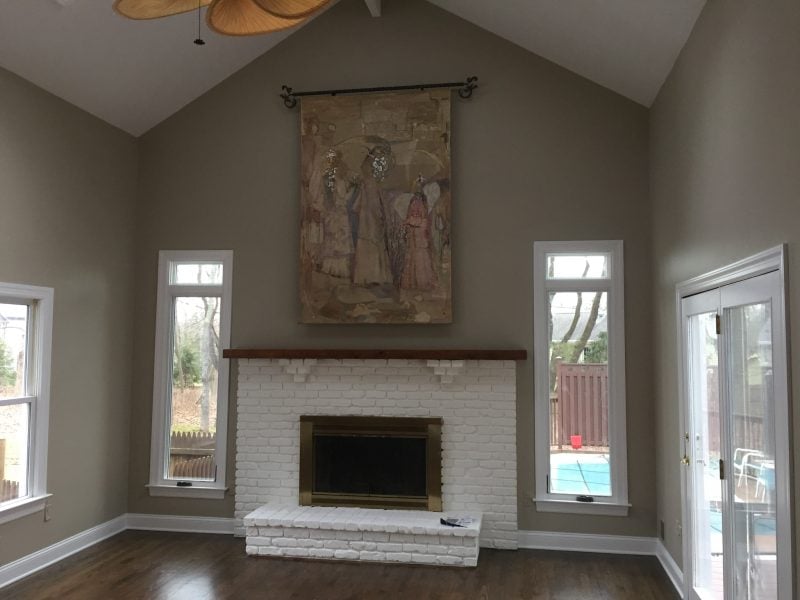 Monk's Method
We started this renovation with the floors. Firstly, we removed the tile in the foyer. We installed hardwood to match up with the existing flooring throughout the rest of the home. Then we sanded the entire first floor using our dustless sanding system. Lastly, we applied two coats of the dark stain, followed by a coat of poly.
The long, arched windows in the living room were replaced with rectangular ones that matched the rest of the home. We also replaced the front door. Half of the existing front door was glass panes. The homeowners didn't like the lack of privacy or security. So, we installed a windowless fiberglass door. We replaced the sidelights with ones using frosted glass. These energy-efficient door and window replacements help conserve energy as well as look great.
In addition to refinishing the floors, we also refinished the stair treads. Floors, treads and railings were all stained 'espresso'. We painted the spindles a fresh white.
All the first floor walls and trim were painted. The deep red in the dining room was replaced with a much lighter color. In the living room, a pretty light sage was applied to the walls. Then the brick fireplace was painted a uniform white. We had whitewashed brick fireplaces for some customers, but more solid coverage was given to this fireplace.
First Floor Makeover
In addition all of the improvements mentioned here, we also provided a laundry room renovation, as well as a kitchen makeover. In 4 weeks, the entire first floor was complete.
For additional flooring projects, please see our Flooring Gallery. For interior painting before and afters, visit our Interior Painting Gallery.
Call 973-635-7900 for your free estimate today!