Project Info
Location: Basking Ridge, NJ
Scope of Work: Kitchen Makeover – New Backsplash, New Countertop, Painting Kitchen Cabinets White

This family had loved living in their home for many years, but it was time to update the kitchen and first floor. The countertop in front of the sink had a large crack that needed to be replaced. We swapped out the dark backsplash and painted their dark cherry cabinets white.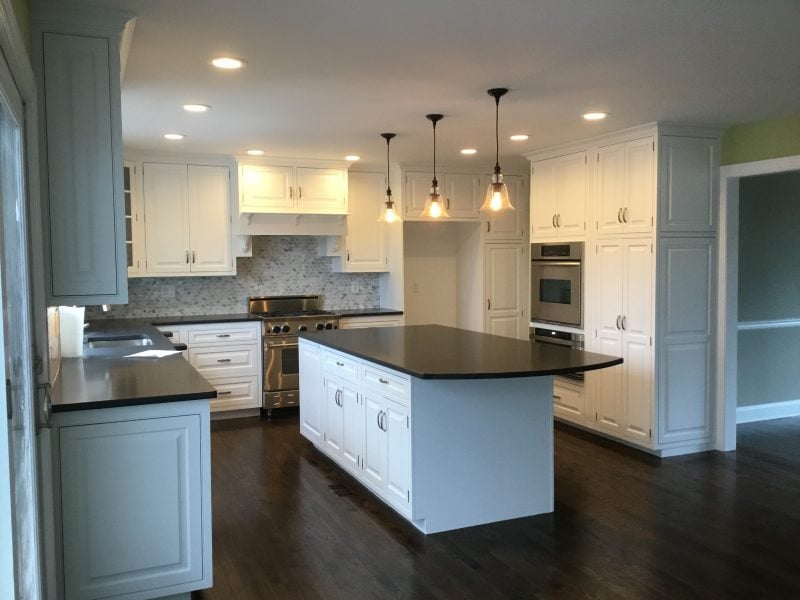 Monk's Method
For the kitchen makeover, we began by removing the broken countertop and all the backsplash tile. This allowed the new countertop to be templated, as it takes about a week for the new top to be cut and polished. Afterward, we replaced the large window over the sink and reframed the window.
Now it's time to get started on making the kitchen bright. We started by removing all the cabinetry doors and taping off the inside of the cabinetry. Once the remaining countertops and floors were securely covered, we cup spray painted the cabinetry frames white. This technique gives a smooth, factory-finish look. The doors were spray-painted on site once we created a protected area in the garage.
The new countertop arrived and was installed. Then we installed the beautiful new tile. The homeowner selected a unique leaf patterned tile in our Morristown showroom. While the tile is special, it's still understated and uniform. This helps add to the open, light feeling of the kitchen makeover.
After we put the cabinetry doors back up, we finished off the kitchen makeover with new hardware.
First Floor Makeover
In addition to the kitchen makeover, we also provided a number of other improvements to the first floor. We refinished all the hardwood floors, we replaced the front door, and we painted the entire first floor, including a brick fireplace.
See additional kitchen cabinet painting projects like this one in Basking Ridge and this kitchen cabinet painting in Westfield.
Along with our Kitchen & Bath Design Studio, we can help you with a simple kitchen makeover, through to a complete redesign and remodel. Call 973-635-7900 for your free estimate today!