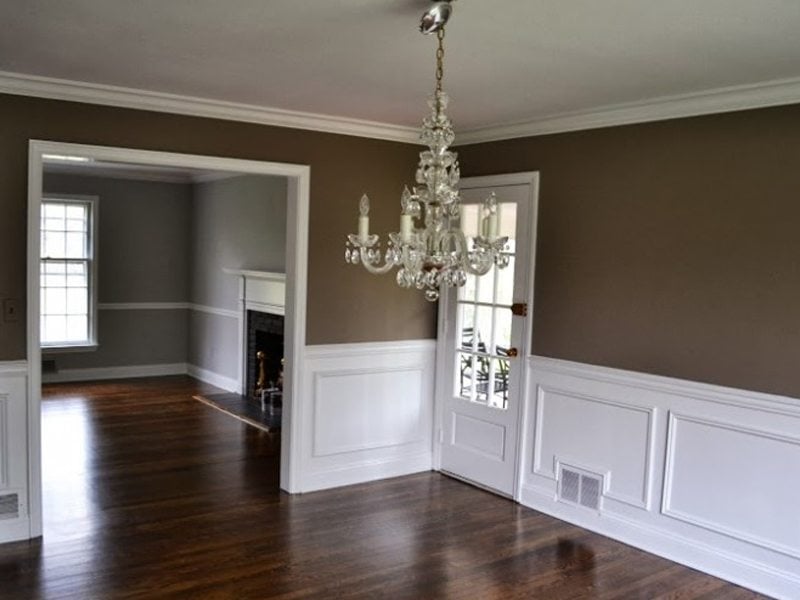 In just two and a half weeks we were able to:
Phew!
Let's start in the dining room. We installed picture-frame molding as well as crown molding here. The floors were refinished and stained with a deeper brown which was carried throughout all the hardwood in the home.
Monk's Method
In the laundry room, the cabinetry was removed to open up the backdoor entryway.
The linoleum floor in the laundry room and kitchen was replaced with hardwood flooring which we installed and stained.
In the kitchen, the cabinets were painted a clean, crisp white. Here are the newly-installed hardwood floors before they were stained.
In the children's bedrooms, we created a fun and distinct space to welcome the kids to their new home.
In the son's room, a chair rail was added and the room was painted in two colors. Crown molding was also added.
In the girl's bedroom, a pink color block accent wall was painted along with the addition of crown molding.
A hallway bathroom was given an update simply by removing the wallpaper and being painted white. Wallpaper and paint updates are quick and relatively inexpensive ways to make a big impact.
In the stairway, wallpaper was removed and the floors were refinished and stained by hand.
In the Master bedroom we added crown and baseboard molding, refinished the floors, and painted.
Learn more
More Projects: Interior Painting Gallery
Need to make updates to a home you've recently purchased? We'll work around your timeline so you can move into your new and improved home quickly. Visit our Wainscoting and Molding Photo Gallery and our Interior Painting Photo Gallery for ideas and inspiration. Then give us a call for a fast, free estimate
To discuss your project and receive a free estimate, call 973-635-7900 today.