Project Info
Location: Morristown, NJ
Scope of Work: Kitchen Cabinet Painting, Interior Painting
This kitchen was in great shape with a style of kitchen cabinetry that suited the home. However, the homeowners wanted a new look. They wanted to update their modern farmhouse kitchen by painting most of the kitchen cabinetry. To offset the bright white kitchen cabinets, they selected a navy blue wall color. The color combination is a great way to balance light and dark.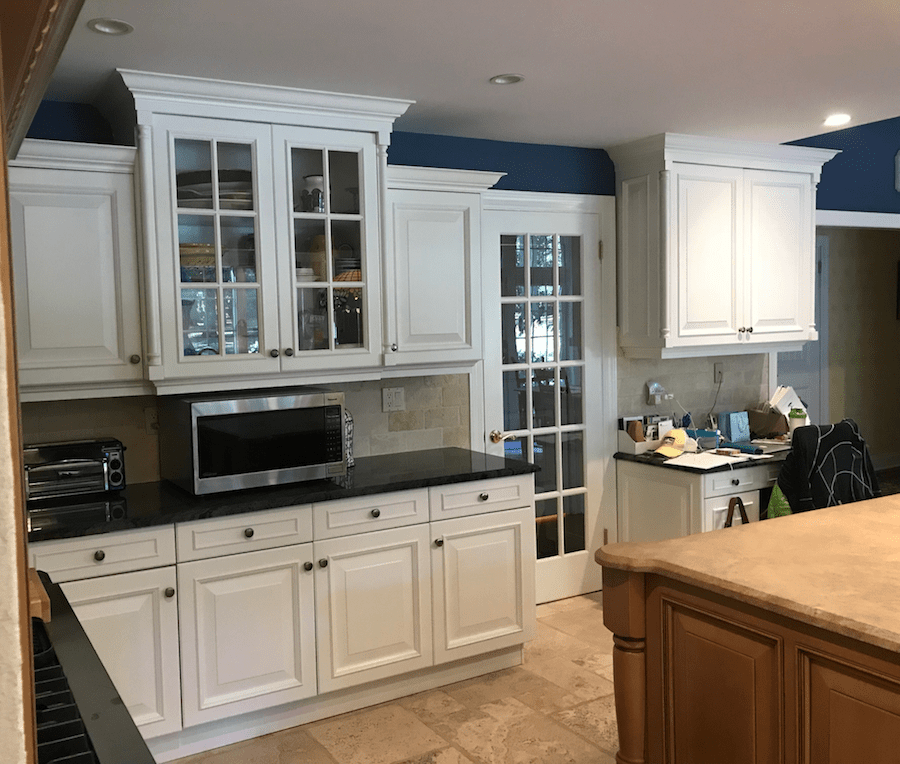 Monk's Method
All the kitchen cabinetry was the color of the island cabinetry, as well as the range "hearth" trim. The warm maple color gave the kitchen a country feel. The island would remain light brown. However, all the upper and lower cabinetry, including a separate bar area would be painted white.
All the hardware, door and drawer fronts were carefully removed. These were cup-spray painted on both sides. The cabinetry frames were also painted. Once dry, the navy blue wall paint was applied. Multiple coats were applied to achieve the true, rich color. The kitchen trim was also painted a bright white color.
Once everything was dry, the doors and drawer fronts were reattached. Now this country kitchen has been updated with a fresh new look thanks to paint.
We can do the same for your dark or dated kitchen cabinetry.
More Kitchen Painting Projects
Painting kitchen cabinetry is a more affordable and quick way to give your kitchen an updated look than replacing kitchen cabinetry. White kitchen cabinets are popular, along with shades of grey. We cup-spray the cabinetry to provide a smooth, factory-finish appearance.
See how we changed the look of these other kitchens at our kitchen cabinet painting gallery.
If you'd like a free estimate for your interior painting project, then please give Monk's a call at 973-635-7900. Schedule your free estimate appointment today!