Project Info
Location: Mendham, NJ
Scope of Work: Complete Kitchen Remodel
This homeowner wanted to brighten up her dark 1970s kitchen and improve the efficiency of the layout, but salvage her wide-plank hardwood floors and exposed beams. These beautiful original details were to be incorporated into the remodel. Last on the wish list was a special high-powered custom extraction hood.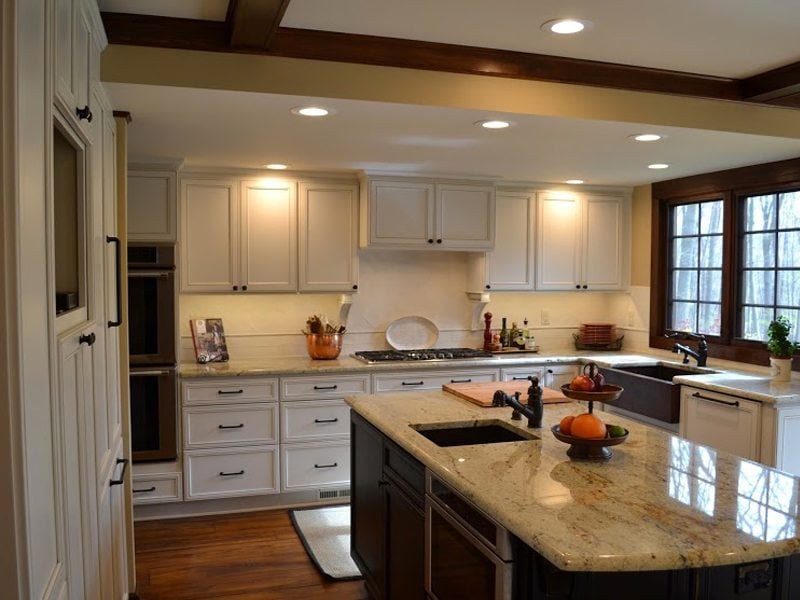 Monk's Method
Despite the completely windowed eating area, the existing kitchen was very dark due to the dark cabinetry, dark countertops, deep wall color, and dark flooring.
We started by carefully removing the cabinetry to prevent damaging the floors.
The electrical and plumbing were updated and brought up to code. After everything passed inspection, new moisture-resistant sheetrock was installed. New Kolbe windows were also installed over the sink. These energy-efficient windows were ordered to match the windows in the eating area.
Then the new Fieldstone cabinetry began being installed, followed by the granite countertops. The homeowner worked with the Monk's Kitchen & Bath Studio to select and order her cabinetry and countertops.
The custom hood was built using the exterior of a matching cabinet. For the extra powerful extractor that was requested, an additional 40-50 ft of duct work was needed to run through the basement. This was done in order to comply with make-up air codes.
The homeowner choose a lovely herringbone patterned backsplash using subway tiles. LED under cabinet lighting was installed, along with LED lighting in the glass-doored cabinet.
Another custom detail was the hand-made copper farmhouse sink. The color of the sink complements the warm tones of the existing beams and flooring. All new trim was built to match. We used the same wood and color stain so the trim matched seamlessly. You can see this in the trim around the new window above the sink.
The original floors were used. Monk's carpenters reused some flooring from under the cabinetry to patch into some missing areas due to the new layout.
Display cabinetry was included to hold cookbooks and provide additional storage.
In the entryway, custom storage was built and painted on-site. All done to match the look and feel of the remodeled kitchen.