Project Info
Location: Basking Ridge, NJ 07920
Scope of Work: Interior Carpentry
The homeowners asked Monk's to create a custom-built dog gate for their kitchen. Our team of skilled carpenters was happy to oblige and had this custom-built dog gate Basking Ridge project completed in only a few days.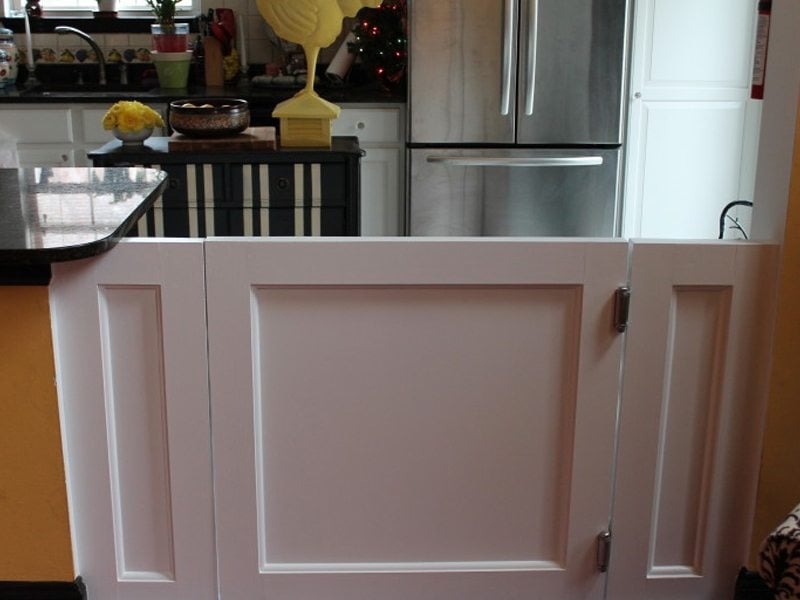 Monk's Method
The first step in this project was to communicate with the homeowners to discern exactly what style of dog gate they were imagining for their home. Once a style had been determined, a design was sketched out. Next, the design for the custom built dog gate was finalized and building could begin.
For the dog gate our team carefully measured the space and cut two side panels and a door that would comprise the dog gate, and perfectly fit the kitchen space. The panels were constructed and carefully sanded.
Once the panels and door were assembled they were given a coat of primer and two coats of interior paint.
Now this Basking Ridge, NJ home had an attractive way to keep their dogs in or out of the kitchen!
Another great project completed by our team at Monk's!
Learn more
More Projects: Special Projects Gallery.
If you are considering a carpentry project for your home we would like the opportunity to tell you why we think we are the best carpentry contractor in Basking Ridge, NJ 07945.
To discuss your project and receive a free estimate, call 973-635-7900 today.