Bathroom Remodeling Services from Monk's
At Monk's, we handle all types of bathroom renovations and remodels from simple makeovers to full renovations to new bathroom additions. One phone call to 973-635-7900 is all it takes. We can complete the demolition, drywall installation, electrical and plumbing, tiling, and even the painting.
What Does a Bathroom Makeover Include?
A bathroom makeover is a simple process in which we replace the tile and fixtures in the room but use the existing walls, floor, plumbing, and electrical. This process takes about 7 days for an average 40-70 square foot bathroom. This process is appropriate when there are no plumbing or electrical issues to fix, and you want to keep the existing layout. Permits and inspections are not required when installing new vanities, toilets, or tile in your bathroom.
To learn more, see a Bathroom Makeover Video or read our Bathroom Renovation FAQ, which covers the entire remodeling process from start to finish.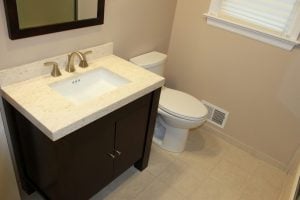 What Does a Complete Bathroom Remodel Include?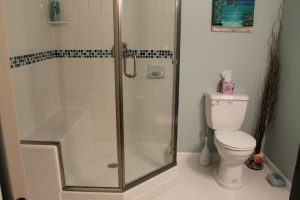 A full bathroom remodel, or the addition of an entirely new bathroom, takes about a month and requires permits and inspections. During this type of project we upgrade all the plumbing and electrical in the bathroom in addition to installing new water resistant drywall, tile, and fixtures.
We have close relationships with our select list of licensed plumbers and electricians. This allows us to schedule your job more efficiently, prevent delays between the different trades, and provide consistently high quality work.
Our Expert Staff is Here to Help
Call 973-635-7900 today for your free estimate. Our trained design team can help you make your remodeling decisions with confidence.
For more ideas and inspiration, visit our Bathroom Remodeling Portfolio.