We handle all types of bathroom renovations and remodels.  From a simple makeover, to a full renovation or even a new bathroom addition.  One phone call is all it takes and we take care of the demolition, the dry wall installation, the electrical and plumbing, tiling and even the painting.  All you need to do is shop!
973-635-7900
Bathroom Remodeling
A bathroom makeover is a simple process where we remove the tile and fixtures from the room without removing the existing walls and floor.  This process takes about 7 days for an average 40-70 sq ft bathroom.  This process is appropriate when there are not any plumbing or electrical issues to fix and you want to keep the existing layout.  We do not need permits and inspections to install new vanities, toilets and tile in your bathroom.
Existing walls, floor, plumbing and electrical are reused in a small bathroom makeover.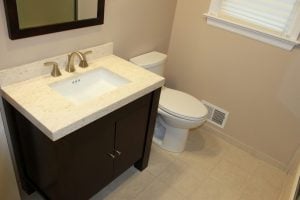 A full bathroom remodel, "redoing a bathroom," or adding a new bathroom, takes about a month and requires permits and inspections.  We upgrade all the plumbing and electrical in the bathroom in addition to installing new water resistant dry wall, tile and fixtures.
New walls, floor, electrical and plumbing for a full bathroom renovation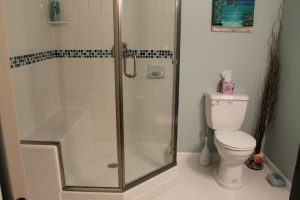 We have a close relationship with our licensed plumbers and electricians.  This allows us to schedule your job more efficiently and prevent downtime between the different trades. All the while providing a consistent experience and quality across all of our bathroom renovations.  If you have a small bathroom you want to renovate or a large bathroom remodeling project that you are planning, we would love the chance to tell you why we think we are the best bathroom contractor in NJ!
Overwhelmed with choices? Our trained design staff can help you make your decisions with confidence.
Click here to visit our Bathrooms Gallery.