If you have a natural wood deck, you know that its natural beauty requires work. Monk's can help by providing pressure washing, staining, and repair. Or by refacing with a composite alternative!
Facts about Painting or Staining Your Deck
Since we stain and maintain hundreds of wood decks every year, we have a unique perspective on deck painting. In 2006, the U.S. government changed the standards on what types of volatile organic compounds (VOCs) and other chemicals can be in paints and stains. Unfortunately, all the bad things the government put limits on were also the things that made stains last longer. In our opinion, the painting and staining industry has never been able to achieve good results for floors and decks under the new regulations.
So when you build a wood deck today, you need to be prepared to power wash and stain it every year.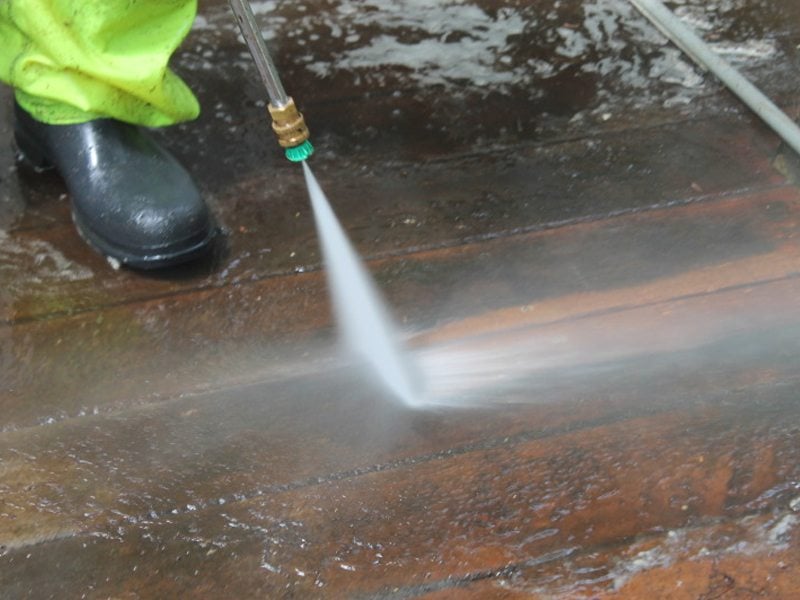 Deck Maintenance by Monk's
A Monk's Estimator will come to your home and inspect the condition of your deck. This will determine what we'll need to do to get your deck ready for the upcoming year. This may include chemically stripping the deck, followed by power washing, sanding, and staining. If the paint is peeling off, sometimes pressure washing and light sanding will be all that's required prior to painting or staining. Everything will be written down and priced out for you. The only thing we can't provide you is a definitive start date. That is because timing is all weather-dependent.
When Is The Right Time to Stain a Deck?
Timing for any kind of deck painting or staining revolves around the weather. You need to apply paint (or solid stain) or stain to dry wood. So, you need to have a period of dry weather prior to applying a stain. Additionally, it is a bad idea to be painting or staining a deck when there is a lot of pollen in the air. Typically, here in New Jersey, we need to wait until the late Spring before we can start deck staining. We also need to be careful in the fall with ragweed pollen as well as falling leaves.
Let us answer any questions you have about these regulations and the best products to use by calling 973-635-7900.
---
Customer Reviews
Straight talk and reasonable
We have an older pressure treated wood deck (20+ years old) that needed work (carpentry, cleaning and new stain). Jon from Monks quoted the job and he was great. Very professional. Not pushy or salesman-y. Straight talk and reasonable. So we hired them. Alberto from Monks did the work. He was also great. Very professional. Came when he promised. Worked diligently and the outcome looks great. We're first time customers of Monks but very happy all around. Highly recommend them.
Keep Reading
– Jim (Boonton)
Completely satisfied
Travis and his carpenters did a fantastic two phase job freeing my in deck spa so it could be removed for repairs, and then replacing the area surrounding the spa when it was repaired and returned three months later. Completely satisfied. Professional all the way.
Keep Reading
– Kieran C. (Madison)
Ready to learn how Monk's can help you?
Contact us for your free, no obligation consultation and estimate.
Call the office at 973-635-7900 OR