There is nothing like being outside to relax in the fresh air. Even living in New Jersey, we can enjoy outdoor living spaces for a good portion of the year. These Florham Park, NJ homeowners wanted to take advantage of their pretty backyard with a comfortable, covered, outdoor living room.
The owners wanted to enjoy football game viewing in the new outdoor living room. We were able to accommodate with a fireplace-mounted television.
Scope of work: Remodeling, Carpentry, Window Installation, Door Installation, Exterior Painting
Location: Florham Park, NJ
Timeline: 4 – 5 months due to winter; 2 months total project time
Preparing the Foundation
Working with an architect's design, the first step was to excavate the space. The mason we worked with dug out the space to create footings and pour the foundation.
After the concrete slab was prepared, the masons installed wet-laid bluestone for the floor.
Adding the Framing and Chimney
Next, the masons crafted a custom chimney to match existing brick elements of the home's exterior.
Monk's carpenters were then able to get to work installing traditional framing and a covered roof.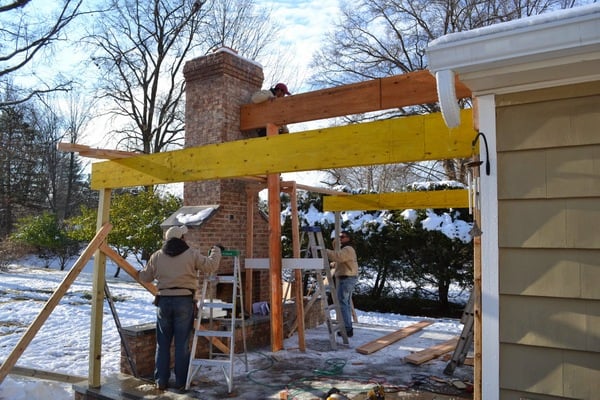 You'll notice that we installed a new window. We also created a doorway and installed a new door for easy access to the outdoor space. Additionally, we recommended using fiberglass columns to provide visual interest while providing structural support.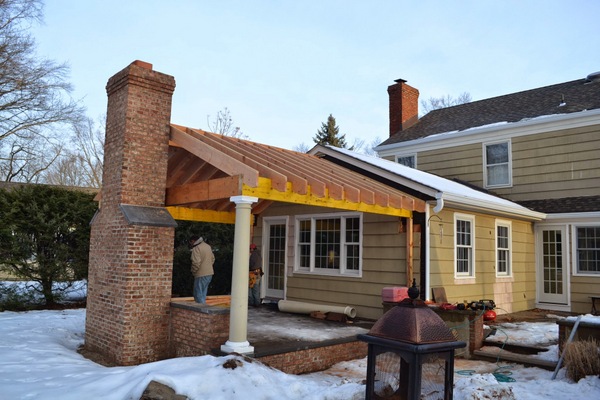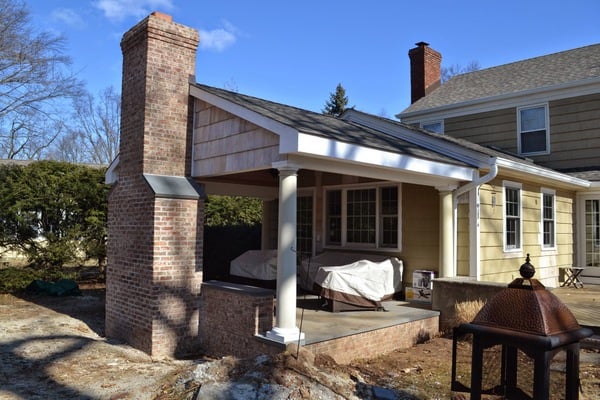 Finishing the Outdoor Living Space
Once the winter was (finally) over, we were able to get back to work. We installed a natural cedar ceiling in the spring.  The very important entertainment center was installed with the electrician. It includes surround sound and a chimney-mounted TV. The television wires were hard-wired through the chimney.
Finally, Monk's painters stained the cedar ceiling and painted the replaced cedar shakes to match the rest of the home.
The addition blends seamlessly into the home.
At last, it warmed up and the homeowners are able to enjoy their beautiful new outdoor living room.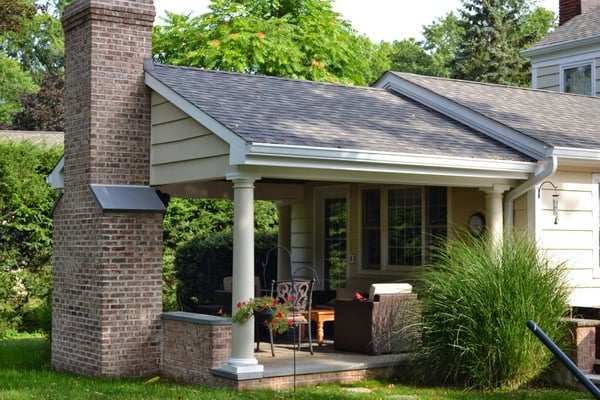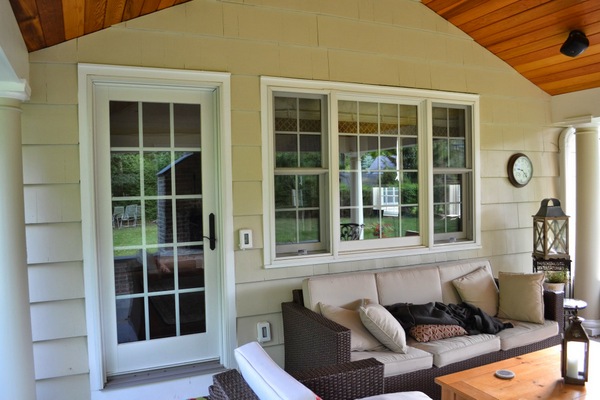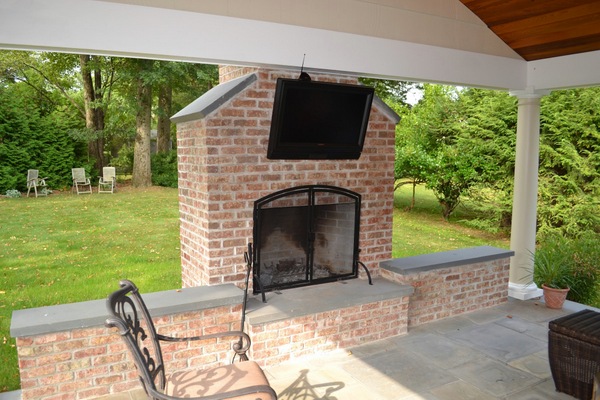 For additional remodeling projects by Monk's, please take a look at this attic renovation in Morristown for another example of how we can increase your usable living space.
To meet with an Estimator to discuss your remodel, call Monk's at 973-635-7900 today.