Project Info
Location: Chatham, NJ, 07928
Scope of Work: Carpentry, Custom Built Ins, Interior Painting
Our team crafted a custom bed with built in storage and a trundle bed for this home. Working with the homeowners' vision, and an existing mattress and bed frame, our team was able to build a piece of furniture to make this child's bedroom a fun and organized space.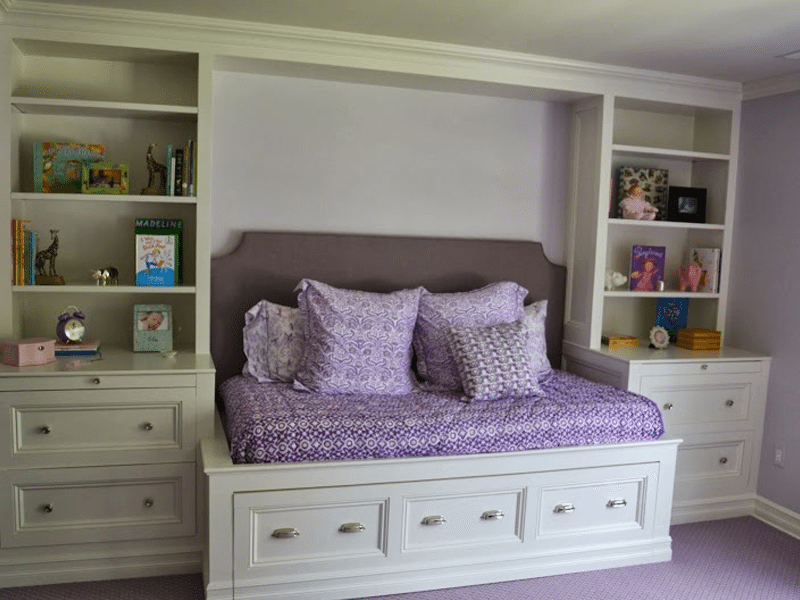 Monk's Method
The owners of this Chatham, NJ home worked with our team to create the design for this custom built in. Before any building could take place the area was carefully measured and marked out to determine the exact dimensions of the new custom built in bed.
The homeowners also already had a headboard and mattress which our team would incorporate into the design. The homeowners were adamant about the storage features being drawers, not cabinets, and of course our team at Monk's happily complied with the request.
Our team at Monk's thinks of everything! Outlets were moved to accommodate the location of the large built in bed.
This custom bed was crafted out of solid poplar and birch plywood. Our skilled carpenters built the bed frame directly onto the floor. Carpet installers were brought in to carpet the room, ensuring a smooth connected line between the bed and the floor. The carpeters installed carpet under the bed where the trundle bed would rest to make sure the floor was completely smooth and that pulling the extra bed out would never be a hassle.
At first the design for this custom built in did not include a trundle bed, but instead extra storage drawers underneath the bed. During the project the homeowners decided that they wanted a trundle bed instead. Our team was able to accommodate the request and built a trundle bed.
Once the custom built in trundle bed was complete it was painted. In fact, our team at Monk's gave the entire bedroom a new paint job.
What a transformation- and in only six days! This kid's room looks great! Another job well done by Monk's!
Learn more
More Projects: Custom Built In Gallery Other Types of Work: New decks steps, Custom built gate replacement in Mendham.
If you are considering a custom built in we would like the opportunity to tell you why we think we are the best carpentry contractor in Chatham, NJ 07928.
To discuss your project and receive a free estimate, call 973-635-7900 today.