Project Info
Location: Chatham, NJ 07928
Scope of Work: Custom Built In
The owners of this Chatham, NJ 07928 home called our team at Monk's to construct a custom built in entertainment unit. A custom built in is a great way to utilize important space in your home and make sure that it meets all of your home's specific needs.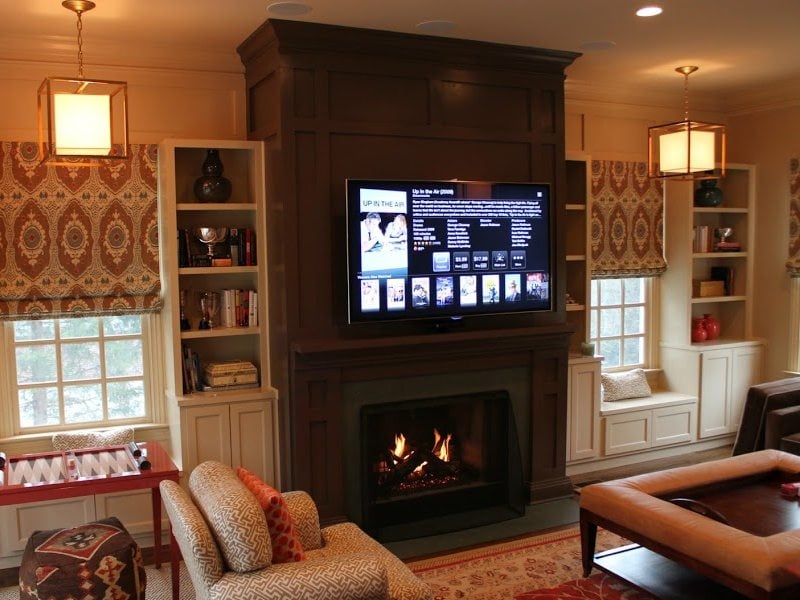 Monk's Method
The entire space was stripped of its previous set up to make room for the new custom built in that Monk's would build.
As with all custom built in jobs by Monk's, our team will work with the customer to come up with a structure that will meet the specific needs of the homeowners. Everything is carefully measured and planned to make sure that the custom built in is perfect for the specific home.
The owners of this Chatham, NJ home wanted an entertainment unit with recessed panel doors. Our team at Monk's custom built recessed panel doors to achieve the specific look that the homeowners were looking for. Each piece was carefully handcrafted in our woodworking shop by a member of our Monk's team.
Since many custom built ins are created to accommodate televisions, stereos, or other electronics our team at Monk's always makes sure to create a structure that can easily accommodate the necessary wires and have clear access to outlets. With this particular custom built in this was even more of an important aspect since our team at Monk's also installed a custom lighting system for the unit, as well as new overhead lights. Wires were run behind the chimney to keep them accessible, yet out of the way.
The entire structure was built out of poplar wood.
The entire structure was given a coat of oil based primer, and then two coats of aura interior semi gloss paint.
The surrounding interior spaces, including the ceiling, were given a new paint job as well.
The custom built in was carefully sanded, the nail holes were filled and all seams were caulked.
In only ten days our team at Monk's had built and installed a hand crafted, custom built in wall unit for this Chatham, NJ home.
Another job well done by Monk's!
Learn more
More Projects: Custom Built In Gallery
Other Types of Work: Exterior trim upgrade Custom mantel surround and built in bookcase project Bathroom renovation
If you are considering a custom built in for your home we would like the opportunity to tell you why we think we are the best custom built in contractor in Chatham, NJ 07928.
To discuss your project and receive a free estimate, call 973-635-7900 today.