Project Info
Location: Denville, NJ
Scope of Work: Fireplace Surround
This home had a gas insert fireplace installed before we arrived. Some rough framing was done, but the project was far from complete. The homeowners wanted a custom fireplace surround that would be functional and beautiful. We drew up a plan that included shelving, closed cabinets, custom mantel, and tiled trim.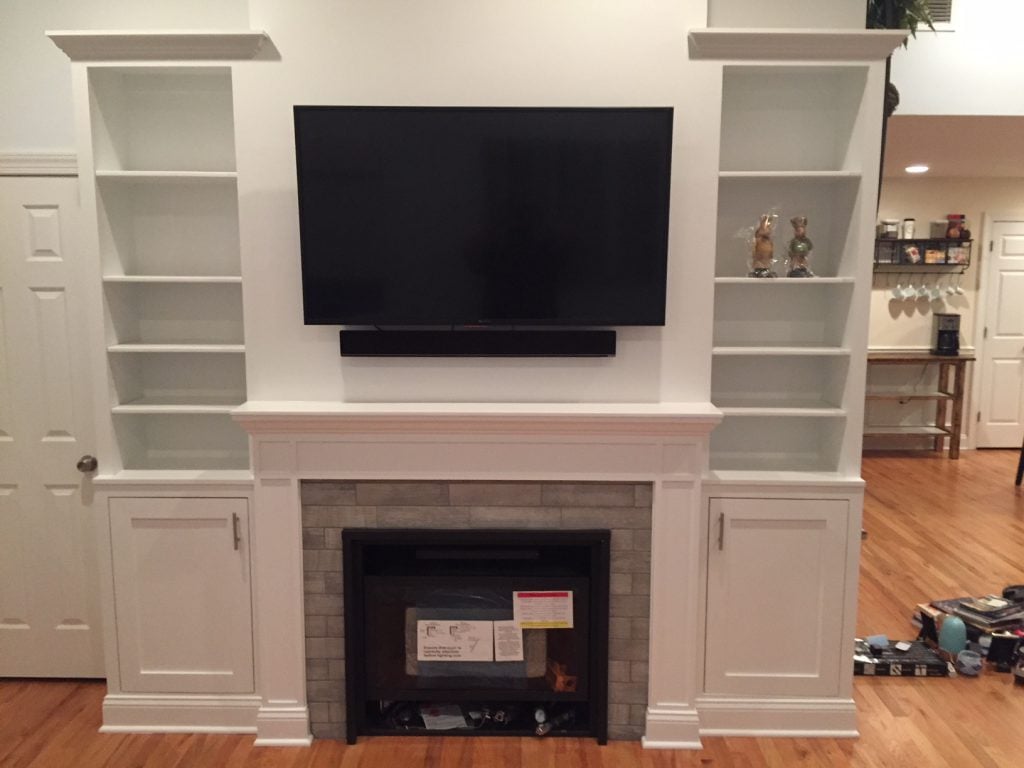 Monk's Method
Once the homeowners signed off on the design, our carpenters got to work. First, we completed boxing in the flue. Then we began building the paint-grade surround. We constructed cabinetry on both sides of the fireplace. Above the cabinetry were open shelving units. These were made adjustable to accommodate various sized books and decorative items. The header, legs, and mantel were also custom built. Everything was topped off with crown molding.
Once the carpentry was completed, we laid the tile to decorate the fireplace face trim.
Afterwards, the painters came and prepped the new built-in. The unit was first sealed with primer. Then they applied premium interior paint to the unit.
The cabinetry hardware was installed, and this new fireplace surround was ready to be enjoyed!
More Interior Carpentry Projects
We have built many fireplace surrounds and custom built-ins for our customers. If you can imagine it, we can build it.
For example, see how we added custom shelving and storage to this home. Or see this intricate fireplace mantel project in Randolph, NJ.
If you'd like a free estimate for your interior carpentry project, then please give Monk's a call at 973-635-7900. Schedule your free estimate appointment today!