Project Info
Location: Florham Park, NJ
Scope of Work: Deck Refacing with Composite
The wooden back deck off home was peeling and rotten in areas. The two stairways leading to both the driveway and the backyard were worn and wobbly. Our team replaced all the wood with composite material and added stringers to the new stairs to improve their strength and stability.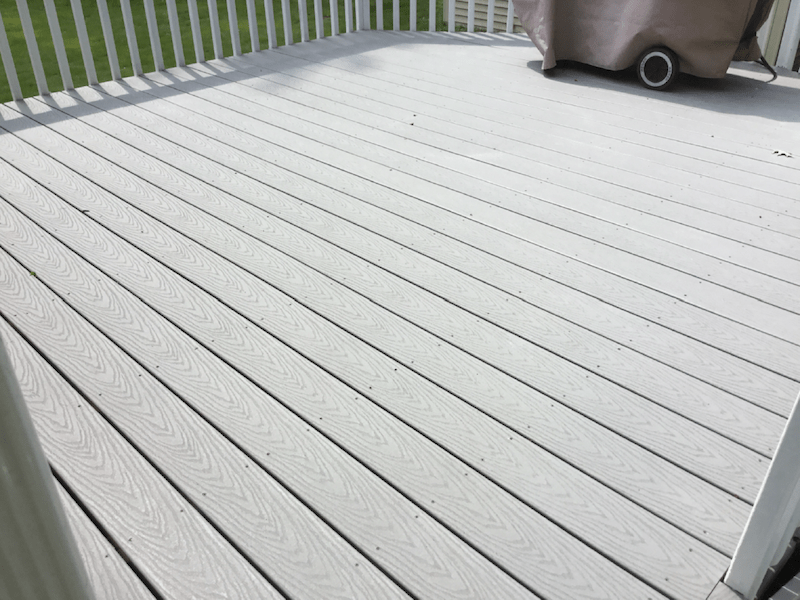 Monk's Method
First, the homeowners selected the color for their new composite decking at our Monk's showroom. They selected a pretty light grey Zuri decking which we ordered and delivered to the site.
Once the materials were on-site, the carpenters began by removing all the floorboards and stair treads. These were replaced with the Zuri composite decking. The handrails were also removed but replaced with pressure-treated wood. Underneath the stair risers, the carpenters added a stringer. This is the long piece of wood that runs down the middle of the risers to support the stairs. This will prevent the stairs from being bouncy or wobbly.
After all the new composite and pressure-treated wood were installed, the painters arrived. The new Zuri floorboards did not need to be painted now, or ever, but the wooden portions of the deck did. The handrails, spindles, and lattice were primed and then painted a soft white.
Now this back deck is looking great, as well as being safe.
More Decking Projects
During the Spring and Summer we are busy on many types of deck projects. From repairs and pressure washing to building a whole new structure, we've done it all. To see some examples of this work, see this deck staining project or this deck refacing project in Madison, NJ
Additionally, you can see our deck gallery for some more of our work.
If you'd like a free estimate for your interior carpentry project, then please give Monk's a call at 973-635-7900. Schedule your free estimate today!